On Saturday, at DC Fandome panel for "The Suicide Squad," Warner Brothers and crew of the movie finally revealed the long awaited star-studded cast of movie which is scheduled to release next year on August 21st.
Besides the return of our stellar villains from first part, The Suicide Squad will have a massive roster of DC characters that the audience is extremely anticipated for.
Directed and written by James Gunn, upcoming American movie The Suicide Squad is a soft reboot and standalone sequel to John Ostrander's original action movie 'Suicide Squad.' Moreover, it is intended to be the tenth film in DC Extended Universe [DCEU.]
Comic summary: In case you're not familiar with the enthralling comics, here's a short review.
The crew usually follows the revolving door of DC villains and former villains, working for a government agency. However, if they step out of line on their mission or try to escape their assigned task, they're instantly blown up via collar around their necks.
Previous year, on September 2019, show-runner James Gunn hinted the long list of characters that will be part of The Suicide Squad and the viewers had been waiting since then. Nevertheless, the actors along with their undertaken roles are finally unveiled and there's a surprise. A few familiar faces from 2016's suicide squad, including Margot Robbie and Viola Davis will be joining the new cast members.
The Suicide Squad – Cast Lineup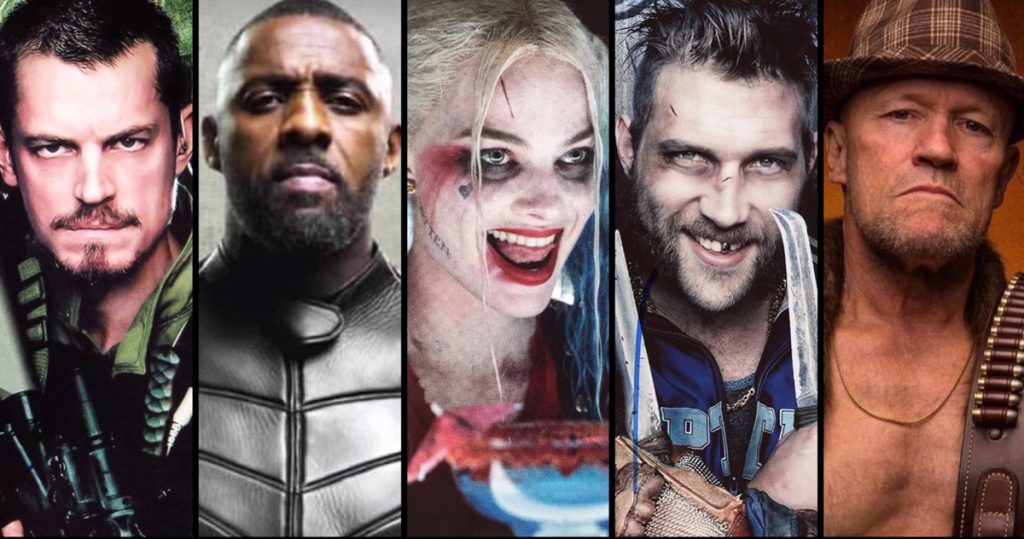 Returning characters
1. Margot Robbie as Harley Quinn
Harley Quinn, who was last seen in "Birds of Prey", riding with Cassandra Cain after moving on from her toxic relationship with joker, will be returning to The Suicide Squad.
Moreover, the dazzling starlet Margot Robbie will be reprising her Harley Quinn avatar.
2. Viola Davis as Amanda Waller
Viola Davis who plays Amanda Waller, the government official and mind behind the undercover DC baddies is also coming back to the sequel movie.
3. Joel Kinnaman as Rick Flag
Joel Kinnaman, will also reprise his role as Rick Flag. In the first part, Flag led Amanda's squad against the Enchantress.
4. Jai Courtney as Captain Boomerang
The mysterious character of Captain Boomerang, who is a pro at using boomerangs as weapon is returning to The Suicide Squad. As we didn't get to know much about his character in first film, audience is really looking forward to his upcoming epitome.
New characters of The Suicide Squad
1. John Cena as Peacemaker
John Cena will join the sequel movie as The Peacemaker, a soldier who is strong-minded on maintaining peace any way possible. Cena also hinted his character to be that of captain America, but in a strange way, as he termed it "Douchey captain America."
2. Idris Elba as Bloodsport
The superman villain Bloodsport, played by Idris Elba is a mercenary who wants revenge for his brother who lost all his limbs in Vietnam War.
The character packed with kryptonite bullets was tricked by Lex Luthur into believing superman was his enemy.
3. Michael Rooker as Savant
Brian Durlin, known as Savant was introduced in 2003 in Birds of Prey and like batman is heir to fortune.
Moreover, Savant was added to suicide squad for a definite task, which is to track Harley Quinn and will be part of The Suicide Squad as well.
4. Alice Braga as Sul Soria
Sul Soria, who is assumed to be a gender swap of Jaun Soria will be brought to life by Alice Braga in The Suicide Squad.
Read More: Biohackers, a twisted Netflix German series drops tomorrow
5. David Dastmalchian as Polka Dot man
Batman villain, Polka dot man, who has a dreamy white costume with multicolored spots, that he uses as weapons will be portrayed by David Dastmalchian.
6. Daniela Melchoir as Ratcatcher
Daniela Melchoir plays another gender flipped character of Ratcatcher from Batman comics. This character has the ability to control animals, precisely the rats to rob a bunch.
7. Peter Capaldi as The Thinker
The Thinker, to be played by Peter Capaldi is a genius with a thinking cap that gives him limited telekinesis.
The character is renowned to be the main villain in season 4 of 'The flash.'
8. Steve Agee as King Shark
Steve Agee plays King Shark in The Suicide Squad. The giant humanoid shark has exceptional powers and superhuman strength.
9. Mayling Ng as Mongal
The powerful and cunning character of Mingal, who is a daughter of alien conqueror Mongul will be portrayed by Mayling Ng.
10. Flula Borg as Javelin
Flula Borg will play Javelin, the frequent member of the squad in the comics and dies almost every time on team.
11. Pete Davidson as Blackguard
Dick Hertz who is popular as Blackguard will be brought into existence by Pete Davidson in The Suicide Squad. The character holds energized weapons given to him by a shady criminal organization.
12. Sean Gunn as Weasel
The character of Weasel will be played by Sean Gunn. Weasel's real name is John Monroe, who was bullied at his school and is now on crime team to pay vengeance to his bullies.
To conclude, The Suicide Squad looks like a whole new universe of contrasting super-villains and already has the audience counting days for its release. Additionally, there are many more characters to come as the show-runner James Gunn hinted 24 characters for The Suicide Squad.
Read More: The Sleepover, coming to Netflix on August 21st