Following are the top 10 best action movies that includes action element blended with contrasting genus. Where "Dracula Untold" is a horror action flick, "Mortal Engines" contains science fiction jam-packed with action, whereas "AVA" tells the story of a female assassin and her adventure.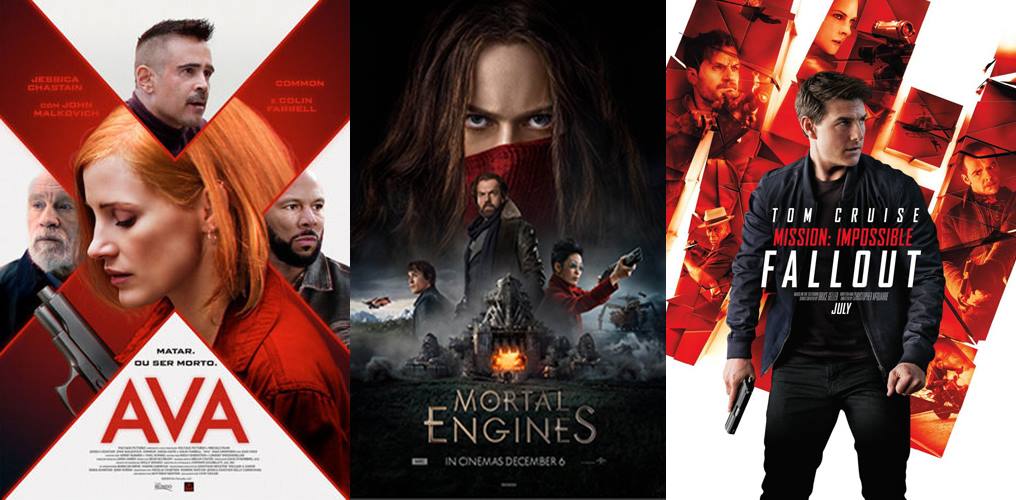 1. AVA
One of the best modern times action movies, AVA is a 2020 thriller directed by Tate Taylor and written by Matthew Newton. Named after the leading character played by Jessica Chastain, the film centers on a former soldier turned assassin 'Ava' and her action-packed endeavors all over the globe, as she continues to wipe out the existence of her targets. Ava is yet another movie about a hired gun with a heart. Maybe it's not a heart of gold, exactly, but at least a heart of bronze.
The official synopsis reads, "An assassin becomes marked for death by her own black ops organization after questioning orders and breaking protocol."
2. Mortal Engines
One of the highest grossing action movies of all time, Mortal Engines is the young adult fantasy that earned critical acclaimed for its spine-chilling timeline and fast-moving plots.
"In a post-apocalyptic world where cities move and consume each other to survive, two strangers come together to stop a sinister and destructive conspiracy" in the Mortal Engines franchise.
3. Mission Impossible – fallout
2018's action spy film 'Mission Impossible –fallout' is the sixth installment in the renowned 'Mission impossible' franchise.
The movie had featured Tom Cruise, Ving Rhames, Simon Pegg, Rebecca Ferguson, Sean Harris, Michelle Monaghan and others in their signature roles from previous films.
Mission Impossible – Fallout centers on a group of terrorists, who plans to detonate three plutonium cores for a simultaneous nuclear attack on different cities. Hence, Ethan Hunt, along with his IMF team, sets out to stop the carnage.
4. John Wick 2
2017 American neo-noir action-thriller film directed by Chad Stahelski and written by Derek Kolstad, John Wick chapter 2 is the second installment in the John Wick film series, and the sequel to the 2014 film John Wick. It stars the enigmatic Keanu Reeves, Common, Laurence Fishburne, Riccardo Scamarcio, Ruby Rose, John Leguizamo, and Ian McShane.
John Wick 2 follows hit-man John Wick and his crazy adventure, as he goes on the run after a bounty is placed on him.
The premise reads, "Renowned assassin John Wick sets out for Rome to duel with some of the deadliest killers to fulfil a vow he made. However, he soon learns that there is a huge bounty on his head."
5. Polar
The world's top assassin, Duncan Vizla, aka The Black Kaiser, is settling into retirement when his former employer marks him as a liability to the firm. Against his will, he finds himself back in the game going head-to-head with an army of younger, faster, ruthless killers who will stop at nothing to have him silenced.
2019's Polar had served as a running success for Netflix, and therefore lies among the best action movies on Netflix.
Read More: Star Wars movies for Disney+ coming out in 2021 and later
6. Without Remorse
2021 America action thriller Without Remorse is adapted from 1993 novel of the same name by Tom Clancy. Starring Michael B. Jordan, Jamie Bell, Jodie Turner-Smith, Luke Mitchell, Jack Kesy, Brett Gelman, Lauren London, Colman Domingo and Guy Pearce in pivotal roles, the action adventure follows 'John Kelly,' a U.S. Navy SEAL who sets forth on a path of retaliation and revenge, after his pregnant wife and unit members are killed by Russian hitmen.
7. Outside the Wire
In the near future, a drone pilot sent into a war zone finds himself paired up with a top-secret android officer on a mission to stop a nuclear attack in this science fiction action movie Outside the Wire.
8. Extraction
One of the megahit action movies on Netflix, the Chris Hemsworth starrer Extraction narrates the story of a black-market mercenary who has nothing to lose.
Hence, he is hired to rescue the kidnapped son of an imprisoned international crime lord. But, in the murky underworld of weapons dealers and drug traffickers, an already deadly mission approaches the impossible.
9. The 5th Wave
With the human race at the risk of getting wiped out owing to an alien invasion, Cassie, one of the few survivors, decides to risk everything to find her younger brother, Sam in this action adventure The 5th Wave.
10. Dracula Untold
One of the best horror action movies on Netflix, the Dracula Untold is an American dark fantasy, which, owing to its spine-tingling plots and storyline had grossed $217 million worldwide.
Dracula Untold centers on Vlad the Impaler, a Transylvanian prince, who turns himself into a vampire to protect his family and the kingdom from invading Turkish forces.
Read More: BTS new single 'Butter' breaks YouTube premiere record for 24 hours
Follow INCPAK on Facebook / Twitter / Instagram for updates.