The Pakistani Film industry doesn't release a lot of movies over the years as the entertainment sector is more or less focused of drama serials. However, there were a few notable releases this year, so we decided to make a list of the Top 10 Best Pakistani Movies in 2022.
The local film industry has seen a huge decline over the years but it has managed to recover by spitting out some hits that include a variety of genres, but stories are still mostly based on romantic comedies.
Top 10 Best Pakistani Movies in 2022
Here is the list for the Top 10 Best Pakistani Films in 2022.
1. The Legend of Maula Jatt
The Legend of Maula Jatt has garnered a lot of success ever since it was released back in October 2022 and deserves a place on the number one spot when it comes to the Top 10 Best Pakistani Movies in 2022. The film, which is directed and written by Bilal Lashari alongside co-writer Nasir Adeeb, is an adaptation of the 1979 cult classic film, Maula Jatt.
Produced by Ammara Hikmat and Asad Jamil Khan under the banner of Lashari Films and Encylomedia, The Legend of Maula Jatt stars the likes of Fawad Khan, Hamza Ali Abbasi, Mahira Khan, and Humaima Malik in lead roles.
The story of the movie revolves around the rivalry between the Natts and Jatts or more specifically, Maula Jatt, an undefeated fighter who was raised by Daani after his parents were murdered by the Natts as a child, leaving him with nightmarish flashbacks of his past.
Maula Jatt now seeks vengeance against this arch nemesis Noori Natt, who is also considered a feared warrior in all of Punjab.
2. Joyland
Mired in controversy, Joyland is another title that deserves a place on the list due to its immense popularity not just locally but internationally as well by winning Pakistan's first Cannes entry and bagging several other awards at international film festivals.
Directed and written by Saim Siddiqui, Joyland is also Pakistan's entry for the Oscars this year. Produced by Sarmad Khoosat, the film tackles the subject of transgender rights in Pakistan. The film revolves around the story of the youngest boy in a patriarchal family who is expected to produce a baby boy with his wife.
However, he ends up joining an erotic dance theatre and fall in love with a trans woman.
The movie has been considered as a masterpiece by the people in the entertainment industry, but it was initially banned for release in the country for its story line, which was considered "immoral" and "inappropriate" in nature.
However, the Government ended up setting a review committee after severe backlash over the ban and eventually allowed for the release of the film across the country.
Joyland stars the likes of Ali Junejo, Rasti Farooq, Alina Khan, Sarwat Gillani, Salman Peerzada, Sohail Sameer and Sania Saeed.
3. Tich Button
The Farhan Saeed and Iman Ali starrer, Tich Button, was just released after a long delay of nearly two years due to the COVID-19 pandemic and it has quickly become a hit on the big screen.
Directed by Qasim Ali Mureed and written by Faiza Iftikhar, the movie is a classical rom-com that revolves around a Punjabi family from Lahore. The film teaches us how to strengthen our relationships with love, compassion, trust, and generosity.
Produced by Salman Iqbal and Urwa Hocane, the movies stars Farhan Saeed, Iman Ali, Feroze Khan, Sonya Hussyn, and several other big names from the film industry.
4. Chakkar
Chakkar is 2022 Pakistani murder mystery directed by Yasir Nawaz and written by Syed Jibran that stars popular names like Ahsan Khan, Neelam Muneer, Yasir Nawaz, and Javed Sheikh. Produced by Nida Yasir, the film is about a pair of twin sisters Zara, who lives a life of a notorious film star, and Mehreen, who leads a simple domestic life, married to Kabir.
During the movie, Zara suggests that both sisters switch places to experience what its like to live the other person's life. However, things don't turn out as planned when a murder takes place and results in false accusations, police chases, and gunshots.
5. London Nahi Jaunga
Directed by Nadeem Baig and written by Khalil-ur-Rehman Qamar, London Nahi Jaunga is film that raises many questions about the freedom of choice for women and also focuses to answer some of these questions.
The film revolves around a British girl named Zara, whose life takes a turn when she gets hold of her mother's diary and learns that her father was brutally murdered under mysterious circumstances due to love marriage.
London Nahi Jaunga is produced by Humayun Saeed, who also stars in a lead role alongside Mehwish Hayat, Kubra Khan, Iffat Omar, Mehar Bano, Saba Faisal, and several others.
6. Quaid-e-Azam Zindabad
Another film on the list of Top 10 Best Pakistani Movies in 2022 is Quaid-e-Azam Zindabad, which was produced by Mehdi Ali and Fizza Ali Mirza under the banner of Filmwala Pictures and stars Fahad Mustafa, Mahira Khan, Jawed Sheikh, and Faryal Mehmood. Directed and written by Nabeel Qureshi, the story revolves around Gulab, a corrupt cop due to his circumstances and the bullying he faced during his childhood, who falls in love with Jia, whose phone was snatched while she was rescuing pets.
7. Zindagi Tamasha
Directed by Sarmad Khoosat and produced by Kanwal Khoosat, Zindagi Tamasha has not been released in Pakistan despite being given a release date of 4 November 2022 following protests by Tehreek-e-Labbaik (TLP) Pakistan over the film's content.
The film, written by Nirmal Bano, tells the story of Rahat, who writes, composes, and records hymns praising the Holy Prophet (PBUH). Furthermore, Rahat is a well-respected member of society who takes care of his bedridden wife. However, his life turns upside down when he attends the wedding of his friend's son and shows off some some dance moves.
The cast includes Arif Hassan, Samiya Mumtaz, Eman Suleman, and Ali Kureshi.
8. Ghabrana Nahi Hai
Ghabrana Nahi Hai is story about a girl who seeks out justice for her father, but gets trapped in a love triangle with a police officer and her cousin. Directed by Saqib Khan and produced by Hassan Zia and Mohsin Khan, the film stars Saba Qamar, Zahid Ahmed, Nayyar Ejaz, Syed Jibran, and Afzal Khan.
9. Javed Iqbal – The Untold Story of A Serial Killer
Javed Iqbal – The Untold Story of A Serial Killer revolves around a real life serial killer from the 1990s who sexually abused and murdered over a 100 children in Lahore. The film, directed and written by Abu Aleeha and produced by Javed Ahmed never made it to the big screen after being pulled by the Central Board of Film Censors a day before its release.
However, the film gained international praise and it was selected for Berlin Film Festival.
The movie stars Yasir Hussain in the lead role alongside Ayesha Omar.
Read more: List of Pakistani Films Banned in Pakistan.
10. Dum Mastam
Directed by Mohammad Ehtesham-ud-Din and written by Amar Khan, the story of Dam Mastam revolves around the romance between childhood sweethearts Aliya and Bao. Produced by Adnan Siddiqui under banner of Cereal Entertainment, the film stars Amar Khan, Imran Ashraf, Sohail Ahmed, Uzma Baig, Tahira Imam, and Saife Hassan.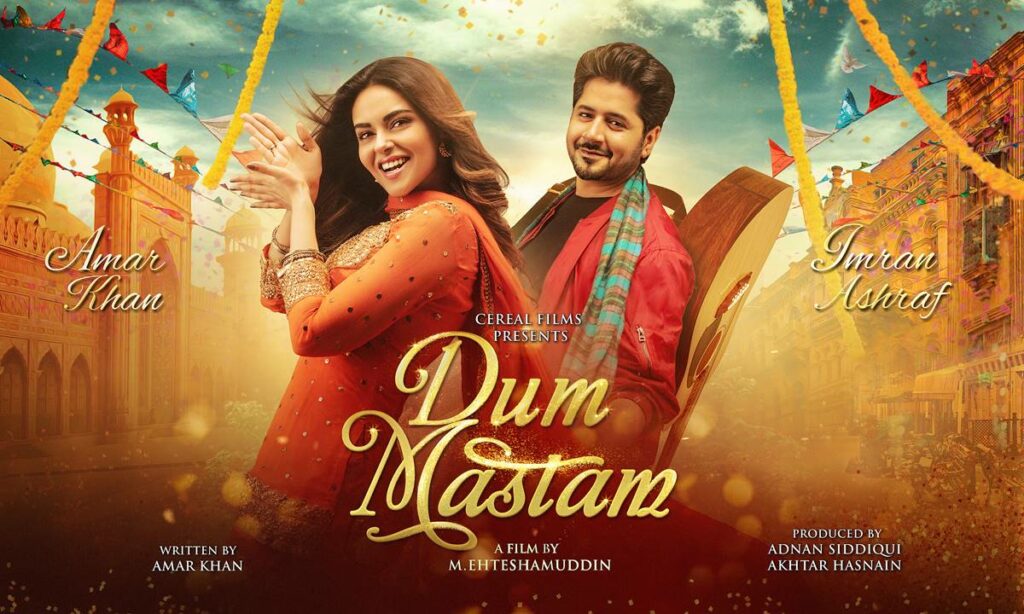 What do you think about the this list of the Top 10 Pakistan Movies / Films in 2022? Let us know in the comments below.
Read more: Top 10 Best Pakistani Dramas in 2022.