Styling and ramp walking isn't a thing for everyone. However some male models in Pakistan are just born to rule the world of glamor.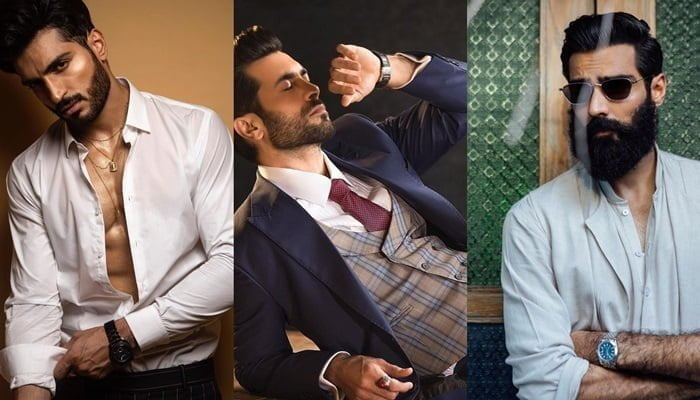 Pakistan's masculine fashion industry acquires a topnotch rank both nationally and internationally. Other than the fashion designers and mastered couturiers, the male models in Pakistan also play a crucial role in upholding the rank the industry deserves. Therefore, with their hard work, gifted good looks and art in front of camera, these fashion performers have impressed some big names globally.
This article contains the Top 10 male models in Pakistan, who are currently reining the fashion universe.
Read more: Turkish drama Yunus Emre set to air on PTV Home.
Top 10 Male Models in Pakistan
1. Hasnain Lehri
The 29 year old Hasnain Lehri, who hails from Baluchistan, stepped into the world of modeling in 2014. With his impregnable exquisiteness and gifted features, the face was soon recognized as the modeling lord by the foremost fashion designers. Hence, within a year, Hasnain established a secure future for himself and now lies among the list of topmost male models in Pakistan.
Moreover, Hasnain Lehri is the only male model in Pakistan, who earned four consecutive "Best Male model" awards at 'Lux Style Awards' forum for the years 2015, 2016, 2017 and 2018. Also, being one of the most handsome faces of Pakistan, Hasnain achieved a rank in the 'Top 100 Sexiest Asian Men' in a poll conducted by Eastern Eye in 2017.
Possessing this much accolades, Hasnain now enjoys working with some renowned fashion designers of Pakistan like Nomi Ansari, HSY, Sapphire and Faraz Mannan. Recently, Hasnain was spotted opposite the glamour queen Minal Khan, posing for some upcoming catalogue.
2. Shahzad Noor
Hailing from the port city Karachi, the charismatic heartthrob Shahzad Noor holds a premium title in the world of modeling. Belonging to a Pashtun family, that justifies his glorified looks, Shahzad had his own printing press before being discovered by the renowned stylist Khawar Riaz.
Shahzad started his modeling career in 2008 and since then has achieved five nominee and two winner trophies for being the 'best male model' at 'Lux Style Awards.' Other than that, the 6 feet tall ideal also earned several nominees at Hum Style Awards, for similar category, followed with earning two Hum Awards in 2015 and 2016.
Shahzad is the elite one of the male models in Pakistan and has worked with nearly every acclaimed designer.
Furthermore, Shehzad Noor also tried his hand at acting, and has appeared in multiple drama serials since 2015. Some of his screenplays are, Tera Mera Rishta, Zakham and Khuwaabzaadi to name a few.
3. Champ Imi [Muhammad Ali Subhan]
Pakistani British descendant Muhammad Ali Subhan or Champ Imi as the world know, is among few Pakistani models, who step into modeling locally and magnified their careers abroad. However, talking about champ imi, the star is not only among best male models in Pakistan, but also all over the world.
Champ started his career the age of 17, when he moved to UK hoping to make a career as an international model. Imi's tall, well-built frame and carved good looks landed him a contract with a foremost UK agency immediately. After endless hard work and heavy struggles, Imi now acts as the brand ambassador for 'Models of Diversity' and is often spotted on cover pages of many international magazines. He has worked with some globally famous brands, like Balmain Paris, L'Oréal, TopMan, Levi's, Vogue and Harper's Bazaar.
He recently attended the British Fashion Awards and represented them. Sitting with Sam Smith, Julian Macdonald, Lady Gaga and so many other celebrities yelled his achievements.
Furthermore, he is also a part of the ensemble cast of Disney's live-action Aladdin.
4. Emmad Irfani
Currently ruling the television screens as Asfandyaar of Jalan, the enigmatic model turned actor Emmad Irfani was forced into the world of modeling by a family member in 2002. Possessing the invincible gifted features and mastered work with poses, Emmad immediately ascended into limelight and was back to back hired by then ruling couturiers.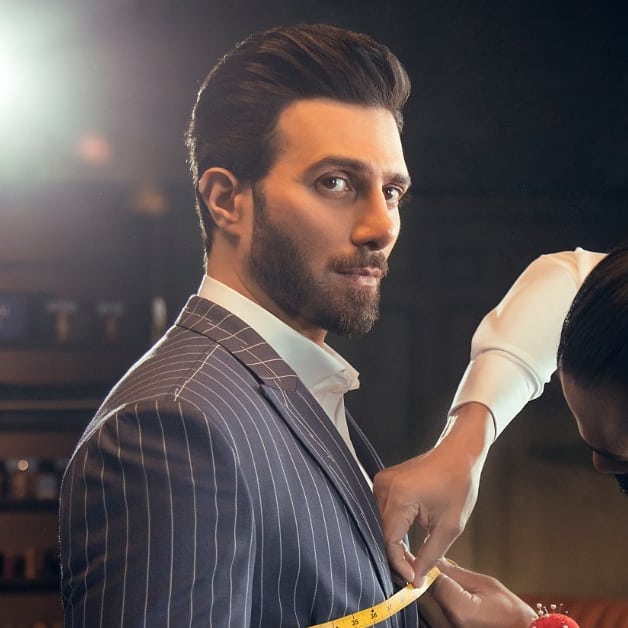 He first worked with HSY then with Khaadi, Hang Ten, Charcoal, Nilopher Shahid, Bunto Kazmi, Nomi Ansari, Deepak Perwani, Maria B, Karma and others. Moreover, he also worked with some international brands such Versace Dior, Levis, DKNY, Parada and Armani in Paris and Milan. Consequently, Emmad won 'Best Male Model' at the Lux Style Awards and MTV Pakistan style awards, and subsequently was nominated in 2006 and 2007. Hence, the actor acquires a top rank among best male models in Pakistan.
After ruling the modeling industry for ages, in 2013 he started focusing on acting and since worked for many TV serials including Geo TV, ARY Digital and Hum TV. In 2018 he launched his film career with a cameo role in his cousin Farjad Nabi's box-office hit 7 Din Mohabbat In.
5. Omer Shehzad
The massively renowned Omer Shehzad is out of the few male models in Pakistan, who achieved spontaneous success. Omer stepped into the glamor world in 2011, when Vaneeza Ahmed selected him for then happening bridal couture week. Omer was fortunately among 8 candidates, selected out of 200 participants. That was the beginning of his glittering showbiz future.
Since then, Omer has won bundles of nominees as Best Male Model at Lux Style and Hum Style Awards. Omer has also worked with all leading stylists, including Deepak Perwani, Sania Maskatiya, HSY, Zainab Chottani, Fahad Hussayn, and Zaheer Abbas, that earned him widespread acclaim and recognition.
In 2013, Omer stepped into entertainment industry by contracting several projects. Some of his renowned screenplays are choti choti khushiyaan, Chor Darwazay and hit-drama series Noor Jahan to name a few.
Other than that, Omer also appeared as leading actor in 2016's silver screen hit Teri Meri Love Story, alongside Ushna shah and Hajra Yamin.
Read More: VELO Sound Station Season 1 Begins November 20th
6. Rizwan Ali Jaffri
Model turned actor Rizwan Ali Jaffri, who hails from Lahore, holds a notable status in fashion industry. It was due to his good looks and ideal height and physique that glamor world was an easy catch. Rizwan is known to have worked with renowned Pakistani designers, bagging the 'Best model of the year' award at '4th media awards.'
After establishing a career in modeling, Rizwan enrooted towards acting, starting with various commercials. Later in 2012, he made his small screen debut with the serial 'Pani Jaisa Piyar', directed by Sarmad Khoosat.
Subsequently, Rizwan stepped into singing and released his album, 'Yaran De Toli' in 2013 and surprised everyone by winning the most coveted Lux Award of Best Album in 2014.
7. Walid Siddique
The 29 years old, Walid Siddique, who hails from Lahore, made his ramp debut while studying. He was selected to walk the ramp for Munib Nawaz for the very first PFDC show, where the legendary Hassan Sheheryar Yasin [HSY] approached him backstage. The two regularly work together. Here to mention, Waleed Khalid is a four-time Lux Style Award nominee.
Furthermore, in 2019, Walid expanded his career to abroad by signing a contract with lBareface Model Agency Dubai.
8. Athar Amin
The fitness freak of male models in Pakistan Athar Amin houses huge bunches of followers, thanks to his ideal personality and gifted eye catching looks. Athar was in fact spotted working at the gym by a fashion designer, where he was immediately offered a contract.
His first acting job was a shoot for Levi's. Later, He moved to Dubai in 2016 and has been working there ever since. Athar was nominated for the LSAs in 2013, 2014 and 2015.
9. Aimal Khan
Hailing from Khyber Pakhtunkhwa, the 30 years old Aimal Khan has been nominated for Best Male Model successively for three consecutive years. Moreover, latest Lux Style Awards nominations also names Aimal Khan among the Best male models in Pakistan. Also, Aimal won HUM Style Awards 2020 for Best male model this year.
10. Abbas Jafri
Abbas Jafri started his career in cricket and had played in Pakistan Under-19 cricket team for some years. Later in 2001 he got offers for fashion industry so he joined modeling industry and has been seen in different fashion events and shows.
Jafri is two times Best Male Model Lux Style Awards winner and one time Hum Awards winner. Nevertheless, now a days Jafri is more focused on politics, offering his services as a PTI official.
Read More: Lux Style Awards 2020: Voting Lines Are Now Closed
Follow INCPAK on Facebook / Twitter / Instagram for updates.