Pakistani dramas industry has made strides in past few years, gaining worldwide recognition. The directors and writers are always giving their best, sparing no efforts when it comes to qualitative dramas making.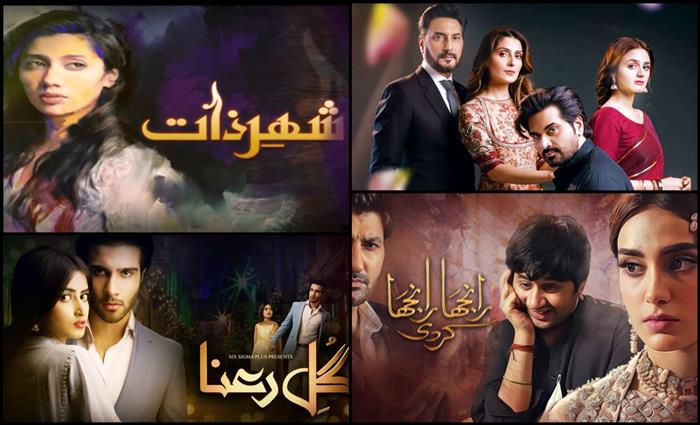 Pakistani content is acknowledged both nationally and internationally for a reason. The plots are short and simple with heart-touching dialogues and limited number of episodes, added with pleasing OSTs. Hence, it is wise to say that Pakistani dramas industry is really flourishing.
Top 10 Pakistani dramas:
 Pakistani showbiz has provided the audience with some incredible screenplays in the past few years that garnered massive praises. Here is the list of most watched and acclaimed Pakistani dramas of all times.
1. Humsafar- Highest viewed of Pakistani dramas
2011's blockbuster drama serial Humsafar smashed all previous records of viewership with its phenomenal storyline.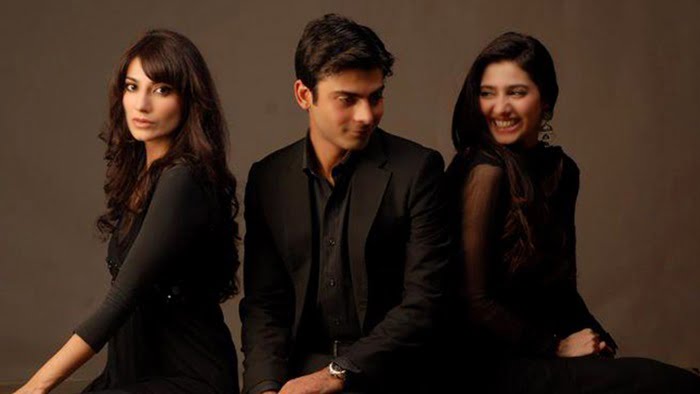 Directed by Sarmad Khoosat, Momina Duraid's production, Humasafar is a spectacular love story that never repeated in Pakistani dramas history ever again.
Humsafar portrays the two love birds Khirad and Ashar who were initially forced to marry by their parents but later develops intense liking towards each other. However, Ashar's best friend Sara is heartbroken and sets new evil lengths to destroy the duo's married life and happiness.
Moreover, drama serial Humsafar was the magic wand that provided enormous accolades to Mahira Khan and Fawad Khan, opening new doors of success for both the actors.  
2. Diyar-e-Dil:
The family romance drama Diyar-e-Dil is another one of first-rate Pakistani dramas that collected critical acclaim from the audience, making it the most viewed drama of 2015.
The story highlights family conflicts, sacrifices, arrogance of the elders and wrongdoings of the children, followed by guiltiness over past mistakes.
The tale beautifully highlights cousin marriages. Agha Jan, the patriarch of the family engage his son and niece, Behroze and Arjumand respectively, in childhood. However, Behroze disobeys his father and marries the woman he loves, leaving his father's house forever. Hence the younger son, Suhaib is forced to marry Arjumand to maintain family's dignity.
The story proceeds showing leap of many years and guilt over past mistakes followed by the love story of new generations of the family.
3.  Shehr-e-Zaat:
The 2012's beautiful novella Shehr-e-Zaat displays the repentance of past mistakes and spirituality.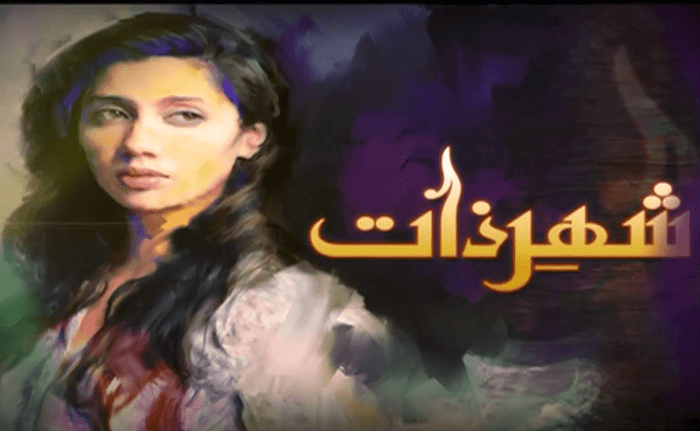 Falak, played by Mahira Khan Fall in love with Salman (Mikaal Zulfiqaar) and the two gets married.
When Falak faces betrayal from the love of her life, she realizes money and luxuries were all that mattered to her more than relationships. Hence, Falak chooses a positive path of repentance, learning the actual meaning of life.  
4. Meri Zaat Zarra-e-Benishan, Masterwork of Pakistani Dramas
This masterpiece of Pakistani dramas boldly represented the women's status in our society and the ill-treatment she faces from her in laws.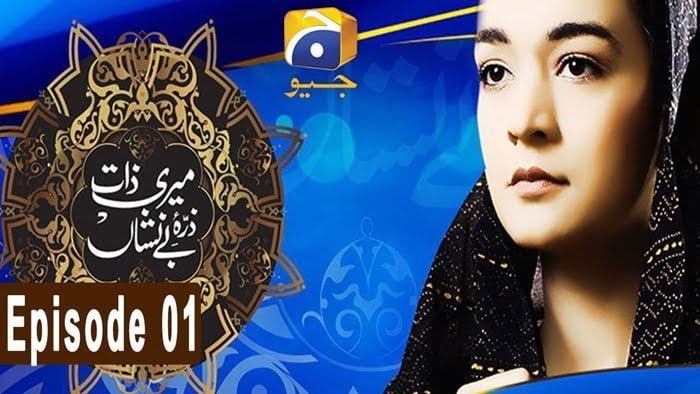 The drama serial shows the cruelness of the society towards a religious girl named Saba.
Saba and Arfeen are in love and are to be married. However, Arfeen's mother and sisters are against the marriage and sets the wicked plot to separate the duo one day before their marriage, by accusing her of unlawful relations with another man. In addition, to prove her point, Arfeen's mother fake oaths on Quran, hence succeeding in her plan.
Saba struggles all her life, nevertheless the reality reveals one day, but it is too late.
Read More: Ramsha Khan & Wahaj Ali come back together in 'Ghissi Pitti Muhabbat'
5. Gul e Rana:
Gul e Rana displays the courage of a young girl who finally moves on from a toxic relationship.
Adeel, who is a spoilt, obnoxious teenager want everything he desires. To fulfill his liking towards his cousin, Gul-e-Rana he forcefully marry her. The story proceeds with treating Adeel treating her wrongly after their marriage and the two never getting along.
In addition, the serial beautifully promotes the courage and dignity that every girl should possess, leaving the toxic ones behind and moving on with life.
6. Alif Allah aur Insaan:
This valiant project of Pakistani dramas became a super hit of its time with its mixture of sanctity and worldly desires, highlighting how the Creator rewards the ones with faith and conviction.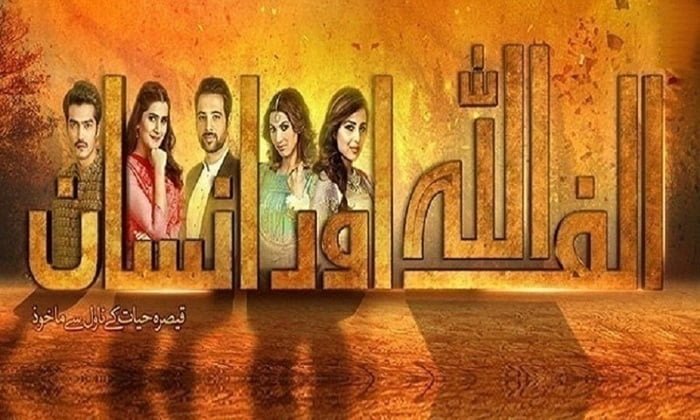 The drama revolves around different classes and how they are interlinked, portraying the life of religious scholar, prostitute, transgender, normal servant and the girl who would do all in her hands to fulfill her desires.
7. Ranjha Ranjha Kardi:
Ranjha Ranjha Kardi is an adorable love story of a garbage picker and mentally disabled person.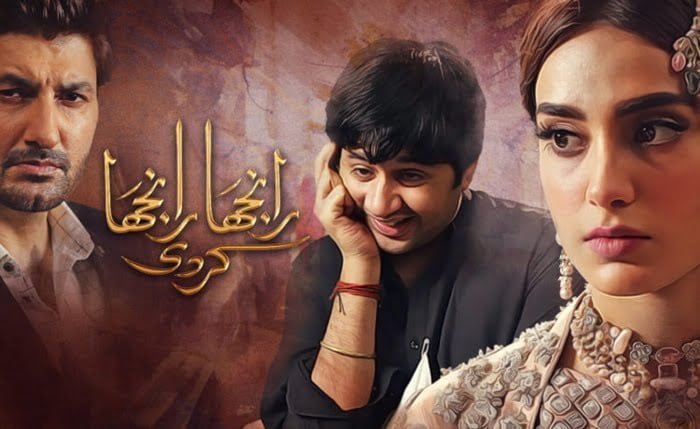 When young Noori, stands up for herself against everyone for a better lifestyle, even God helps her, bringing her as a light and hope in retarded Bhola's life.  
8. Alif – Spiritual project of Pakistani dramas
2019 spiritual romantic tale of Pakistani dramas Alif set new records of sacredness, promoting religion and collected huge appreciation on its way.
Though it is a love story between two couples, it specifically depicts the life of lost creature Momin who rediscovers his roots and turns back to the almighty with the support of Momina and his grandfather.
Alif marvelously captivates the audience in its spirituality bubble with its soothing dialogues, having a deep effect on our lives.
9. Meray Pass Tum Ho:
2019's blockbuster drama serial that gained recognition internationally also, Meray Pass Tum Hou is all about greed, sincerity and the faithfulness of relationships.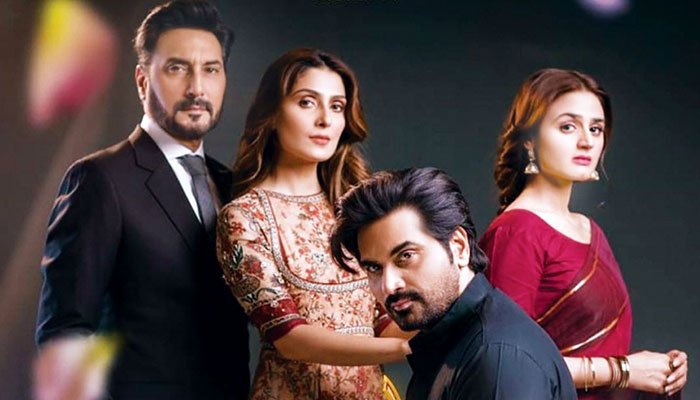 The story reveals what fate holds for a gold digger, when she chooses money ad luxuries over her relationships.
10. Yaqeen Ka Safar:
Hum TV's smash hit Yaqeen ka safar exposes the ugly faces of authorities and political leaders, where a dedicated lawyer is murdered fighting for justice for a young assaulted victim.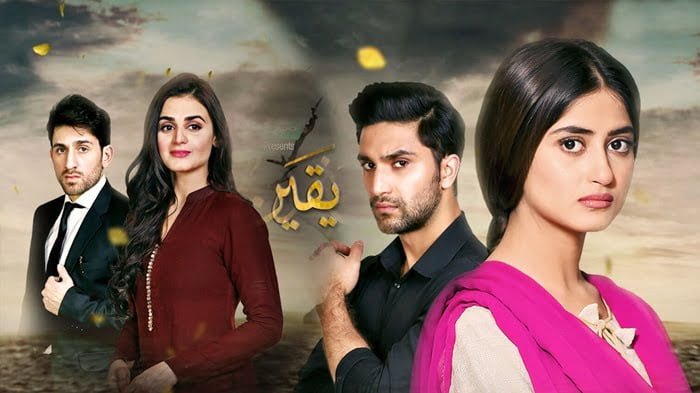 The story also unveils the striking love story between two doctors played by Sajal and Ahad, the adorable real life couple of Pakistani dramas industry.
To conclude, Pakistani showbiz offers the qualitative entertaining content provided with deep morals. Therefore, holds a higher place globally when it comes to TV serials.  
Read More: Top 10 Netflix movies you need to watch