Pakistani YouTubers holds a notable rank when it comes to exceptional content creation. Be it vlogging, street pranks, online roasting or parodies, Pakistani originators possess an indomitable knack of winning the audience with their videos. And although, Pakistan houses broad number of YouTube content inventors, some Pakistani YouTubers are incomparable and stands at top, owing to their hilarious, captivating content, and without promotion of negativity, obscenity and hatred.
Top 10 Pakistani YouTubers
Following are the highly celebrated Pakistani Youtubers, who with their light-hearted YouTube videos, not only earned Pakistani audience, but also gained International recognition, with subscriptions from all over the globe.
1. Kitchen with Amna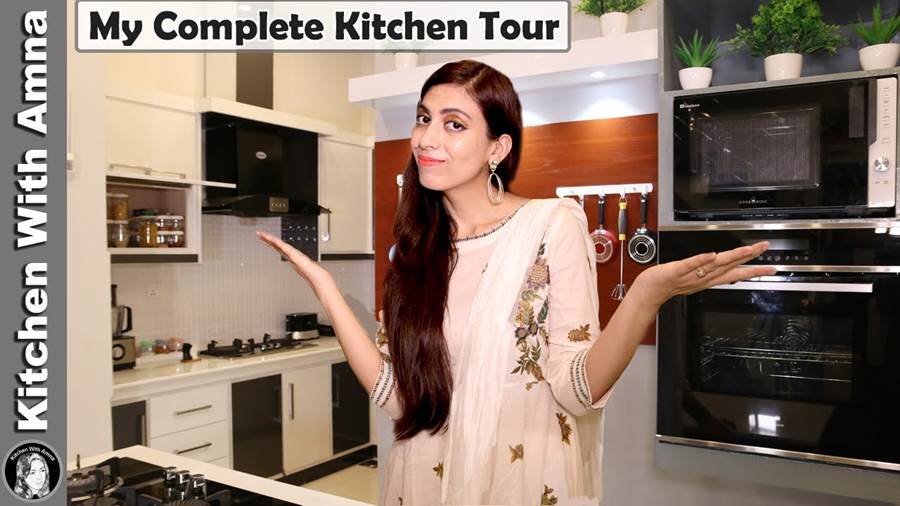 The majorly renowned cooking hub of Pakistan 'Kitchen with Amna' leads the most followed Pakistani followers, with 3.88 million subscribers.
The channel is owned by master chef named Amna, who made use of her spectacular cooking skills and earned the title of first female Pakistani Youtuber to reach 1 million.
As the name suggests, Amna's videos are all related to cooking and kitchen. However, the kitchen expert has not limited her skills to Pakistani cuisine only. 'Kitchen with Amna' houses recipes from all over the world, including Indian, Italian, Chinese and much more.
2. Nadir Ali of P4 Pakao
Majorly acclaimed comedy stations 'P4 Pakao' holds the title of one of the most successful YouTube channel of Pakistan, with its subscribers count reading 3.45 million at present. The channel is owned by King of comedy Nadir Ali, who started with standup comedy to achieving such a milestone, of becoming second most followed Pakistani Youtuber.
Nadir Ali hails from a middle class family of Karachi. However, the artist did not give up on his dreams, and utilized comedy element to earn wide fame. 'P4 Pakao' was started by Nadir in 2016. His YouTube videos are mostly street pranks on common public, but the comedian assures to leave you in fits.
3. Food Fusion
Food fusion is another cooking giant prevailing on Pakistani YouTube handle. And, although the channel acquires lesser followers than the aforementioned one, the channel is enormously celebrated among the Pakistani female population, and therefore harvests thousands of views on each video. The channel currently has 3.18 million subscribers and its owners Asad and Saima lies third among most followed Pakistani Youtubers.
Food fusion's videos are short, usually limited to 2-3 minutes, with background tune and no side instructions by host. Nevertheless, the cooking tips for each recipe are mentioned in their description, which adds to the viewer's convenience.
4. Village Food Secret – Mubashir Siddique
Village food secret, managed by Mubasshir Siddique lies forth among Pakistani Youtubers with 2.78 million subscribers.
Food expert Mubashir Siddique is a former production manager of a Sialkot based Football manufacturing company. He has also worked in Malaysia previously, nevertheless, the chef moved to his native land in 2016, and started his own YouTube channel.
'Village food secrets' is mostly about promoting village kitchens and their home economics. Here Mubashir uploads recipes of all cuisines, but, the food is cooked in village style, which is admired worldwide.
5. Qasim Ali Shah
Renowned Pakistani author and influential speaker Qasim Ali Shah, owing to his heart-touching and comforting motivational videos, bags 2.67 million followers on his YouTube channel of same name.
Qasim Ali Shah is a chemical engineer, corporate trainer, social worker and motivational speaker, determined to serve the country and the humanity. Qasim's videos are based on life lessons, friendly advices and counseling session that motivates the listener to think optimistically.
Read More: Hareem Shah registers FIR of assassination attempt against friend
6. Saad ul Rehman – Ducky Bhai
One of the most controversial yet massively cherished Pakistani Youtubers, Saad ul Rehman, known by his channel name Ducky Bhai lies among most popular content creators and roasters on Youtube, with 2.53 million subscribers.
Ducky Bhai's videos are mostly on mocking celebrities, tiktokers, fellow creators, and other celebrities. The Youtuber rose to eminence after his conflict with Sham Idrees, following which he added huge bundles of followers to his channel.
Saad's content is exceptional and hilarious; nevertheless, his choice of words, dark humor, and offensive language is a negative element for which he is often criticized.
7. Asad Ali TV
Asad Ali TV, owned by Faisalabadi boy, is a technology channel, with videos on reviews of cellphones and other electronic devices. Other than that, the channel also supports short clips on mobile phone hacks, trips, tricks and hidden feature. Hence, Asad Ali's videos are usually helpful, and therefore the channel houses 2.07 million subscribers.
8. Zaryab Khan – XEETECHCARE
Another of the technology nucleus, XEETECHCARE, is owned by Pakistani Youtuber Zaryab Khan, whose life revolves around smartphones.
Hence, Zaryab's videos are based cellphone experiments, discovering new features, reviews and a lot more. Currently, Zaryab has 1.56 million subscribers on his channel.
9. Ramiz Raja – Ramiz Speaks
The globally renowned former Pakistani cricketer and current commentator Ramiz Raja enjoys 1.51 million subscribers on his Youtube channel Ramiz speaks.
Exclusively for die-hard cricket lovers, 'Ramiz speaks' is all about cricket, from PSL to IPL, test cricket, team disputes and much more. Also, Ramiz has not limited his two cents to Pakistani cricket, but also comments on other international teams and their performances, and earns views from across the borders too.
10. Raza Samo – Khujlee Family
Center of light hearted comedy, the Khujlee Family, owned by standup comedian Raza Samo, possesses 1.46 million subscribers, and lies among the topnotch Pakistani Youtubers.
Khujlee family's videos are jam-packed bundle of amusement that makes the viewers glued to their screens. Their content category is vast, and includes pranks, funny videos, advertisement reviews, song reviews, roasts and much more.
Read More: Netflix shows and movies coming April 2021
Follow INCPAK on Facebook / Twitter / Instagram for updates.