The news regarding Pakistani celebrity couple Urwa Hocane and Farhan Saeed getting separating and filing for divorce has turned out to be fake according to Urwa's father Makhdoom Chaudhry.
For the past few days, the news regarding the celebrity duo's separation had taken the internet by storm and was reported across local media, including us but like we mentioned in our previous post, there was no confirmation regarding the development.
Read more: Urwa Hocane and Farhan Saeed Reportedly Getting Divorced.
Urwa and Farhan Are Not Getting a Divorce
However, the news of Urwa and Farhan separating and filing for divorce happens to be fake as confirmed by the father of Punjab Nahi Jaungi actress in an interview with a private news outlet.
According to Chaudhry, her daughter and son-in-law were living happily. Here is the clip of the report by GNN.
Urwa Hocane and Farhan Saeed Divorce – Backstory
The news broke out on social media about Urwa and Farhan getting a divorce two days ago and took the internet by storm with many fans expressing their sadness over their favorite couple separating.
Many media outlets even claimed that there was a divorce case of Urwa Hocane and Farhan Saeed going on in the local court of Lahore but nobody had any actual source to their claims.
Urwa Hocane and Farhan Saeed Wedding Anniversary
The couple will be celebrating their fourth wedding anniversary according to Makhdoom Chaudhry who stated were preparations were already being made for the event.
He further clarified that all news circulating on social media about the divorce of the court case is completely fabricated and untrue. It is pertinent to mention that there still hasn't been an official statement from the couple.
NOTE:
Even though major Pakistani news outlets are reporting that Makhdoom Chaudhry has dismissed these rumors in an interview with GNN, we tried to search for the actual interview but were unable to find it.
For now, it seems that the entire news is based on one Facebook comment from someone named Makhdoom Chaudhry.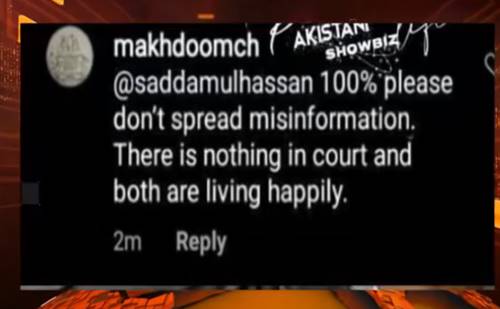 We tried to search the internet for details but only came across Google stating the name of Urwa's father as Mushtaq Hussain.
Urwa Hocane Pictures
Read more: TikTok star Alishba Anjum shows off her dance moves.