As Eid ul Adha is just around the corner, here are some top Eid Dresses trends of 2021, brought to life keeping in mind the hot, mid-summer weather expected on the marked dates. Hence, it's high time to upgrade your festive outfits, both casual and party wear, and give off the cool summer vibe this BBQ season.  
Eid, the festival of colors, happiness and gatherings, is celebrated whole heartedly all over the globe. However, in Pakistan, the festive has an exceptional charm, with major focus of lady population on their attire picks for the trio of days.
Hence, considering this obsession of Pakistani females, each clothing line introduces its own collection of sophisticated outfits a few days prior to the big event. And, likewise, this year also welcomes a whole variety of attires, ready to be garbed this Eid season.
Hence, here are the topmost and up to date Eid dresses trends of 2021 you need to have a look on before Eid ul Adha.
1. Morning basics
As the Eid ul Adha morning routine is all about meat and blood, women in Pakistan prefers simple and easy to carry dresses for that time. Also, heavy, embroidered party wears doesn't blend in with the qurbani rituals.
Hence, for the morning period, many clothing outlets have introduced soft, simple yet sophisticated outfit picks. Eid ul adha dresses trends 2021 comes along with an all new and compelling casual wears of cotton, and lawn preferably to cope with the scorching weather. These include printed lawn and cotton shirts, medium length kurtis, and knee length frocks.
Also, to give a touch of summer to your Eid attire, light or bright colored shirts with patterned or floral prints are a wise choice. These can be blended with a variety of bottom wears, like cigarette pants, Bell bottoms, tulip pants, plazos and simple straight trousers.
Moreover, if you are opting for a humble yet mesmeric Eid look, short shirts with tulip pants and organza dupatta is what you need.
Moving on to the dupattas, it is an essential element of the Pakistani Eid dresses, without which the festive look is incomplete.
However, teens and young adults prefer a simple colored dupatta for the morning basics, usually of the bottom color. Hence, Eid dresses treds 2021 also comes with a huge variety of dupattas, to fulfill your perfect Easter outfit.
With that being said, Lights, ruffles, silk, tissue organza, block prints, rillios, hasas and a whole host of dupattas are trending at the moment. Whether you have a plain dress or something heavy, statement dupattas will enlighten your chic getup.
Read More: Maya Ali introducing her own clothing line "Maya Pret-A-Porter"
Party Wears
Even though the Eid ul Adha is falling in the peak summer time, when the sun is right above the head, Pakistani women still has an eye for heavy, full embroidered party wears. And, to fulfill that desire, Eid dresses trends of the year 2021 includes,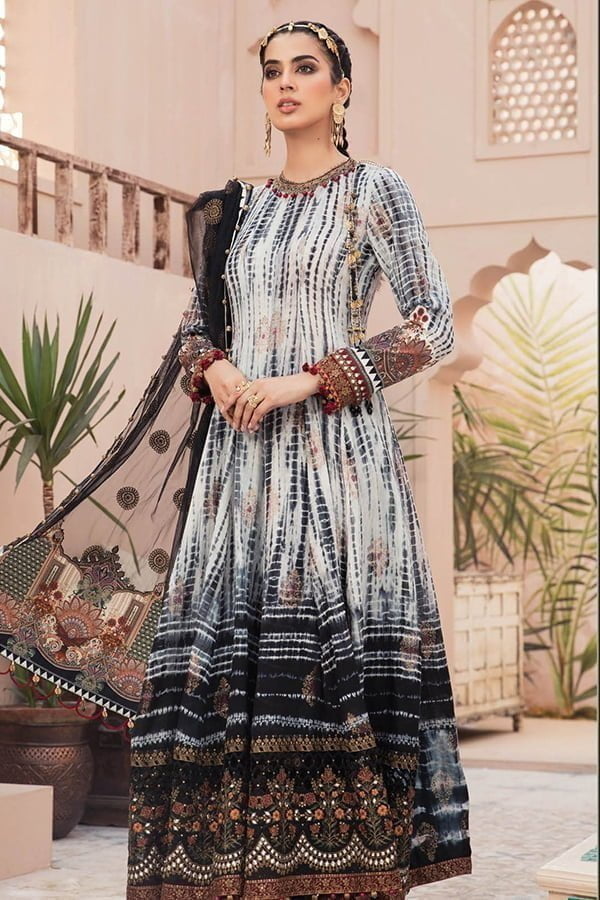 Full front embroidered long shirts, with a plain bottom and a heavy contrasting dupatta.
Medium length gown style with heavy embroidered dupatta.
Cotton Slub suit with heavy tissue or organza emroidred dupatta,
Full length front open maxi style frocks and much more.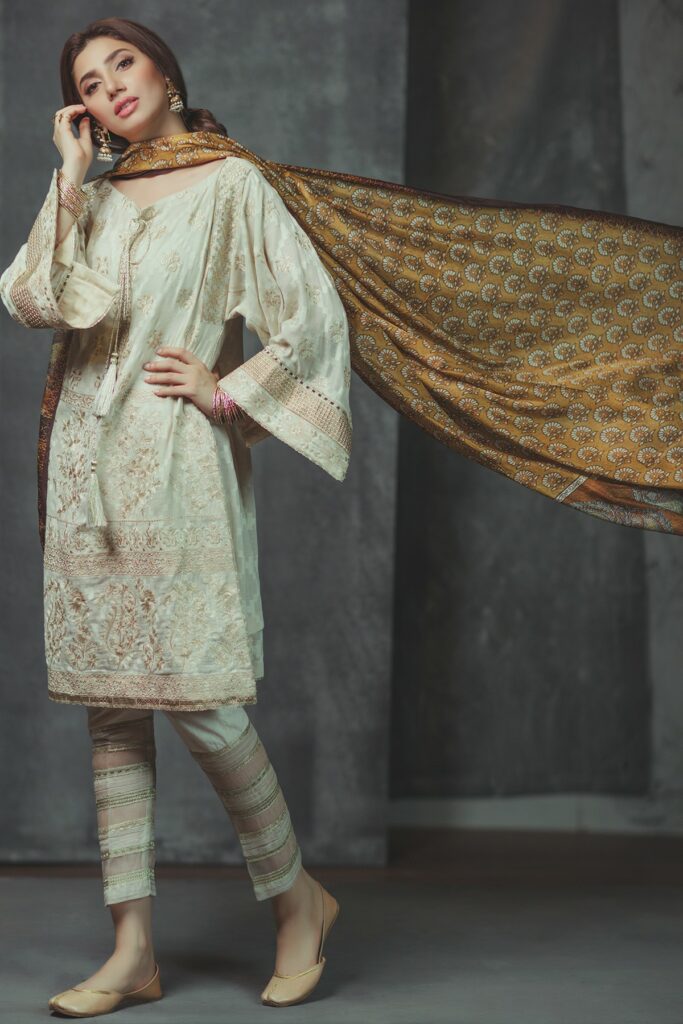 Additionally, Angarkha styles have once again surfaced as a key part of Eid dresses trend for the year 2021, with multiple outlets adopting the old times pattern in both casual and party wears.
Loose, frock styled tops with gharara pants are also trending.
Jewelry
Eid vibe is incomplete without matching accessories and jewels. And, as it is the summer season and majority of the population opt simple and decent attires, this is the perfect time for the heavy jewelry.
However, simple colorful bracelets and jhumka earings also goes well with the summer, and is often spotted as Eid dresses trends 2021.
Footwear
There isn't any distinguished footwear collection yet sighted for the Eid 2021. Hence, all type of shoes, sandals, high heels, flats and slippers are in fashion. Other than that, this year's Eid ul fitr had introduced khussa trend, which are still at the front rows.
Meanwhile, at present, flat, black open slippers are among the season favorites.
Read More: Pakistani Summer Fashion Trends For 2021
Follow INCPAK on Facebook / Twitter / Instagram for updates.