Arugula Salad with walnut is a Turkish salad made with only a few simple ingredients. If you like the taste of arugula this is a must try the recipe, simple and easy to make but has the taste you will never forget.
Turkish salad is known for not just their taste but the combination of color they add to your meal.
Benefits of Consuming Arugula
Arugula is a type of cruciferous vegetable, studies suggest consumption of plant foods like arugula helps in cutting down the risk of, obesity, diabetes, cancer, and heart disease.
Promotes healthy complexion
Increases energy
Lowers weight
Nutritional Facts
Two cups of arugula weighing about 40 g contain approximately 10 calories.
Arugula also contains:
1 g of protein
0.3 g of fat
2 cups of arugula will provide:
20 percent of vitamin A
over 50 percent of vitamin K
8 percent of vitamin C, folate, and calcium needs for the day
Arugula Salad with Walnuts (Turkish Salad Recipe)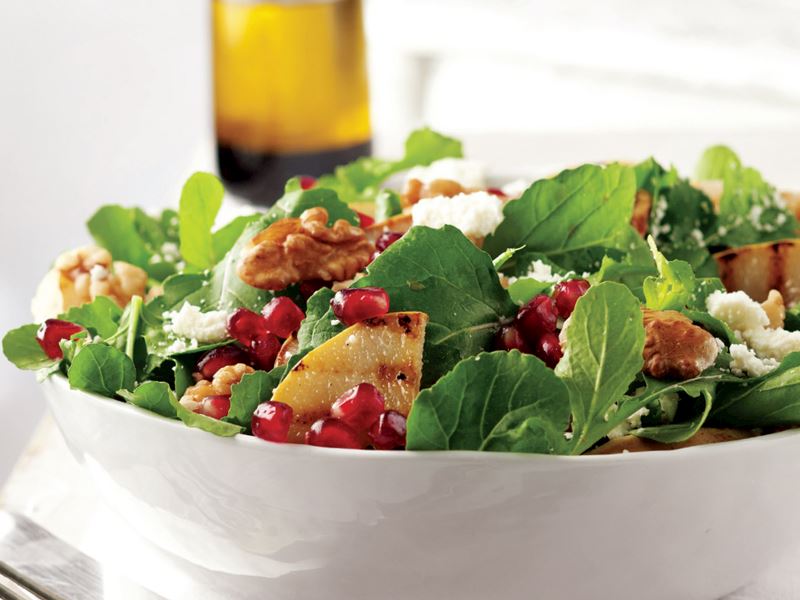 INGREDIENTS
1 Bunch Arugula
4-ounce Goat Cheese or Tulum Cheese
One Handful Walnuts – lightly roasted and crushed
DRESSING
3 Tablespoons Olive Oil
2 Tablespoons Pomegranate Paste
1 Teaspoon Crushed Red Pepper
Salt
Freshly Cracked Black Pepper
GARNISH
2 Tablespoons Fresh Basil
1 Tablespoon Fresh Pomegranate Seeds or Dried Cranberries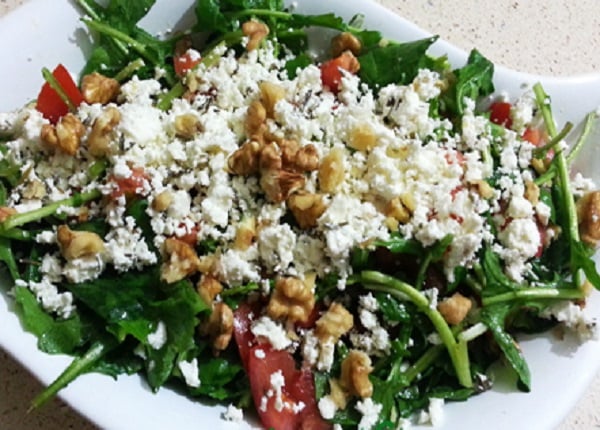 PREPARATION
Step – 1
Wash and dry arugula leaves and break off Arugula stems.
Step – 2
Break off the leaves into smaller pieces with your hands. (Use knife if you like)
Step – 3
Arrange Arugula leaves on a platter
Step – 4
Whisk all the dressing ingredients together. Taste dressing to adjust seasonings according to your taste.
Step – 5
Pour dressing over the Arugula leaves and toss them gently.
Step – 6
Add goat cheese or Tulum cheese.
Step – 7
Garnish Walnuts on top
Step – 8
Finally, add basil leaves and Fresh Pomegranate Seeds or Dried Cranberries.
Enjoy Arugula Salad :)
For More Recipes: Turkish Cuisine