Tomatoes and onions are commonly used in salad all over the world. Tomato salad with onion is a very easy to make and both the vegetables have amazing health benefits.
Onions are super healthy loaded with sources of Vitamin C, Sulphuric Compounds, flavonoids and phytochemicals.
Tomatoes are wonder fruits packed full of vitamins A, C and E. They also contain flavonoids, potassium, and other mineral salts.
NUTRITION FACTS FOR ONIONS
1 medium onion (5.3 oz / 148 g)
Calories: 45 (Calories from Fat: 0)
Total fat: 0g (0%)
Total Carbohydrate: 11g (4%)
Dietary Fiber 3g (12%)
Sugars 9g
Cholesterol: 0mg (0%)
Sodium: 5mg (0%)
Potassium: 190mg (5%)
Protein: 1g
Vitamin A: (0%)
Vitamin C: (20%)
Calcium: (4%)
Iron: (4%)
HEALTH BENEFITS OF ONION
Sulfur in Onion acts as Natural Blood Thinner
Reduces the onset of hypertension
Prevents plaque buildup in the arteries reducing the risk of heart attack and stroke
Onion Sulphur may be an effective anti-inflammatory agent
Provides relief of asthma symptoms
Reduces allergic reactions
Promotes good digestion
NUTRITION FACTS FOR TOMATO
One cup of chopped or sliced raw tomatoes contains:
32 calories (kcal)
170.14 g of water
1.58 g of protein
2.2 g of fiber
5.8 g of carbohydrate
0 g cholesterol
Tomatoes also have a wealth of vitamin and mineral content, including:
18 mg of calcium
427 mg of potassium
43 mg of phosphorus
24.7 mg of vitamin C
1499 international units (IU) of vitamin A
Tomatoes also contain a wide array of beneficial nutrients and antioxidants, including:
alpha-lipoic acid
lycopene
choline
folic acid
beta-carotene
lutein
HEALTH BENEFITS OF TOMATOES
They protect heart
Improve vision
Improve bone health
Boost digestive health
Help with diabetes management
Guard Skin Health
Protect Against Cancer
Tomato Salad with Onion (Turkish Salad Recipe)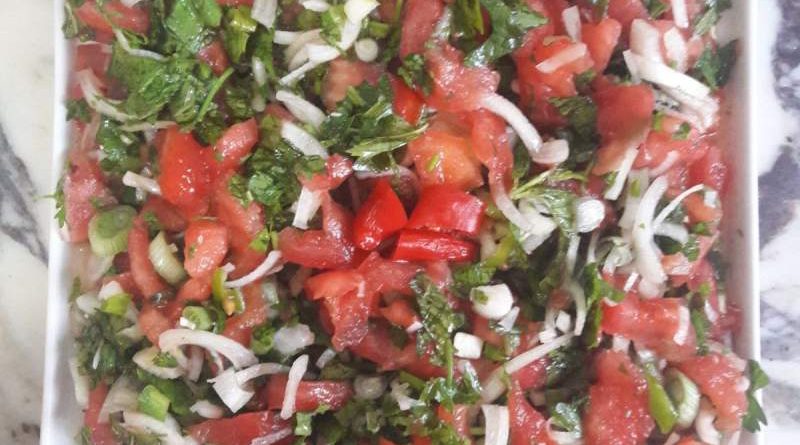 INGREDIENTS
4 Large Tomatoes
1 Large Onion
Salt according to taste
DRESSING
For Lemon Dressing
¼ Cup Olive Oil
5 Tablespoon Lemon Juice
½ Cup Chopped Parsley
Salt
Freshly Cracked Black Pepper
For Vinegar Dressing
¼ Cup Olive Oil
¼ Cup Vinegar
½ Cup Chopped Parsley
Salt
Freshly Cracked Black Pepper
PREPARATION
Step – 1
Dice Tomatoes in the size and shape of your choice
Step – 2
Peel and dice onion
 Step – 3
Chop green parsley
Step – 4
Place tomatoes, onion, and parsley in a salad bowl. Toss them together to mix and arrange to your liking.
Step – 5
Whisk all the dressing ingredients together. Taste dressing to adjust seasonings according to your taste.
Step – 6
Pour the dressing over the salad and give it a toss.
Step – 7
Sprinkle some freshly crushed black pepper on it
Step – 8
Serve after 15 – 20 minutes after preparation.
For More Recipes: Turkish Cuisine