Homemade hair remedies does wonders to your hair in comparison to synthetic products. Also, artificially prepared tonics and shampoos are often not suitable for all hair types, hence could be harmful. Natural hair remedies and tips on the other hand are proven to be fruitful against all hair damage, providing finest and easiest hair health care.
Hairs are the crowning glory and we all love to flex with our fascinating hair. Shiny, silky, lengthy and strong hairs are every individual's fantasy, be it a girl or a guy. However, if you're spending tons of your hard earned money on expensive shampoos and hair tonics and still not receiving the desired results, hair are some natural hair remedies and tips that you need to adopt, in order to attain your dreamy hair.
Natural Hair Remedies:
1. Egg treatment:
Egg treatment is one of the most successful and scientifically proven natural hair remedies. Eggs are packed with B vitamins that bring out your best hair, as well as provide scalp care.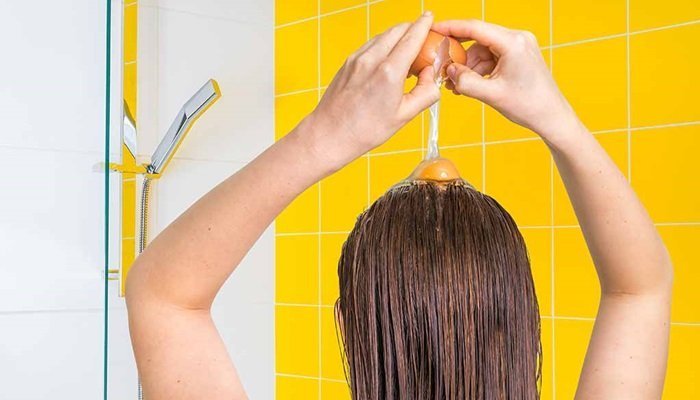 Vitamin B1, B2 and B5 helps in maintaining hair flexibility and strength, whereas B7 is essential for hair growth.
In addition, folic acid in eggs minimizes premature greying of hair.
How to apply: Crack open two eggs. Beat the contents well and apply all over your scalp and hair. Leave it for 15 minutes and then wash with usual shampoo and conditioner. Repeat this easiest of natural hair remedies twice or thrice a week.
Note: Do not eliminate egg white as it moisturizes your dead locks.
2. Use Rice water for shampoo:
As astounding as it may sound, rice water has a multitude of components with nutritional value for the hair.
Rice water consists of proteins, triglycerides, starch, carbohydrates. phytic acid and inositol, that works as quick hair remedies. These components functions to swiping out hair loss and greying that are the major issue related to hair.
How to apply: Boil a handful of white rice in two cups of hot water and strain out the residue liquid. This natural hair tonic could be applied as your normal shampoo or as a final rinse.
Read More: Top 5 best essential oils for skin care
3. Oiling – most important of hair remedies:
Oil treatment is a necessity of your hair and should be repeated at least thrice a week. Applying natural oil in your hair does miracles to scalp health. Additionally, oiling contributes positively to hair length and texture, reduces hair loss and stimulates general wellness of our hair.
Oils that are proven to be suitable hair remedies for achieving mesmerizing hair are:
1. Coconut oil: Wipes out dandruff, softens the hair, work on split ends and enhances hair growth.
2. Argon oil: Being rich in Vitamin E, works as supreme moisturizer, eliminates dryness and reduces frizz.
3. Castor oil: Extracted from castor seeds, this oil helps prevent scalp from flaking provides nourishment and lubrication and decreases breakage at roots.
4. Onion juice as hair remedies:
Onion juice also plays its part in hair health, precisely beneficial for hair growth and re-growth.
Onion juice has antibacterial and antifungal properties, hence keeps your scalp free of infections. Additionally, it contains sulfur that prevents hair brittleness and breaking.
Moreover, onion juice is also rich in antioxidants that stop hair ageing and greying.
How to apply: Squeeze the juice of three onions and apply over scalp and hair. Leave for 5-7 minutes before rinsing.
Also, if you cannot tolerate onion's smell, adding a drop of lavender oil works just fine.
5. Apply Green tea:
Green tea is a source of antioxidants which is beneficial for hair health, making its way to the list of natural hair remedies.
Green tea helps in maintaining health of hair follicles and papilla cells that assists in diminishing hair loss and thinning. Furthermore, it is a good treatment for dandruff, flaky scalp and psoriasis.
How to apply: Use a green tea shampoo or simply apply freshly brewed and cooled cup of green tea.
Note: Do not apply hot and boiled green tea.
To sum up, the above mentioned natural hair remedies are tested and proven to be beneficial. Adopting these 5 magic tricks will help you achieve softer, smoother, lengthier, shinier and more nourished hair.
Read More: Top 5 most effective ways to achieve weight loss