With the surge of urbanization day by day, people are becoming more accustomed to password dependency and several other security measures which too deal with passwords and secret codes. And when it comes to the realm of computers and data handling, passwords are the main beacon of light. Now the major portion of the computer's data can be accessed only by the administrator account. Thus it is very important to secure the only accessible account with a complex password. Now what if you are not using the specific account for a while and thereby have completely forgotten the account password? It will be next to your doomsday. Consequently, you will be completely locked out of your own account with no accessibility to the documents, folders, videos, datasheets, etc. And if the situation persists, it may start hampering your work on an intimidated scale. Henceforth, it is very much advisable to find some ways to unlock your locked account. Here in this article we would show you few of those tricks to overcome the issue without any difficulty. Keep reading to know the details of the methods.
Method #1: Reset Windows 10 Password with Kon-Boot Utility
Kon-boot is a very powerful and efficient and windows password resetting tool which works different than other password resetting tools available on the internet market. Here we are going to use it to reset the windows password instead of resetting it. The steps on how to use kon-boot are described below as follows:
Step 1. Download the program from any accessible computer and burn the ISO image into a boot-able disk.
Step 2. Insert the bootable disk loaded with the program into the locked computer and boot from it. Make sure that your boot device is set as the priority device in the BIOS menu.
Step 3. Now hit "Enter" on the first flash screen.
Step 4. Kon-boot will display another flash screen. Don't interfere with the coming screen and let the program run in its usual manner for a while.
Step 5. Now; the program will boot your windows version on the hard drive so when the login screen turns up, just leave the password field empty and press "Enter".
And there you go! It is all done as your password protection has been bypassed and you can access your admin account again in the usual manner.
CONS:
It does not work with Windows 8/10 versions.
It does not support the 64-bit version of the windows OS.
Method #2: Reset Windows 10 Password using Ultimate Boot CD Tool
Ultimate Boot CD tool commonly termed as UBCD is yet another amazing windows password resetting tool which resets passwords by running simulations on your computer. It is actually a Linux-based program and can run with Windows 7/8/10 versions. Follow the directives below to know how to use the tool in few simple steps:
Step 1. Firstly download the program into a bootable CD/USB using a spare
working computer other than the one which is locked down.
Step 2. Now insert your bootable disk into the locked computer and boot from it.
Step 3. Once the UBCD menu appears on the screen select 'Parted Magic" and hit "Enter" to proceed.
Step 4. On the next page, press "1" to choose the default settings and continue.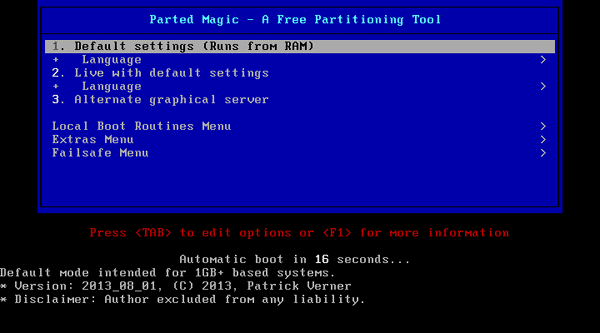 Step 5. UBCD shall be loaded and navigate to the following location:
Start > System Tools > Change Windows Password.
Step 6. Now create a new password and apply for the change.
Step 7. Eject your bootable disk and restart your computer, and enter the admin account this time with the newly created password.
CONS:
It does not work with 64-bit version Windows OS.
It has never been updated since its launch so might create problems intermittently.
Method #3: Reset Windows Password using iSeePassword Windows Password Recovery Pro Tool
iSeePassword Windows Password Recovery (Pro Version and Advanced vesrion) is one such password resetting tool which would never let you down as it has got no downsides at all. The most distinguishing part of this utility is that it can resetthe password protection feature by manipulating registry files accountable for the password protection. Besides it does not re-install the Windows OS and no data is lost during the procedure. Few of the important of the specifications of the tool are listed below in the following manner:
Salient Features of iSeePassword Recovery Pro:
It runs with all the versions of the Windows OS, namely XP/ Vista/ 7/ 8/ 10.
It supports all kinds of hard drives- SATA, SSD, HDD, RAID, NTFS, etc.
It supports UEFI and BIOS legacy based computers also.
No data is lost during the process.
It works with both 32-bit and 64-bit Windows OS.
No internet connection is required to run the program.
No special technical skills are required.
24×7 technical support is available for the customers.
Preparations before using iSeePassword Recovery Pro Tool:
An accessible computer.
A bootable disk like CD/DVD/USB of at least 512 MB storage capacity.
The iSeePassword Program file.
Manual to Use iSeePassword Recovery Pro Tool:
Step 1. Firstly download the program in an accessible computer and install it properly, then follow this step-by-step tutorial to reset windows 10 password.
Step 2. Run the program with admin privileges, and choose "USB or CD/DVD' as media type from the main UI screen.
Step 3. Now plug in the empty bootable disk into the working computer and click the "Burn" button to burn the ISO image files into the bootable disk. Once the burning is finished, you will receive a notification "Burning Successfully!".
Step 4. Eject the disk and plug into the locked computer and boot from it. Make sure tha in the BIOS utility settings, the bootable disk is chosen as the priority device so that the program file can be loaded into the computer.
Step 5. Now; select your admin account which is locked and click "Reset Password" and "Reboot" buttons.
You computer will restart but this time it would not ask you for any password which indicates that the password protection has been bypassed.
Conclusion:
As you can see from the article above that the only software which is worth trusting here is the iSeePassword Recovery Pro as it has got no demerits and can efficiently reset the windows password without any difficulty. It has been tested with various brands of computer and laptops such as ACER, SONY, Dell, HP, Lenovo, etc.
If you are satisfied with the contents of this article, feel free to visit our website for more knowledge.
Get real time update about this post categories directly on your device, subscribe now.