27th December marks the demise of an audacious daughter, worshipped leader and the Queen of Sindh, the great Benazir Bhutto. And, although it's been 13 years to her brutal assassination, her loss and grief remains flower fresh among the people of Sindh. Owing to that, every year, on this gloomy date, Pakistan People's Party [PPP] commemorates the venerable lady, whose services shall never be forgotten.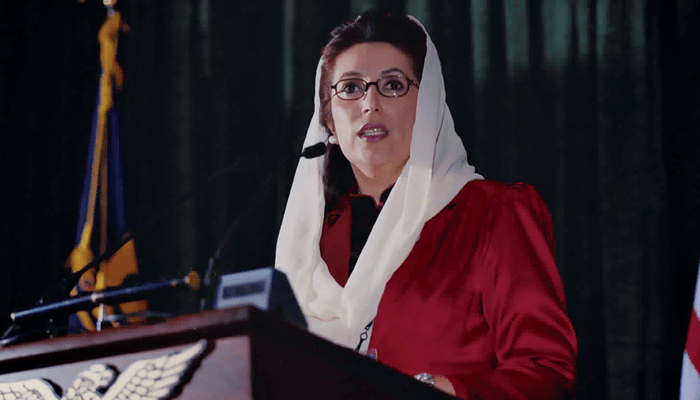 Benazir Bhutto, the Pakistani politician and the first woman to head a democratic government in Muslim majority nation, stepped into the politics battlefield when Pakistan People's Party was at its worst. Through her day-night struggles and wholehearted devotion to Pakistan, the lady legend served to be the God mother for her people. Therefore, the diehard devotees of PPP admire their lady leader with same enthusiasm, even after more than a decade of her heart wrenching death.
Thus, every year on 27th December, the PPP supporters, together with their founder, chairpersons and leaders etc. gather at Garhi Khuda Bakhsh, at the mausoleum of Bhutto family. Special prayers in the name of Benazir Bhutto and her father are held, followed with speeches in the vocals of her son, husband and daughters.
Likewise, this year would be no different as the Bhutto family and the PPP followers are all set to continue the 27th December ritual. Massive rallies have enrooted to Garhi Khuda Bakhsh, ahead of the grand gathering tonight.
Life story of Benazir Bhutto
Benazir Bhutto was born on June 21, 1953 in a notable political family in Karachi. She was the eldest daughter of Pakistan People's Party chairman and founder Zulfiqar Ali Bhutto. However, she did not embrace this profession until it was obligatory.
Benazir completed her higher education from Radcliffe College USA and Harvard University. Later, she bagged the degree in International Law and Diplomacy from the University of Oxford. Benazir Bhutto had not stepped into politics till that time, as she was more focused on education. Nevertheless, in 1977, Benazir had to adopt the family's legacy, as her father Zulfiqar Ali Bhutto was imprisoned over murder charge and General Zia ul Haq had overthrown the Bhutto's government. Pakistan People's Party needed an impudent fighter representative then, and so Zulfiqar's daughter, Benazir Bhutto marched in.
Benazir embraces her father's legacy
One year after Benazir's return, Zia-ul-haq became the president of Pakistan and he hanged the elder Bhutto over the verdict of an opponent's murder. PPP had their new titular head in the face of Benazir Bhutto.
Benazir had pledged of doing better for this nation, for the people of Sindh and she lived to her words. Benazir and her mother Nusrat took control of the PPP and led the country's Movement for the Restoration of Democracy. Benazir herself was also imprisoned many times, in her fight for justice. She was apprehended for three years before being permitted to leave the country in 1984. She settled in London, and along with her two brothers, she founded an underground organization to resist the military dictatorship.
 When her brother Shahnawaz died in 1985, she traveled to Pakistan for his burial, and was again arrested for participating in anti-government rallies, however was later released.
She flew to London after her discharge, and martial law was lifted in Pakistan by the end of that year. Anti-Zia demonstrations resumed and Benazir Bhutto returned to Pakistan in April 1986. The public response to her return was wild and jubilant, and she publicly called for the resignation of Zia Ul Haq, whose government had executed her innocent father.
Benazir Bhutto, the first female prime minister of Islamic state
Benazir married a full-flushed landlord Asif Ali Zardari in 1987. In 1988, General Zia died in a mysterious plane crash and PPP won the single largest bloc of seats in the National Assembly. Thence, on December 1, 1988, Benazir Bhutto became the first-ever female Prime Minister of an Islamic state, which she loved with all her hearts.
Furthermore, In August 1990 the then president of Pakistan, Ghulam Ishaq Khan, terminated her government on charges of corruption and other malfeasance and called for new elections. Bhutto's PPP suffered a defeat in the national elections of October 1990. However, Benazir did not give up as she led parliamentary oppositions against her successor Nawaz Sharif.
Benazir Bhutto once again won a plurality of votes in 1993 elections and bounced back as a prime minister of Pakistan. Nevertheless, this time also her government was dismissed in 1996 by then president over corruption charges.
Read More: Nation celebrates Quaid-e-Azam day with great passion.
While in self-imposed exile in Britain and Dubai, she was convicted in 1999 of corruption and sentenced to three years in prison. She continued to direct her party from abroad, being re-affirmed as PPP leader in 2002. 
Moreover, after eight years of banishment, Benazir Bhutto returned to the motherland in October, 2007, after Musharraf finally granted Bhutto a long-sought amnesty for the corruption charges brought against her by the Sharif administration.
Whole nation celebrated the Bhutto's return; however her rivals had other plans. Benazir's homecoming to Karachi was met by a suicide attack, which created major havoc, killing hundreds of innocents. Nevertheless, Benazir Bhutto was unharmed.
Death of the legend
Two months later, on December 27, 2007, Benazir Bhutto was leading an election campaign in Rawalpindi, which served to be the end of her era. A similar suicide attack came to pass, and Benazir Bhutto, the mother of the East, could not survive this time.
Pakistan People's Party, that was created by Zulfiqar Ali Bhutto, and continued by his daughter, is now lead by Benazir's son Bilawal Bhutto Zardari, whereas Benazir's husband Asif Ali Zardari serves as co-chairman.
Read More: 4 Soldiers Martyred as Pakistan Army Helicopter Crashes in GB.