The Pakistani private local media channels ignore Kashmir news deliberately, Remember good old days of PTV ( Pakistan Television Network ) News at 9 o clock, The first headline used to be about Indian Occupied Kashmir, these newly injected viral channels has scrambled brains by making Pakistan's image appear just as the few urban locations such as Karachi , Lahore , Islamabad , Peshawar and hardly Quetta while ignoring the rural which 70% of Pakistan.
They don't report what's happening in that valley which is still a conflict zone, neither on their websites nor on the mainstream media any news related to what's happening, It appears that for Pakistani Private Media Channels Kashmir Issue has been solved.
Pakistan Associate Press works on how government body wants it deliver the news which is understandable – The State owned and running the show but Media is completely Independent isn't it, If yes than why don't we get to read stuff about Indian Held Kashmir.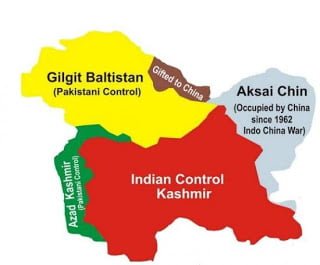 Just if you go through Pakistani Private Media Channels you will find so much common inbetween Indian Private and State owned television as well as their Entertainment segment. Have you ever noticed that no mainstream channel in Pakistan represent GREEN color, mostly are Red and Blue, ever wondered why?
Back in PTV days there was something always before the end – Farman-e-ilahi and Transmission ends up with Pakistani National Anthem, now on these Privately owned channels hardly in this dacade I've seen anyone running National Anthem, where is the Patriotism ?
Good Thing about INCPak, It's not funded and INCPak highlights Kashmir News and we when can,  why can't they, aren't  they ignoring the facts !
we just get to hear about LoC ( line of control ) when something happens but the truth is daily something or the other happens there as well, People in Pakistan do not know about Indian News Channels much but I would suggest you to check the other side of the news online by accessing like NDTV website.
Pakistani Local Private News Channels don't even bother to call it ( Indian Occupied Kashmir ) they just say Jammu & Kashmir – Since for them the issue has been resolved and those who are working for these channels their stomachs are filled with Indian funding and anti Pakistani agencies.


Neither they represent Pakistani culture nor the key issues like the water  Indus Water Treaty  , Sir Creek ,  Siachen along with Kashmir  these are thick lines before we accept India as our friendly neighbor ever. At times I have heard Indian Prime Minister saying Kashmir is the Rib of India ! which means Indian's stance is deadlock not going to negotiate nor there will be ever free fair elections for the people to choose The Independent Kashmir , Pakistan or the India. Hence the issue is pending piled up somewhere in United Nation Security council fading away with time, Totally Unfair……………