Punjab IT Board has launched an e-payment system allowing citizens to pay vehicle token tax online in Punjab without the hassle of visiting the Excise and Taxation Department avoiding long queues and saving precious time.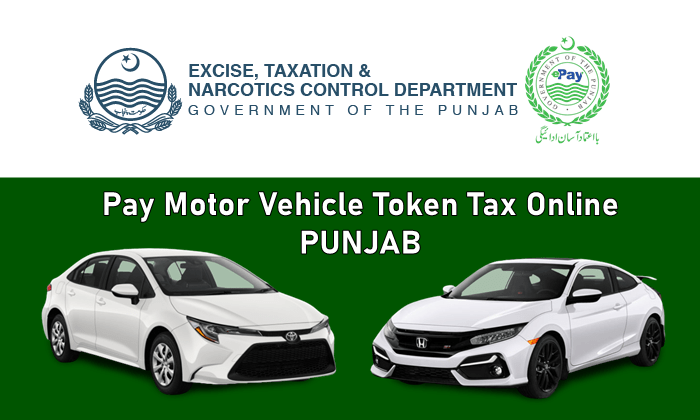 Punjab ePay App Online Vehicle Tax Collection
The Punjab ePay App has been developed by the Punjab IT Board on the instructions of the Finance Department of Punjab to allow people the convenience to pay vehicle token tax online along with a range of services.
The Punjab IT Board has developed this e-Payment Gateway to remove the need for physical visits allowing citizens to pay their taxes and avail a range of services online.
How to pay vehicle token tax online in Punjab?
Install the e-Pay Punjab application from Google Play Store or Apple App Store.
Create an account to get started.
Select Token Tax under the Excise and Taxation Department tab.
Enter vehicle registration number (eg. LEA-123 or LEA-20-123).
After confirming details, generate a challan.
Note down the PISD number provided to pay token tax online.
The 17-digit PSID number that is generated is unique for each transaction and will be used to pay token tax online using any of the methods outlined below.
Pay vehicle token tax online – payment methods
You have the option to make payments using a variety of options including:
Mobile Banking
Internet Banking
ATM
OTC (Over the Counter) banking transaction
Motor Vehicle Token Tax Calculator
First of all, the ePay Punjab App will automatically calculate the token tax that you need to pay for your current vehicle.
In addition to this, if you need information on how much token tax is is applicable on a certain vehicle you can always use the token tax calculator on the Excise and Taxation Department website.
e-Pay Punjab App – Complete list of services
The e-Pay Punjab App offers the the following range of services:
Token Tax for Vehicle
Motor Vehicle Registration
Vehicle Transfer
Property Tax
Professional Tax
Cotton fee
e-Stamping
Mutation fee
Fard fee
Sales Tax on Services
Punjab Infrastructural Development Cess
Business Registration fee
Route Permit
Traffic Challan
There are two methods to pay your vehicle's token tax in Sindh Excise & Taxation Department, The first one is to visit 3rd flood Civic Center, Gulshan e Iqbal Karachi or the nearest National Bank of Pakistan (NBP) Branch which accepts Motor Vehicle Tax in Sindh.
The Similar e-payment system has been introduced by Islamabad Administration, Excise & Taxation Department Islamabad also allows and encourages public to use online tax token to make the payment following this we have gathered the information which is useful for token tax payers, how much motor vehicle token tax they have to pay.
Read more: Islamabad City App now provides Vehicle Token Tax payment online.