ISLAMABAD: Pakistan Electronic Media Regulatory Authory (PEMRA) has issued a notification regarding the precautionary measures to control the spread of Novel Coronavisu (COVID-19) on Friday.
According to the advisory notification, PEMRA states "It has been witnessed that the number of Coronavirus (Covid-19) patients are increasing exponentially in Pakistan. Federal as well as Provincial Governments are taking the best possible measures to control spread off coronavirus and ensure treatment of the infected persons, However, the situation necessitates each and every enterprise to adopt best practices as advised by the health experts and institutions in order to overcome the issue.
Read More: Coronavirus: Third death reported in Karachi, Pakistan tally crosses 450
Governments around the world are advising people to socially distance themselves in order to reduce and stop spread of coronavirus. Since the virus is spreading mainly through respiratory droplets (Specially when people cough or sneeze). Therefore, social distancing is the only solution to stop and control the spread of virus as it helps reduce the probability of catching the virus and then spreading it to orders, unintentionally.
Foregoing in view, all media houses are requested to ensure the safety of their employees and adopt/promote/facilitate precautionary measures including but not limited to social distancing. It is also advised that schedule for the production of new content may be looked into compassionate grounds and reschedule accordingly, which will save the actors and supporting staff/crew from spread of this epidemic disease.
Your cooperation in the interest of your workers primarily shall highly be appreciated.
This issue with approval of the competent authority.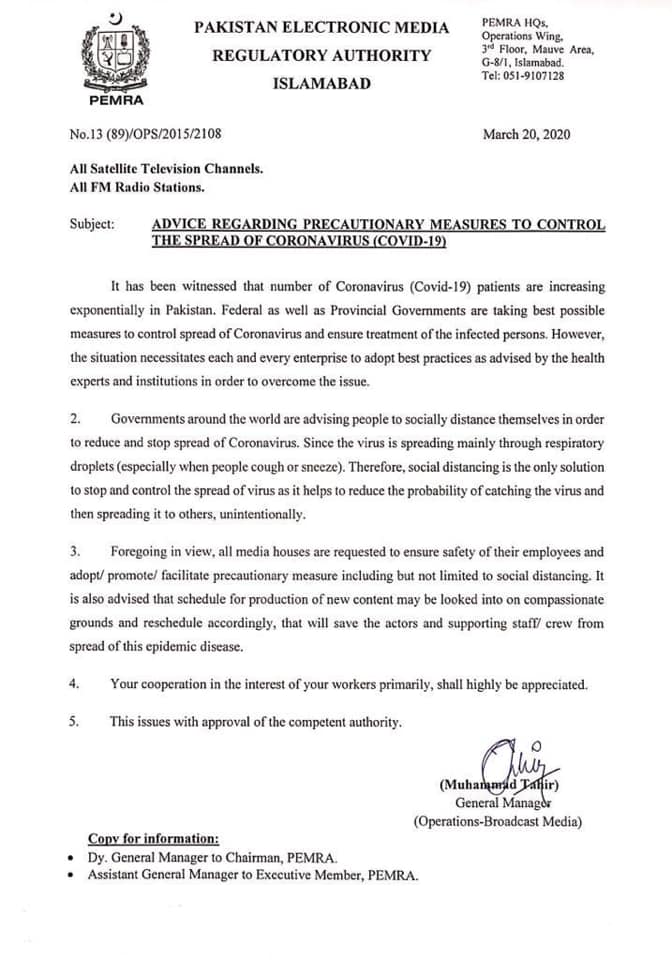 Read More: Coronavirus: US announces $1m fund for Pakistan
Follow INCPAK on Facebook / Twitter / Instagram for updates.