RAWALPINDI: Pakistan Super League (PSL 2020) action moves to Rawalpindi and the team's practice sessions are also scheduled in the cricket stadium today and tomorrow. Here is the traffic plan for the PSL 2020 matches taking place in the city.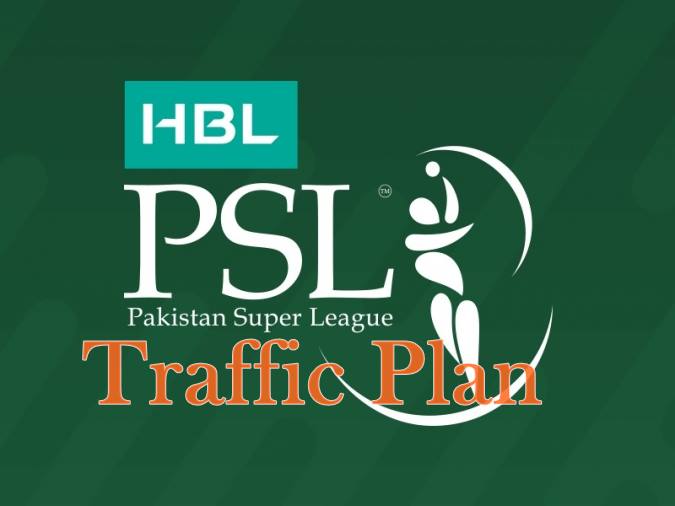 Eight PSL matches will be played from Feb 27th February till 8th March 2020 at Rawalpindi Cricket Stadium.
Read more: PSL 2020: Multan Sultans VS Peshawar Zalmi – Match 8 Highlights.
PSL 2020 RAWALPINDI SCHEDULE
Currently, the Practice session is in process. Similarly, Practice sessions are scheduled on 26th, 27th, and 28th from 13.00hrs. Further Matches schedules are as under:
27 Feb 20 Thursday 19:00 hrs
28 Feb 20Friday 19:00 hrs
29 Feb 20 Saturday19:00 hrs
01 Mar 20 Sunday 19:00 hrs
02 Mar 20 Monday 19:00 hrs
05 Mar 20 Thursday 19:00 hrs
07 Mar 20 Saturday 14:00 hrs
08 Mar 20 Sunday 14:00 hrs

TRAFFIC PROPOSED PLAN
According to the plan, Stadium Road – also known as Double Road – will be closed to all traffic for the duration of the match every day from 9th Avenue Chowk to the Double Road turn to Murree Road on both sides.
The traffic coming from Rawal Dam, Islamabad toward Rawalpindi would be diverted to Expressway from February 27th to 8th March during the match timings.
The traffic could enter Rawalpindi via Dhoke Kala Khan, Khanna and Koral. The traffic from Rawalpindi to Islamabad would take U-turn in front of the Kidney Centre and use the opposite side to enter Islamabad.
The traffic coming from IJP Road and 9th Avenue Chowk towards Rawalpindi would take Pandora Chungi Katarian, Carriage Factory, Pir Wadhai route to enter Rawalpindi instead of the Double Road. Metro Bus Service will remain suspended in Rawalpindi during the matches.
Traffic moving from Sadiqabad Chowk towards Islamabad will commute via Farooq e Azam road after taking right from Ghausia Chowk. Vehicles will be prohibited to enter from Haroon Chowk & Kala Khan Chowk towards Ghausia Chowk.
Remember: Rawalpindi Cricket Stadium & surrounding roads will be completely sealed during the scheduled PSL Matches for the General traffic. Plan your activities accordingly.
Source: Islamabad Traffic Updates WhatsApp Group
Read more: Pakistan beat West Indies in Women's T20 World Cup.