Indian Army on Saturday shot dead three civilians one among them a minor girl and injured two others during protests that erupted in Hawoora village of this southern district Indian Occupied Kashmir.
The protests were triggered after the army allegedly broke into the government-run school, thrashed students, teachers and rounded up a student from a classroom.
However, army refuted the allegations saying the soldiers  resorted to 'controlled firing' after coming under a severe attack from the stone pelting mob. A defense spokesman said in a statement that the soldiers kept pleading with the stone throwing mob but after patrol bombs were hurled and the militants fired at the patrol party "the soldiers had to fire in self-defense".
All the deceased hailed from Hawoora village of Qaimoh and were identified as 20-year-old Shakir Ahmad Khanday son of MuhamadHussainKhanday,  Irshad Ahmad Lone,19, son of Abdul Majeed Lone and 13-year-old Andleb Jan, a  class 8th student daughter of Ali Muhammad Alai.
"All those who had sustained bullet injuries above waist were declared brought dead in the hospital," said a doctor at PHC Frisal.
Two more from the same village who had received bullet injuries were shifted to district hospital Anantang from SDH Qaimoh.
The duo was identified as Zahid Ahmad lone, brother of deceased civilian Irshad and Yasir Ahmad Dar were later referred to Srinagar hospital for specialized treatment.
Witnesses say that the protests were triggered after army broke into the school.
"At around 11:00 am when the classwork was on in government high school Hawoora, the army men alighted from the vehicles and straightaway went inside the school and went berserk . They vandalized the school and started ruthlessly beating up students and teachers injuring many among them. The army also detained a 9th class student NadimMushtaq," said Mushtaq Ahmad, one of the Hawoora residents.
Quoting the schoolteachers, Mushtaq said that the student was dragged out from the classroom barefooted. "The shoes of the student are lying in school only", he narrated the account a teacher had shared with him.
Two girl students Arbeena and Urma were among the injured.
Many residents in the area said the army's alleged excesses triggered protests from students.  "Many girl students fainted and there was hue and cry. The army caught hold of many other youth outside also, beat them up and detained few," a resident said.
The arrested youth included  Umar Ashraf Lone,  YawarmaqboolNajar,Muhamad Akbar Dar and Aqib Ahmad Dar.
Mushtaq Ahmad further said that Ovais Lone,  the brother of an active Hizb militant in the area, was among those mercilessly beaten.
A witness Majid said Andaleeb,13, was not even part of protests but was fired at as she happened to pass by during clashes. The village is home to Hizb divisional commander Altaf Dar (Kachroo) and several other militants.
"The government forces have time and again faced resistance from the people in Hawoora, Mishpora, RedwaniPayeen, RedwaniBala, RedwaniGhat, Kujar and Khudwani. CASOs are often difficult to carry out because the villagers resist such operations. The villagers are being targeted for supporting the militants," say the Hawoora residents who had gathered to offer funeral prayers.  They said several youth have been rounded by forces in the villages during nocturnal raids for past few days.
"They have been calling us militant sympathizers and harassing us on one pretext or other," alleged Muhamad Sultan, an elderly resident from Redwani.
Minor Girl in Kulgam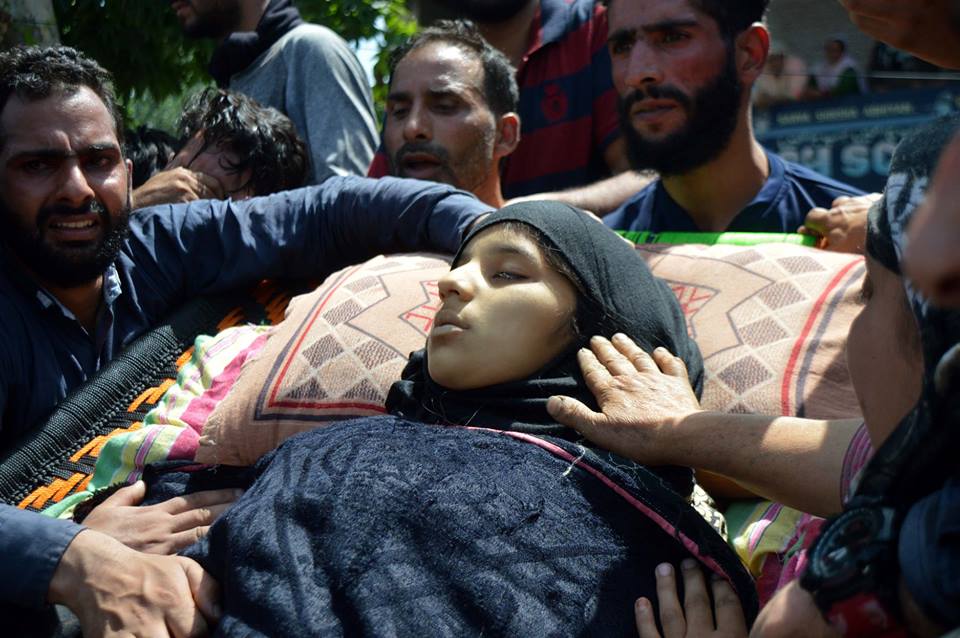 HUGE FUNERAL
Meanwhile, thousands converged at the government high school ground at Hawoora to participate in the funeral of three natives amid pro-freedom and anti-India slogans. Twelve rounds of funeral prayers were held together for the deceased. Militants also turned up and offered gun salute to them.
"We have lost three young souls. It is a doomsday for us," one of the village women shouted as others around her wailed and sobbed.
ARMY DENIES ALLEGATIONS
A statement issued by the Srinagar-based 15 Corps has denied the allegations of atrocities and beatings. The statement asserts that the army's patrol had come under attack from a fierce stone throwing mob and the loss of lives occurred during "controlled firing".
"An Area Domination Patrol (ADP) of Army, while moving in general area Hawoora, came under heavy stone pelting. As the ADP tried to extricate, they were chased by an aggressive and menacing crowd of 400-500 persons which kept building up and coming dangerously close. Troops while exercising extreme restraint, cautioned the stone throwers, who, however, failed to relent and repeatedly threw petrol bombs and stones at the patrolling party. At one point of time some unidentified terrorists also fired at the column. This resulted in some soldiers receiving grievous injuries. In response to this grave provocation and to ensure security of own troops, controlled firing was resorted to by the Army which resulted in unfortunate loss of human lives. The matter is being investigated to ascertain facts on ground," Defense PRO colonel Rajesh Kalia said in the statement.
Source : GK