The medical board constituted by the Sindh High Court (SHC) confirmed that Arzoo Masih was 14 to 15 years of age which her marriage to 44-year-old Syed Ali Azhar unlawful.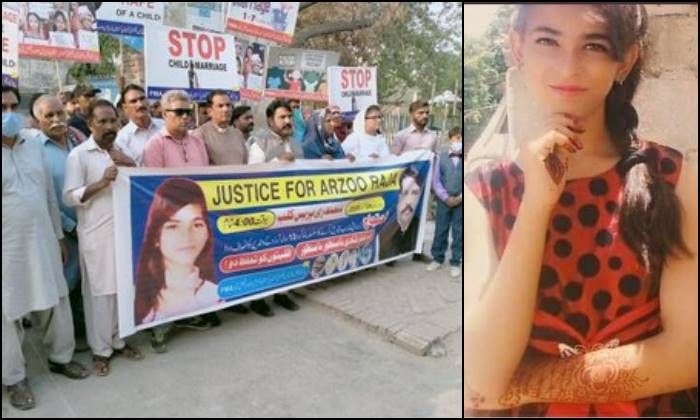 A two-member bench of the Sindh High Court (SHC) comprising of Justice KK Agha and Justice Amjad Ali heard the case pertaining to the kidnapping, forced conversion and marriage of Arzoo Raja to a 44-year-old man.
The medical board that was constituted by the SHC presented its report confirming that the Arzoo Masih was between 14 to 15 years of age following which the case has been registered under the Sindh Child Marriages Restraint Act, 2013.
"I want to live with my husband," said the minor girl which she was asked by the court whether she wanted to return to her parents after which the court ordered authorities to move Arzoo Raja to a shelter home and only allow those she wanted to meet her.
The next hearing of the case is scheduled for November 23rd.
About Arzoo Masih Case
The incident came to light when people took to social media demanding justice for Arzoo Masih, the 13-year-old girl who was kidnapped, forced to convert and marry a man almost thrice her age.
Read more: Justice for Kainat: UAF student found dead in Faisalabad.