Like every year, Aurat March 2021 participants have taken the different streets of Pakistan, tramping for the rights of females, transgender, children, and other oppressed minorities. And, following other basic demands of gender equality and justice, this year's march is also targeted at healthcare, and stresses on enhanced health facilities amid the Covid19 pandemic.
Women are the salient asset in every nation, and so deserve huge appreciations for their impossible services on this planet. For that reason, every year on 8th march, International Women's Day is conducted all over the globe, which is a day dedicated to the brave and courageous ladies' population.
Speeches, functions, public gatherings and ceremonies etc. are held on this date, where womanhood is brought forward, and treasured for its contribution in every aspect. In addition to this, besides women, the day also recognizes and voices out concerns of children, genderqueer, LGBT groups and other oppressed populations.
Aurat March
Likewise, on the occasion of International Women's Day, a women's rally called Aurat March is escorted by the feminist groups in Pakistan, who put forward the overlooked demands of women, transgender and children etc. The aim of this Aurat March is to unite women, transsexual, and non-binary people for the cause of gender justice and bring about collective social change based on the principles of inclusion, dignity, freedom, and equality.
Nevertheless, Aurat March in Pakistan is a controversial topic and is often criticized by non-feminist and male populations. Also, the impolite and indecent posters and banners raised by the women bulk at the marches is what attract the most disapproval, and such placards are often turned into a meme material.
Aurat March 2021
Following the trend, Year 2021 is also observing Aurat March 2021 in different parts of the country. Women, children, transgender and other feminist populations have assembled at preset locations in Karachi, Lahore and Islamabad etc., as they set forth their vocals demanding equality, fairness, recognition, justice and other disregarded societal issues.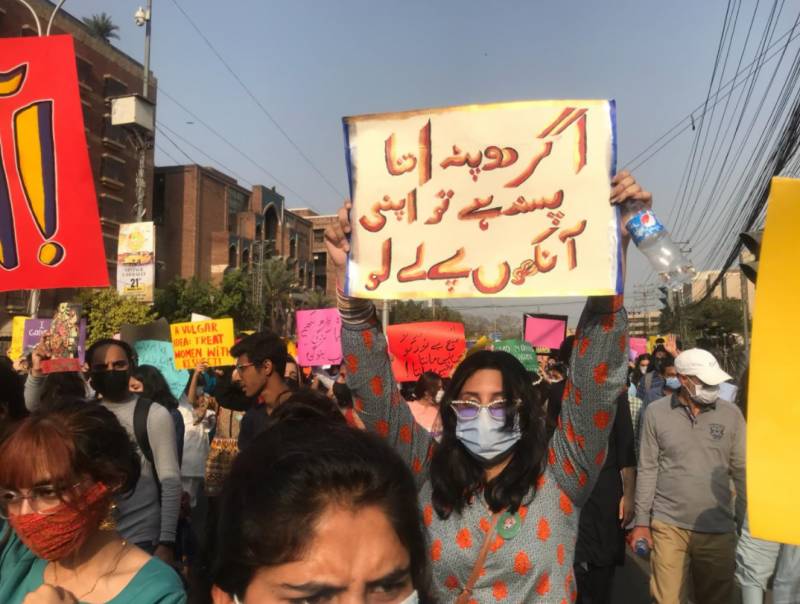 Furthermore, as the whole world is fighting a lethal pandemic, the Aurat March 2021 manifesto also sheds light on the healthcare rights of female and transgender. Where some groups claim appropriate treatment, consideration and behavior at healthcare centers, others demand a raise in provincial health budget. On the whole, Aurat March 2021 has been a successful call like every year, and is also being accompanied by security forces to ensure the safety of protestors.
Read More: Aurat March 2021: Traffic guide for Int't Women's Day rallies in Pakistan
This year's demands
Aurat March 2021 participants from each province have set forth a charter of behests for their respective governments, to protect the rights of women and other backgrounds.
Hence, Karachi group demands an end to patriarchal violence. Calling on the federal and provincial government, it demands to wipe off violence against women, restructuring of the police department, creation of women's shelters, and put a full stop to forced conversions, among others.
Moreover, Aurat March 2021 population from Lahore has taken on the healthcare crises, asking the government to increase the provincial health budget, the introduction of a universal healthcare system and rehabilitative programs to manage the long-term effects of violence and bringing reforms to the legal system to reduce gender-based violence. It also seeks equitable distribution of COVID-19 vaccine to gender minorities.
Whereas, Aurat March Islamabad and Multan is also aimed at healthcare improvement, followed with call for economic justice, patriarchal violence, disability justice and climate change crisis etc.
Twitter Reactions
Twitter handle has also embraced the ongoing Aurat March 2021 as hash tags like #AuratAzaadiMarch2021, #AuratMarch and #MeraJismMeriMarzi etc. are the top trends on Pakistani twitter. However, twitter reactions are divided among the supporters and oppositions.
Read More: Canadian vlogger Rosie Gabrielle ties the knot with Pakistani traveler
Follow INCPAK on Facebook / Twitter / Instagram for updates.