Islamabad Excise and Taxation Department has announced to launch Biometric verification system for the transferring of vehicles and also planning to introduce new Licence Plates according to news sources.
Video Courtesy GEO News.
"ISSUANCE OF COMPUTERIZED, READABLE AND SECURITY FEATURED NUMBER PLATES TO ISLAMABAD REGISTERED VEHICLES"

It is initmated to vehicle owners that Excise & Taxation Department is issuing computerzied, readable, security featured number plates for registered under following series :
ID, IDA, IDB, IDC, IDD, IDE, IDF, IDG, IDH, IDJ, IDK, IDL, IDM, IDN, IDP, IDS, IDT

All owners of Islamabad registered vehicles are directed to contact Excise & Taxation Department, Islamabad for issuance of computerized, readable, secuirty featured number plates after publication of this Notice.
Conditions for Issuance of Computerized Plates as mentioned below:

The vehicle must be registered in the name of applicant.
Original Registeration Book and CNIC will be examined.
Photocopy of Registeration Book and CNIC are required.
Number Plates will be issued on first come first serve basis.
Format of New Computerzied Number Plates : 
NOTE : Islamabad  Vehicle system is down since several months, Islamabad Excise and Taxation Department is not interested in restoring it back however From 15th July 2018, The new Biometric System will be mandatory for both, Buyer and Seller for Vehicle Transfer and Registration after the said date, Transfer letter (open letter) will be void.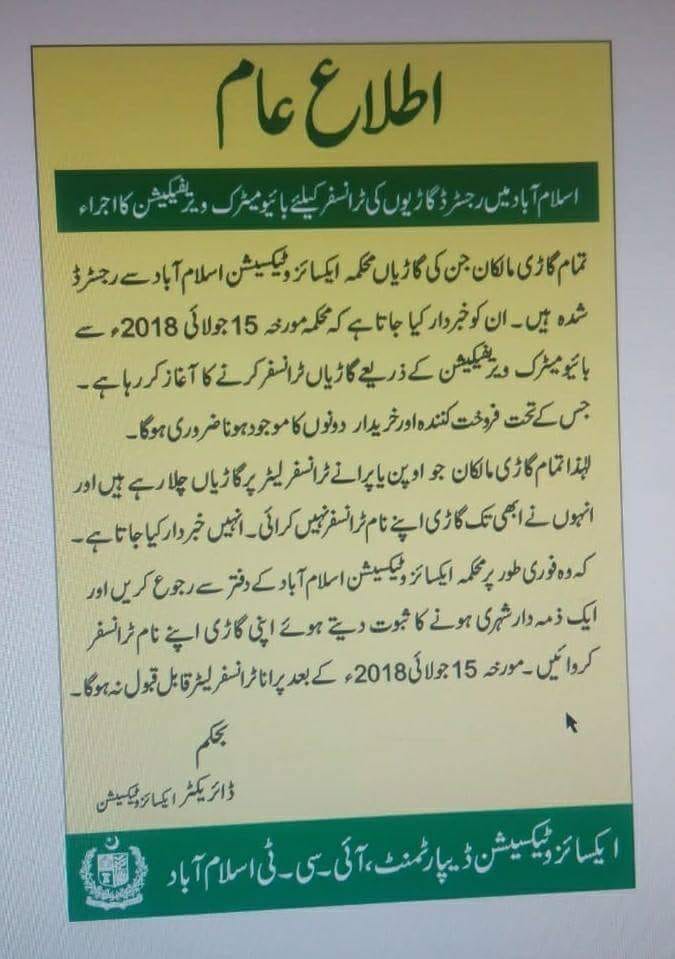 In the recent public notice by Islamabad Excise and Taxation Department has announced that people who are using vehicles under OPEN LETTER or OLD Transfer Letter should visit Islamabad Excise and Taxation Department Office and get the vehicle transferred through Biometric Verification System.
Islamabad Vehicle Verification Online The authority has also warned people who are using cars under the open letter.
The computerized transfer deeds would be issued, which will include the complete information of transferee and the buyer.
Excise and taxation Officer-I Nisar Ahmed has said that the department was all set to make biometric verification compulsory by July 15.  It is aimed at ensuring transparency and presence of seller and buyer at the time of vehicles' transfer by discouraging the practice of forgery and fake documents.
He also said around 300 to 315 new vehicles were being added every day to already existing 1 million registered cars and regretted that the department had received too many complaints regarding transfer of vehicles through fabricated documents. He said the system would help in discouraging the mafia, involved in the malpractice of forgery and fake documents.