KARACHI: At least 39 have been injured after blast in Karachi near the Kashmir Solidarity Rally held by Jamaat-e-Islami (JI) at Gulshan-e-Iqbal area of the port city. There have been no reported deaths so far.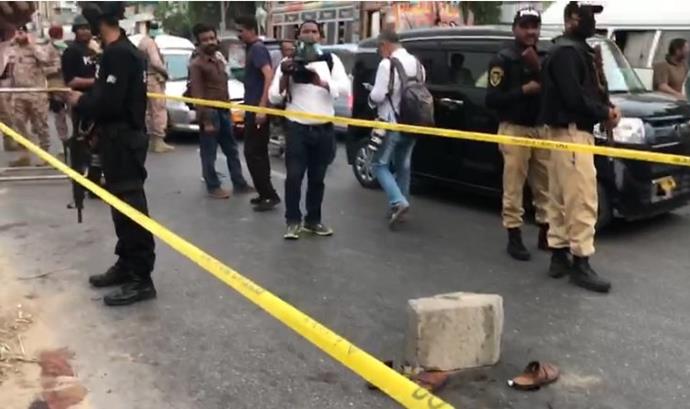 According to police the blast in Karachi was caused by a "cracker" that was tossed by unidentified persons on a motorcycle at the people participating in the Kashmir Rally that was being held near Bait-ul-Mukaram Mosque on University Road, Gulshan-e-Iqbal.
Read more: 18-year-old martyred by Indian forces along LoC.
Several people were injured in the stampede caused by the panic after the blast took place according to several eyewitnesses in the area including police.
Those injured in the incident were moved to different hospitals which include Al-Mustafa Hospital, Jinnah Postgraduate Medical Centre, Aga Khan University Hospital and Liaquat National Hospital.
The Bomb Disposal Squad was called at the scene to determine the nature of the attack and sweep for any other possible explosives in the area. The Bomb Disposal Squad did recovered a lever of an RGD-1 hand grenade from the site according to reports.
Ameer Jamaat-e-Islami Siraj Ul Haq condemned the blast in Karachi calling it a cowardly act by the hands of Indian Agents. He further said that such tactics will not intimidate them and JI will continue to fight and speak up for the people of Kashmir with more courage.
Read more: Occupied Kashmir integrated in new political map of Pakistan.