ISLAMABAD: Ehsaas Emergency Cash Program initiative launched by the federal government is ending on 31 August 2020 according to the Special Assistant to Prime Minister on Poverty Alleviation and Social Security Dr Sania Nishtar.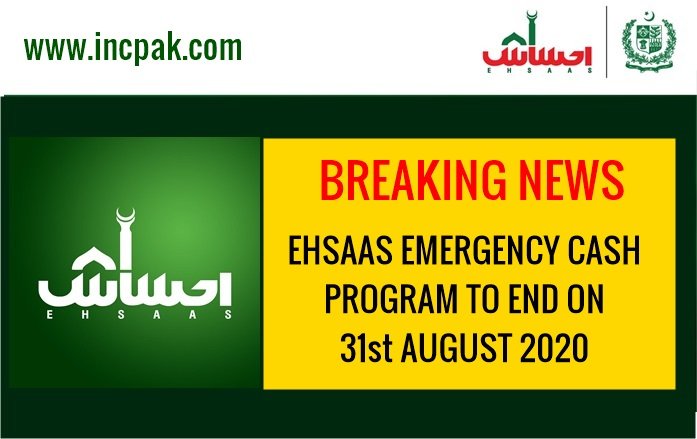 According to Dr Sania Nishtar Ehsaas Emergency Cash Program payments will continue till 31 August 2020. However, for beneficiaries who are facing problems will be able to receive payments for up to one more month.
احساس ایمرجنسی کیش کی ادائیگیاں 31 اگست 2020 تک جاری ہیں تاہم وفات پا جانے والے اہل افراد کے لواحقین اور بائیومیٹرک تصدیق جیسے مسائل کا سامنا کرنے والے مستحقین ادائیگیاں ختم ہونے کے ایک ماہ بعد تک اپنی رقوم وصول کر سکیں گے۔
Read more: PM launches first anti-stunting Ehsaas Nashonuma Program.
Furthermore, Dr Sania Nishtar will be going live daily on Radio Pakistan answering questions and queries related to Ehsaas Emergency Program. She will be available on 10AM daily till Friday.
معاون خصوصی ڈاکٹر ثانیہ نشتر اس ہفتے جمعہ تک روزانہ صبح 10 بجے ریڈیو پاکستان کے قومی نشریاتی پروگرام رابطہ میں سامعین کے احساس ایمرجنسی کیش سے متعلقہ سوالات کے براہ راست جوابات دیں گی۔ آج کے پروگرام میں اپنے سوالات ڈاکٹر ثانیہ تک پہنچانے کے لیئے ان نمبروں پر رابطہ کریں۔
How to contact Dr Sania Nishtar?
You can contact Dr Sania Nishtar daily on Radio Pakistan for your queries and questions using the following numbers: 051-9206995 / 051-9205206
Furthermore, the next of kin of those beneficiaries who passed away asked questions about payment methods. Dr Sania Nishtar explained the entire procedure in the following video.
پروگرام رابطہ میں وفات پا جانے والے اہل صارفین کے لواحقین نے ادائیگیوں کے طریقہ کار کے بارے میں سوالات کیئے۔ میں نے انکو طریقۂ کار کی تفصیل سمجھائی اور مزید رہنمائی کیلیئے یہ معلوماتی ویڈیو کو دیکھنے کی تاکید کی۔
The Special Assistant to Prime Minister also addressed the problem of fake and scam SMS being received in the name of Ehsaas Emergency Cash Program. Dr Sania Nishtar explained that all official SMS will only be sent from 8171.
میں نےریڈیو پروگرام میں احساس امداد کے بارے میں جعلی ایس ایم ایس پیغامات کے بارے میں آگاہی دی کہ احساس ایمرجنسی کیش امداد سے متعلقہ تمام پیغامات صرف 8171 سے ہی بھیجے جاتے ہیں۔ صارفین دھوکہ دہی سے بچیں باقی سارے پیغامات جعلی ہیں
ایک سامع اسداللہ صاحب نےاپنی ہمشیرہ کےاحساس کفالت بقایاجات کی ادائیگی کےمتعلق پوچھا۔میں نےانکوسمجھایاکہ انکی بہن شراکتی بینک کےساتھ فروری2020میں رجسٹرہوئی تھیں انکوبقایاجات کفالت کی اگلی قسط کےساتھ جاری ہوں گےمیں نے انکو تاکیدکی کہ رقم وصولی کےوقت رسیدپردی گئی رقم
Ehsaas Emergency Cash Payment Status Update
If you have applied for the Ehsaas Emergency Program and want to check for updates regarding your application, you can simply check out the post below.
Ehsaas Program is the biggest poverty alleviation and social security program in Pakistan's history. Ehsaas is working tirelessly to accomplish Prime Minister Imran Khan's vision of a welfare state.
Follow INCPak on Facebook / Twitter / Instagram for updates.