ISLAMABAD: Prime Minister Imran Khan has introduced new initiatives under the Ehsaas Emergency Cash Program which include the Ehsaas Langer, Panagah App, Ehsaas Rashan and the launch of COVID-19 Relief Fund website.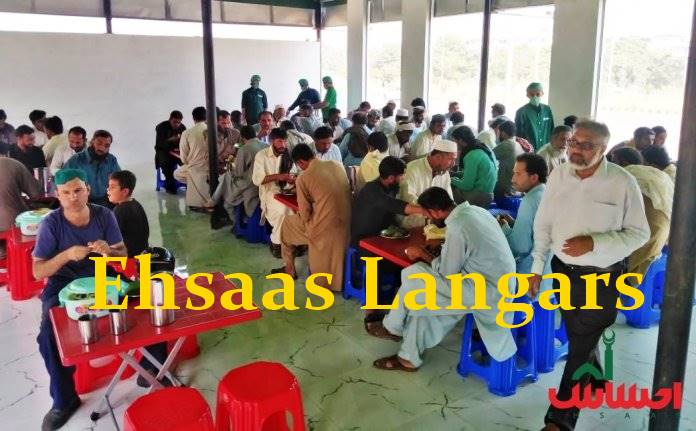 Last year a total of Rs. 188 billion were reserved for the Ehsaas Program which will now be increased to Rs. 208 billion according to the Prime Minister Imran Khan.
The Ehsaas Langar Program is aimed to ensure that no one goes to bed hungry in Pakistan and to realize that vision Ehsaas will be opening 112 Langars nationwide over a period of 2 years with help of the public private partnership.
Previously Ehsaas Program is partnership with Saylani launched Langar on Wheels providing food to people at quarantine centers. Furthermore, Prime Minister Imran Khan also commenced the Panagah App to make sure that people have a bed to sleep in at night.
Read more: Ehsaas Program, Saylani "Langar on Wheels" providing food aid.
Ehsaas Emergency Program has also launched the PM's COVID-19 Relief Fund Portal for better coordination between those involved under the program and to provide a more transparent look into the disbursement of the cash as promised earlier.
Apart from that, the Ehsaas Rashan Program has also been commenced and people can apply for Rashan aid by registering at their Portal. We have compiled a complete step by step method to help people with the Ehsaas Rashan Program registration.
It was also announced that Ehsaas Undergraduate Program will be available to students from all four provinces as well as Gilgit Baltistan / FATA and AJK regions. Apart from that, at least 50% of the scholarships will be given to female students and 2% to disabled students.
These are some very important steps being taken by the Government especially
Read more: Ehsaas Emergency Cash Program Center List.