LAHORE: A FAKE NEWS has been circulating that two suspects involved in Lahore motorway rape incident have been caught using the victim's ATM and taken into police custody.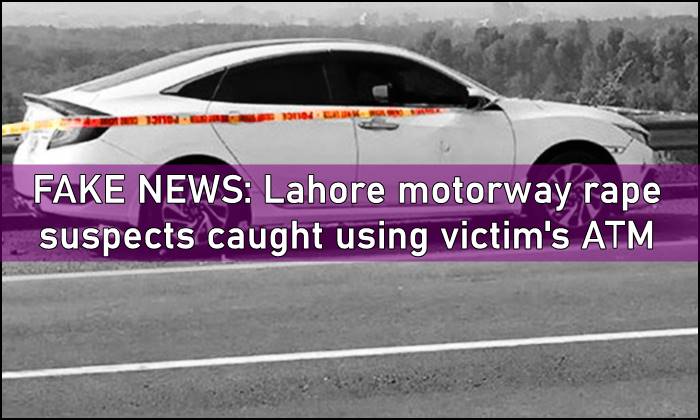 The FAKE NEWS stated that the suspects of the Lahore motorway rape incident had been arrested while using the victim's ATM and DNA samples of both men have been taken.
However, it has been confirmed that a fake Twitter account of Inspector General (IG) Punjab Inam Ghani has been spreading false and misleading information regarding the recent Lahore motorway rape incident.
IG Punjab Iman Ghani himself clarified to the media that no such progress had been made regarding the motorway rape incident mentioning the fake account in his name spreading false information.
The IGP took to his original Twitter account stating that any news coming from another account is fake and misinforming the public. He made sure to attach a screenshot and handle of his official account in the Tweet.
It is important to mention that the fake Twitter account that spread the misleading information regarding the Lahore motorway rape incident has since been reported and taken offline.
Lahore motorway rape incident
A mother was was gang raped in front of her children by two unidentified assailants who then robbed her of valuables and fled the scene.
According to reports, the woman was traveling with her children when her car broke down stranding her on the road. After getting no response from the motorway police, she was waiting for family to come help when she was spotted by two people who attacked the vehicle.
The two unidentified assailants forced the woman along with her children out of the vehicle and took them to a nearby field where they gang raped the lady and robbed her of any valuables immediately fleeing the scene.
Read more: Woman gang raped at Lahore Motorway near Gujjarpura.