A female teacher in Mianwali has been suspended for bringing her infant baby to school and the decision has sparked outrage on social media as Twitter starts trending with #FemaleTeacherSuspension. However, the teacher has since been reinstated.
UPDATE: The teacher has been reinstated after the matter was brought public.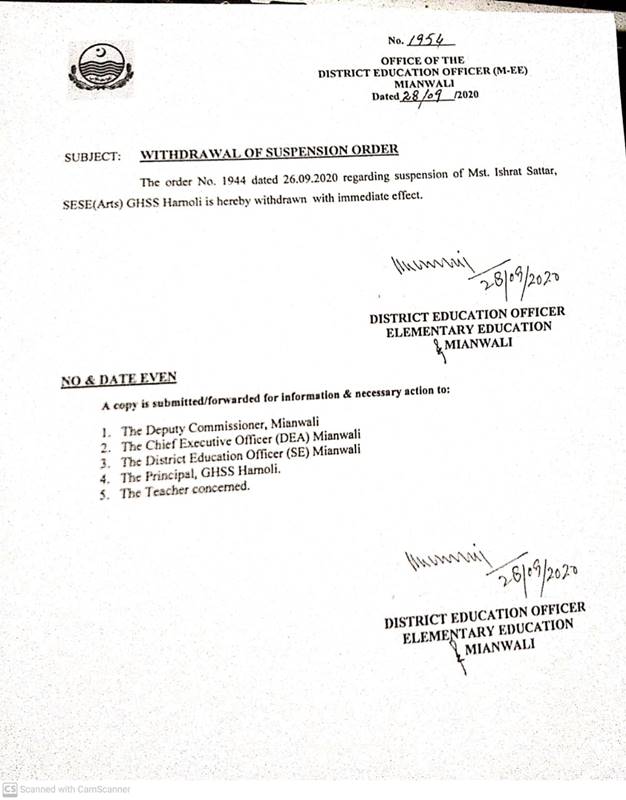 The teacher has been identified as Ishrat Sattar of the Higher Secondary School Harnoli located at Tehsil Piplan District of Mianwali.
People have taken to Twitter criticizing the decision regarding the female teacher suspension for a matter such as bringing a baby to school.
Read more: NUML Islamabad campus & hostel sealed after COVID-19 cases reported.
The female teacher, Ishrat Sattar, was suspended for inefficiency and misconduct after she brought her child to school during a surprise inspection by the Chief Executive Officer (DEA) of Mianwali.
People on Twitter demand equal right for all pointing out that Peshawar Additional Commissioner Sara Tawab was praised for bringing her child to work and performing her duties while the female teacher got suspension for doing the same.
People even pointed out New Zealand Prime Minister Jacinda Ardern bringing her baby to the United Nations General Assembly while a teacher has been subjected to suspension for doing the same.
Here are some reactions from Twitter with hashtag #FemaleTeacherSuspension regarding the female teacher getting suspending.
Read more: Alfalah Scholarship Scheme 2020 [Complete Guide].
Follow INCPak on Facebook / Twitter / Instagram for updates.