ISLAMABAD: Yesterday a clash between two student groups Islami Jamiat-e-Talaba and Saraiki Students Council, happed in International Islamic University Islamabad (IIUI). The clash started when the JI Leader Liaqat Baloch was speaking to the Mega Education Expo event arranged by the IJT IIUI. Yesterday was the finale of MEE in IIUI.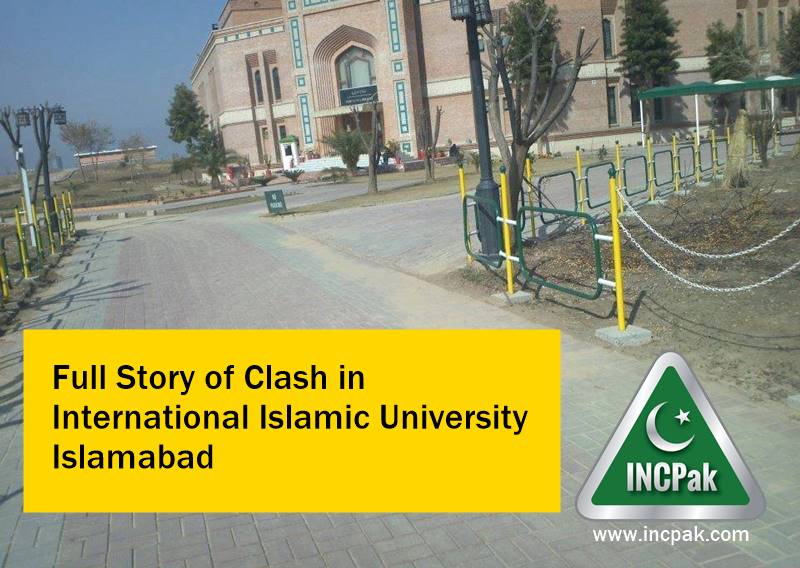 Read More: One student dead and five injured in IIUI Islamabad
Islamic University Clash full Story
Mr. Liaqat Baloch serves as the general secretary of Jamaat-e-Islami, Pakistan. He was present at the event when the clash took place. The Mega event was arranged by IJT IIUI and it was the last day of the event when the clash happed between Islami Jamiat-e-Talaba and Saraiki Student's Council. Many leaders of Jamaat-e-Islami, Pakistan were attending this event from the first day.
It was almost the end of the event when suddenly a fight erupted that converted into firing and a big clash between these groups. Everything was going smoothly when suddenly the voice of guns and fights took place. In the clash, Liaqat Baloch remained safe and later he is transferred from IIUI.
Firing Video Footage at International Islamic University Islamabad
Due to the clash, many students were injured and one died. The student who lost his life in the clash is Syed Tufail from the department of economics in IIUI. Tufail hails from Gilgit Baltistan.
Sources suggest that a big concrete block was thrown at him which caused his death.
After the clash, some students stormed and searched hostels, and beat some other students as revenge. After the clash, IIUI officials, police and other LEAs came to campus.
IJT brought 5 students and locked them in a room. Some students on social media claimed that these are the murders of Syed Tufail.
Yesterday Twitter hashtags #AttackOnJamiatExpo_ISB #IIUI and #BanTerroristIJT were the top trends for Pakistan.
After the clash, some Pashtun students claimed that IJT took their fellow students and they are still in IJT's custody. They demanded from the authorities to find and recover the missing students.
Some other Student organizations also blame IJT for the disappearance of their fellows.
Police and ranger took control later and ordered students to leave hostels and start searching compounds.
Justice for Syed Tufail
TODAY: A large number of students have gathered at IIUI gate to offer funeral prayers of IJT activist Syed Tufail who was murdered last night. Ameer Jamiat Islami Siraj ul Haq offered his funeral prayers.
Also Read: Justice For Syed Tufail: He lost his life at IIUI
At the funeral, Ameer Jamiat-e-Islami Siraj ul Haq addressed the students.
Read More: Justice for this orphan child: 5-year-old beaten to death by Maulvi
Follow INCPAK on Facebook / Twitter / Instagram for updates.