LAHORE: Heavy rain in Lahore flooded streets while many areas experienced power outages early Sunday morning disrupting the second day of Eid ul Azha.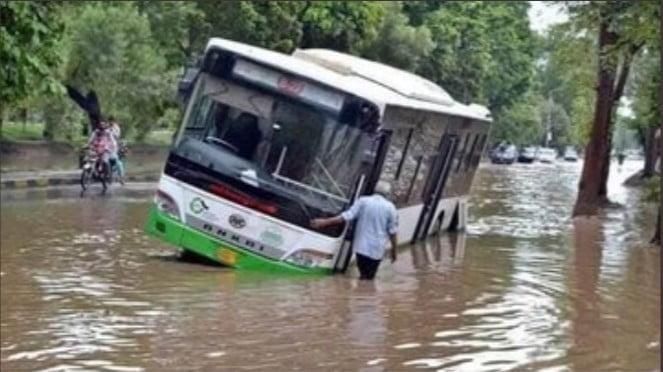 Although the weather turned pleasant on after the rain in Lahore, it lead to multiple areas of the city being flooded with water, making it difficult for people to perform sacrifices.
The downpour resulted dozens of LESCO feeders getting tripped and many areas experienced power outages which has been resolved by now according to sources.
Read more: Petrol Prices in Pakistan Increased from 1 August 2020.
The rain in Lahore started around 8:00 am and continued till 9:30 am with the highest rainfall recorded at 71mm in Tajpura while other areas experienced the following amoung of downpour:
Lakshmi Chowk (65mm)
Farrukhabad (63mm)
Allama Iqbal International Airport (50mm)
Gulshan-e-Ravi (47mm)
Nishtar Colony (42mm)
The Punjab Chief Minister also ordered the Water and Sanitation (WASA) to immediately work on clearing the stagnant water. Many areas have since been cleared.
On the other hand the Lahore Waste Management Company (LWMC) said that it was experiencing difficulty cleaning up animal waste due to the heavy rain in Lahore early morning.
Many people began taking to Twitter with hashtag #Punjab_DoobGaya, sharing picture and videos of the condition after rain:
Read more: Sindh Govt extends Eid ul Azha Holidays.