Action has finally been by authorities with Ibsham Zahid getting arrested for harassing Fatima Aamir with rape and murder threats just as the sixteen-year-old boy was planning to flee to Dubai.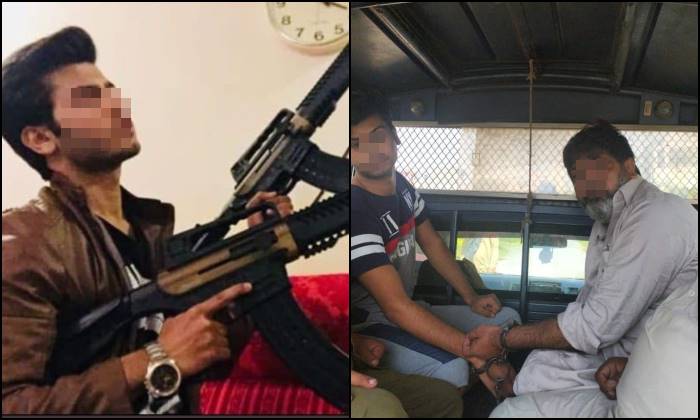 The matter was highlighted on social media when Fatima Aamir Shaikh uploaded a bunch of screenshots of explicit messages from Ibsham Zahid threatening the girl with rape and murder.
Read more: Twitter wants arrest of Ibsham Zahid for harassing Fatima Aamir.
Since the matter went viral on social media, the police have now taken action and reportedly arrested Ibsham Zahid along with his father over the consistent threats made to the girl.
According to reports, a First Information Report (FIR) was launched in 2016 against the accused but no legal action was ever taken with the case remaining pending until now.
The screenshots of messages, videos and audio clips uploaded by Fatima Aamir clearly showed that she was being forced by Ibsham Zahid into having a physical relationship.
However, upon getting refused by the girl, he went as far as to threaten her with rape and murder telling that that he'll "come to her house and rape her in front of her family".
Another message was a clear murder threat stating:
Abhi bhi appko bol raha hoon meray sath ek night spend kar lein warna 30 hazar mein aajkal Lahore mein qatal ho jatay hay aaisa na hoon appka baa piss dunya say chala jaye
Apparently Ibsham Zahid was not afraid that his actions may land him in Jail and mentioned belonging to a family of criminals taking pride in the fact that his father and paternal grandfather had both served prison time while his maternal grandfather told him:
Jail bani he mardo kay liye hay (Jail is made for men).
In one of the videos uploaded to social media, Ibsham could be seen showing off several guns and threatening Fatima Aamir that they could be used against her.
After the matter went viral on social media, Ibsham Zahid sent a voice note to Fatima Aamir mentioning that he'll be fleeing to Dubai since everyone here was talking about him.
Ibsham's older sister also came forward with their side of the saying that her family couldn't be held responsible for the actions of her 16-year-old minor brother.
According to the sister, Ibsham Zahid was suffering from a mental illness and was even diagnosed with Genralized Anxiety Disorder (GAD), anger management issues and was highly emotionally unstable.
Despite all of that he had access to weapons, the internet and freedom to do whatever he pleased and according to his sister, taking away these things was not helpful and made him worse.
Upon hearing both sides, netizens were enraged and demanded Ibsham Zahid be arrested for threatening innocent Fatima Aamir with rape and murder and finally, law enforcement has taken action and arrested the accused along with his father.
However, what matters is that the accused gets convicted and not be released on bail or allowed to walk free and do something that ends up taking an innocent life.
Read more: Tuition teacher arrested for beating two girls in Jhelum.