ISLAMABAD: Capital Development Authority has issued the notification of illegal Private Housing Schemes in Zone-2, 5 & Sector E-11 Islamabad.
It is stated that as per ICT (Zoning) Regulation, 1992, amended from time to time, Islamabad Capital Territory (ICT) has been divided into Five Zones, Three Zones out of five Zones, i.e. Zone-2, Zone-4 and Zone-5 have been earmarked for Planning and Development of Housing Scheme.Agro Farming Schemes by the Private Sector i.e Co-operative Housing Societies or Private Limited Companies.
Such Private Schemes are also allowed in Sector E-11, Islamabad. CDA has been regulating Planning and Development of Private Housing Scheme in said Zones under ICT (Zoning) Regulation, 1992 and the Modalities and Procedures framed there under.
2. Two Steps approval of Private Schemes are granted by CDA, In the first Step Layout Plan (LOP) is approved them on completion of subsequent requisite formalities, there No Objection Certification (NOC) is issued.
CDA also issues Completion Certificate after completion of development in the Scheme as per the Approved Layout Plan, design of services and Approved Specification.
Directorate of housing societies and regional planning of planning wing, CDA  are dealing with the affair of the private housing scheme in zone 2, Zone 4 and Zone 5 of ICT.  further, since August 2016 Directorate of building control 2, CDA Has been established for exercising building control and private schemes and other private lands.
Read More: The List of Islamabad Housing Societies without CDA's approval
3.  Deputy Commissioner/Registrar, co-operative societies,  Islamabad capital administration (ICT),  Islamabad, regulate the registration admin affairs, financial matters,  elections, holding of Annual General Meetings (AGMs), allotment / auction of plots. annual audit, etc  of co-operative housing societies. the security exchange commission of Pakistan (SECP) regulatory affairs of private limited companies, CDA,  on the other hand, regulate the Planning and development of the housing scheme planned, launch and developed by such Cooperative housing societies and Private Limited companies. Void.

4.  following private housing schemes in zone 2, 5 and Sector E-11,  Islamabad, have neither any approval of LOPs nor issued NOCs, hands are in legal similarity following list of includes the schemes whose LOPs were  approved by CDA but subsequently hence also illegal.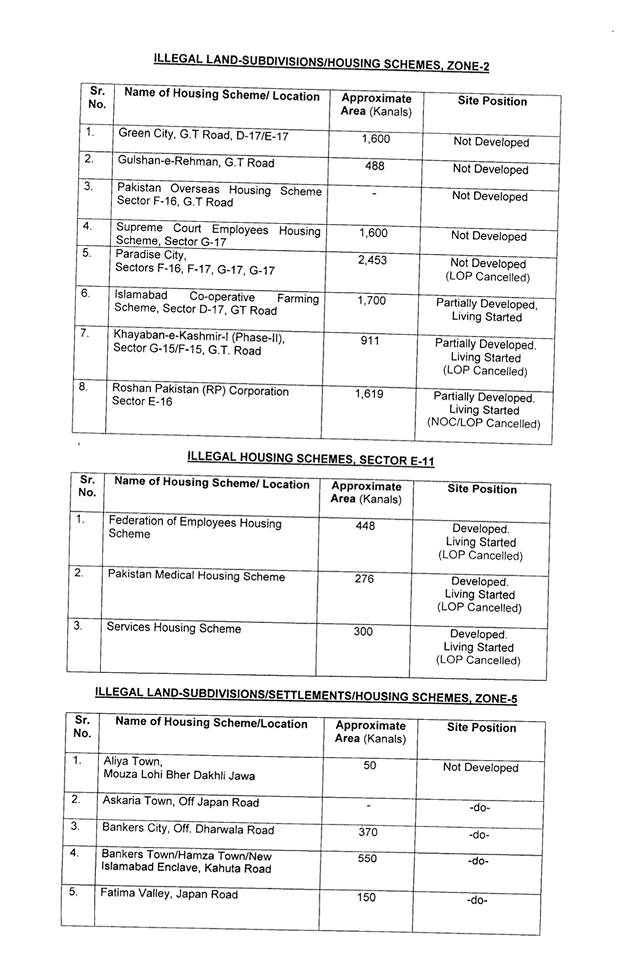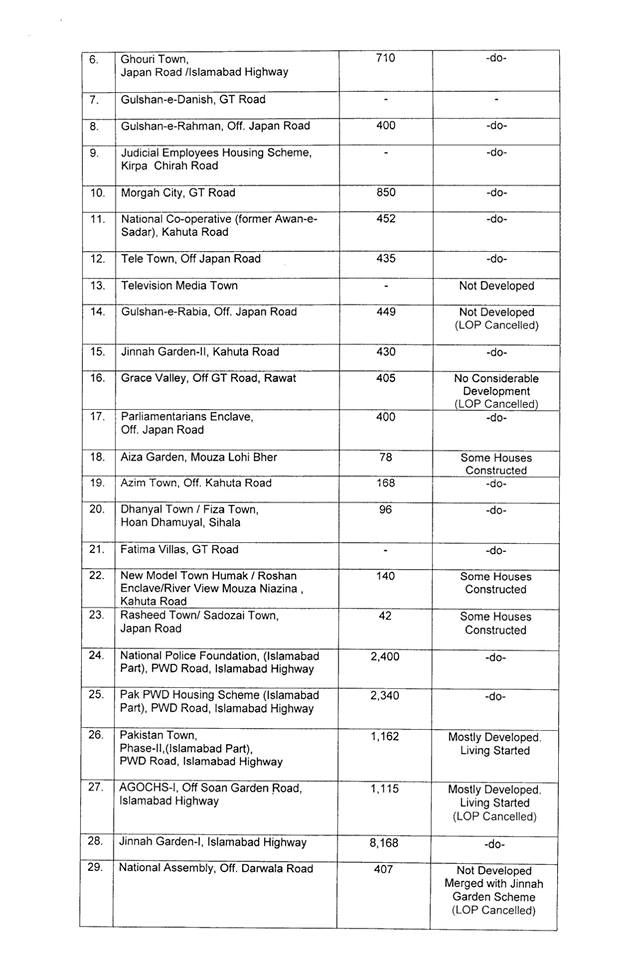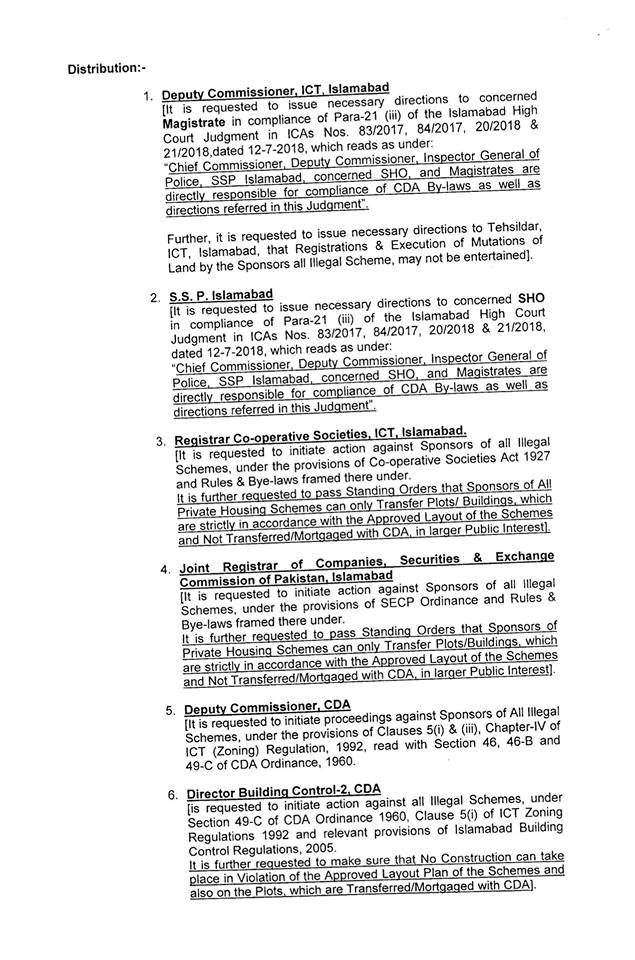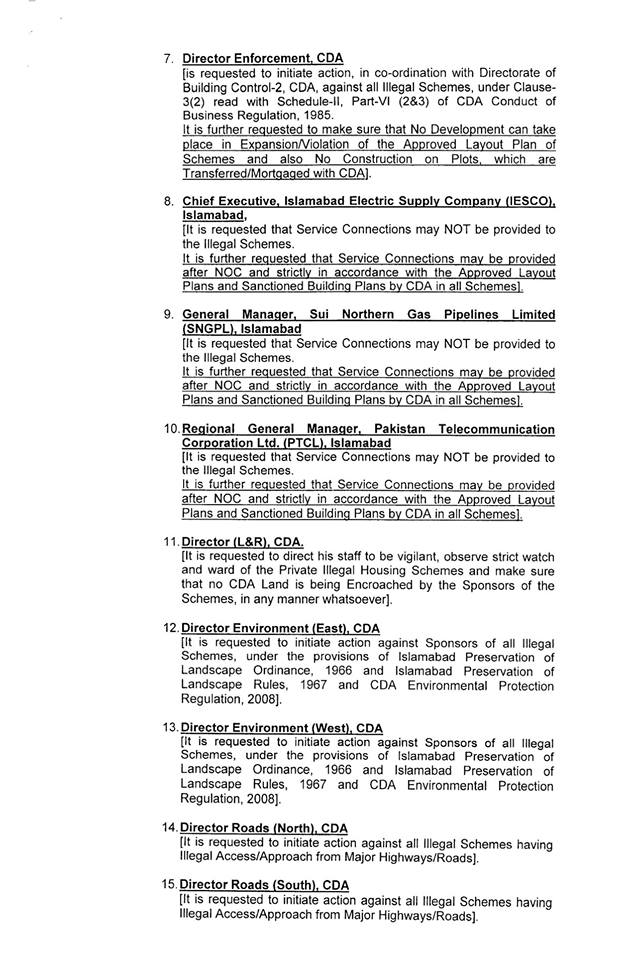 Read More: 'Ideal Residentia' Illegal/Unauthorized Housing Scheme: CDA