ISLAMABAD/RAWALPINDI weather to remain very hot & humid during the next 24 hours with slight changes of isolated thunderstorms.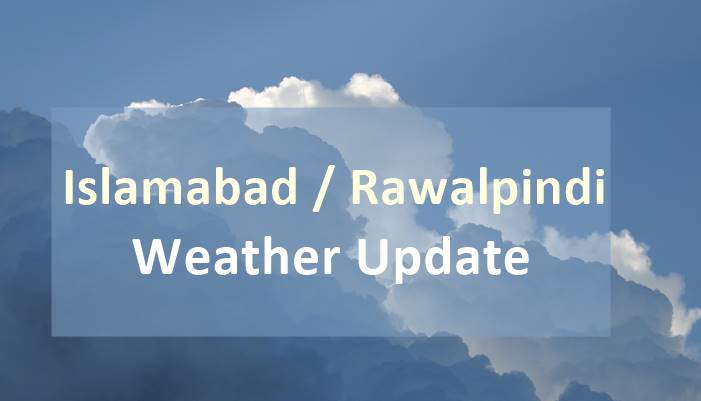 Meanwhile, very hot & Humid weather will continue during the next 24 hours with temperatures 5°C above average while the Heat Index (HUBS) or Feels like Temperature will touch 46-47°C.
Nights will also stay Humid and Very Warm. Air Quality will remain moderate. Unstable weather is expected from Friday In Sha Allah and monsoon is expected to pick pace from next week as a good spell is expected from Monday In Sha Allah.#FORECAST:
Tonight: Mostly Clear & Hazy skies.
Humid & Very Warm. The Expected minimum temperature:
Islamabad City 24-26°C
Rawalpindi 25-27°C
HEAT WARNING:
Mostly SUNNY, HOT & HAZY. Slight chance of an isolated development. Max temp: 37-39°C .Winds: SW/S/SE @ 5-25 km/h, max. gusts 45 km/h.Past 24 hours: |Max / Min temperatures (in °C)
Islamabad Weather
New Islamabad Airport Max 38.0 Min 24.5
Banigala Max 36.0 Min 25.0
H-8/2 Max 38.2 / 24.6
Rawalpindi Weather
Bahria Ph.2. .. 34.7 / 26.6°C
Westridge: ….37.9 / 27.8 °C
Max Heat Index: 45°C
Keep outdoor activity minimum from 10 a.m to 5 p.m
Weather Update Report by Rawalpindi/Islamabad Weather
Meanwhile, The weather in Karachi is expected to get better as the port city experiences fourth spell of heavy monsoon rain 6 August 2020 according to the Pakistan Meteorological Department.
Read More: Weather: Heavy rain expected in Karachi on August 6