The Islamabad Traffic Police (ITP) has issued a traffic plan for the ongoing Kissan Ittehad Protest on 29 September 2022 for commuters as many major roads are closed due to thousands of farmers taking part in the rally and moving towards D Chowk, while demanding restoration of previous electricity tariff and the abolishment of all taxes and adjustments.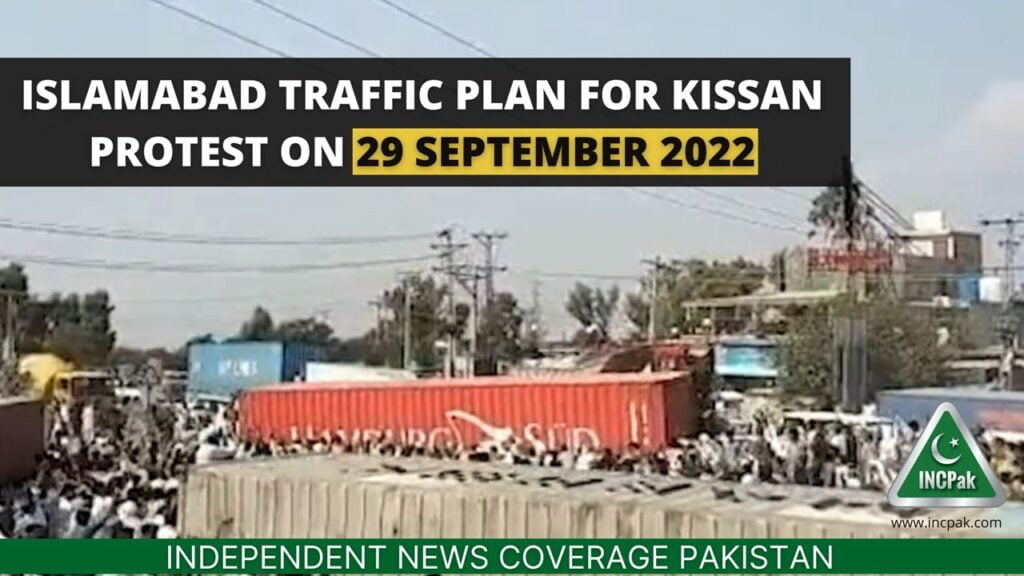 According to the details, there are 25,000 farmers taking part in the Kissan Ittehad Protest and several major roads in Islamabad are currently blocked for commuters, which is causing a major inconvenience to everyone to go about their daily lives.
Earlier, the farmers had called off their protest on assurances from the incumbent government to meet their demands, however, they have taken to the roads once again as all talks between the two sides have failed and they are marching towards Islamabad's D Chowk for the fulfillment of their demands.
The Islamabad Traffic Police (ITP) issued a detailed traffic plan for the Kissan Ittehad Protest on 29 September 2022 and informed people of closed roads as well diversions and alternate routes available to get about their daily lives. However, the diversion of the huge chunk of traffic from the main roads has also caused a blockage.
Islamabad Traffic Plan For Kissan Ittehad Protest – 29 September 2022
According to the Islamabad Traffic Plan, there is a diversion placed from Zero Point to Faisal Chowk at Faisal Avenue with 9th Avenue and 7th Avenue open for traffic. Meanwhile, Jinnah Avenue is completely closed for traffic, including the flyover and below it.
It is pertinent to mention that flyover at Jinnah Avenue was being used to get traffic across but it has been closed now due to the farmer's protest. Furthermore, there are diversions placed on both sides of Ayub Chowk, Express Chowk, and NADRA Chowk with Margallah Road and Serena Chowk being open for traffic.
Read more: Petrol Prices in Pakistan Expected to Fall From October 1.