ISLAMABAD: Capital Development Authority (CDA) sealed "Save Mart Store" being illegally operated in the basement of plot No. 26, G-6 Markaz. Moreover, illegal constructions carried out by the Save Mart Store and owners of the premises, were also demolished.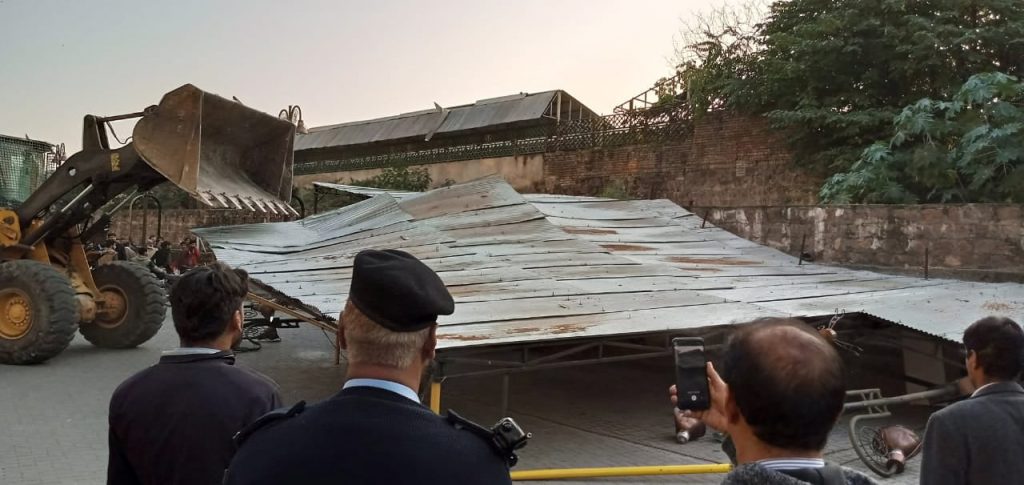 The operation was conducted on Friday which was participated by Enforcement Directorate, ICT Administration, Islamabad Police, Building Control Directorate and other concerned formations.
Read More: Govt. increases traffic violation fine on motorway.
As per building parameters of the said plot, three (03) basements were reserved for parking purpose, however, the basement was being used for commercial purposes by committing non-conforming use. The premises had been sealed several times in the past but the owner de-sealed the premises without any permission or approval which had been reported in the concerned area police station.
During the operation conducted on Friday, three (03) barriers placed at entry points were dismantled, one (01) container, parking sheds established by encroaching state land, one (01) huge illegally erected structure covering 150×12 ft and one (01) illegally constructed room on state land was completely razed. Moreover, the unauthorized access from Northern and Southern sides was also disconnected. Furthermore, illegal construction work being carried out at the top floors of the plaza has also been stopped.
In meanwhile, Enforcement Directorate also conducted an operation in sector G-6/4 behind school No. 6 and completely demolished a house comprised of two (02) rooms, one (01) washroom and boundary wall thereby by vacated one (01) Kanal state land from illegal occupants.
Also Read: CDA's BCS-II has generated Rs.82 millions during last 02 months
Follow INCPAK on Facebook / Twitter / Instagram for updates.