ISLAMABAD: Massive anti-encroachment operation, to vacate illegal possession from acquired land in sector E-12, being carried out by Capital Development Authority (CDA) and Islamabad Capital Administration remain continue on Saturday. On starting of the operation, few elements tried to stop the operation, they broken the wind screen of the vehicle dozzier, beaten the operator and thrown the stone on the operational staff due to which some operational staff got injuries. Similarly, some miscreants also put soil and water into the engine of chain Dozzier and air firing to create hurdle in the ongoing operation.
Read More: CDA & ICT continues Anti-encroachment operation in E-12 Sector
However, ICT administration tackled the situation by calling the additional Reserve Police and arrested 10 miscreants for interruption in official business. After normalization of situation, the operation resumed with full swing and pace. During the huge action taken on Saturday hundreds of illegal constructions on the acquired land were demolished, particularly, the area of Mozza "Siri Saral" of Sector E-12 has almost been cleared from illegal occupants.
It is pertinent to mention here that there are thousands of allotees who have been waiting for possession for the last four decades. They have been running from pillar to post and now the matter has been taken up in the honourable Islamabad High Court (IHC) also where progress is being monitored. CDA is taking possession from those occupants who had received compensation and were continuing to hold possession despite lapse of so many decades. The cultivated land will be resumed after harvest in a few days. CDA is resolved to clear all lands from adverse possession that stand acquired and compensated. At the same time development activities are in process of commencement soon, in this backdrop formalities are being completed so that tendering can begin as soon as possible.
Anti-encroachment operation carried out on Saturday 214 different constructions including rooms and boundary walls were demolished and total 857 different constructions including rooms, boundary walls and several other constructions were razed during three days.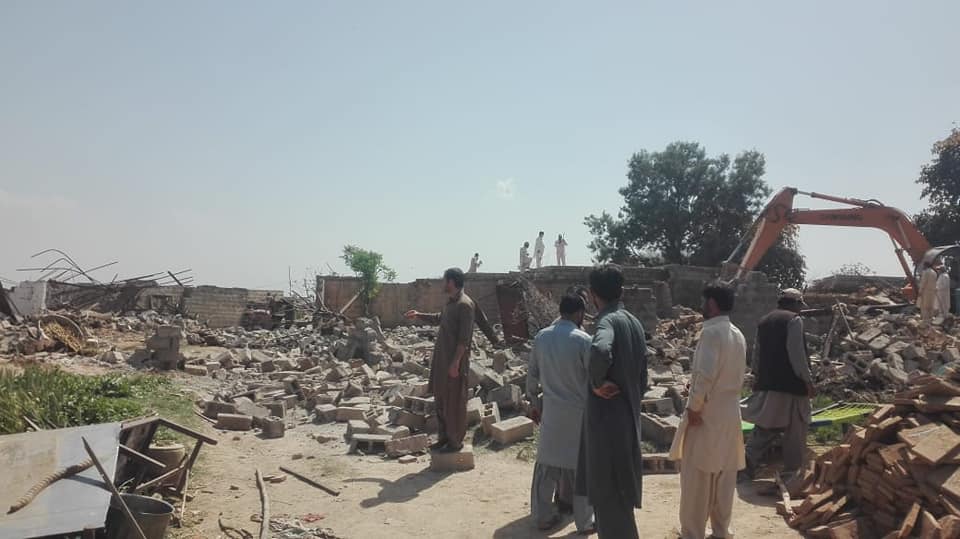 The operation for demolishing illegal constructions in sector E-12 is being participated by around 250 officers and officials of Enforcement Directorate, ICT Administration, heavy contingent of Islamabad Police, Sector Development Directorate, Land and Rehabilitation Directorate of the authority and other concerned formations while rangers were also deputed to counter any untoward situation. During this operation heavy machinery of MPO Directorate was also used to remove constructions from acquired land.
It is pertinent to mention here that CDA has started vacating adverse possession from the acquired land of sector E-12 nearly a month back and gradual momentum is being built. Earlier only vacant land was possessed but now structures are being demolished. Now the operation has been geared up and illegal constructions on acquired land are being demolished. During the operation which was started on Thursday and will remain continue till the vacation of acquired land of the sector, substantial area of the sector would be recovered from illegal occupants which would be handed over to Sector Development Directorate which is already carrying out development work in the sector.