Pakistani Hackers continued their Cyber Jihad by Hacking Indian sites one after another now once again just a couple hours back bunch of sites HACKED and the list continues on. Previously 30 Sites hacked.This message appears on the site !
No Offense but the way message appeared on the site, INCPak has just copy and pasted from the URL given below :-
Gay Hind Bitches Own3D For Testing New Deface Page 
http://shikhargroup.org.in/index.htm
http://gauravind.com/
http://diacareclinic.com/
http://kalolpanjarapole.in/
http://rrgupta.com/
http://sonalidentalclinic.com/
http://trishulproduct.com/
http://www.th3mirror.com/archive/notifier=1/page=Dr@cul@
http://www.hack-mirror.com/hacker/Dr@cul@/all.html
http://www.hack-db.com/hacker/Dr@cul@/all.html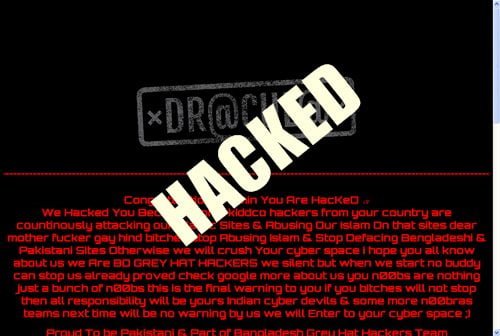 Congratulations Admin You Are HacKeD :P
We Hacked You Because some kiddco hackers from your country are continuously attacking our Islamic Sites & Abusing Our Islam On that sites dear mother fucker gay hind bitches stop Abusing Islam & Stop Defacing Bangladeshi & Pakistani Sites Otherwise we will crush Your cyber space i hope you all know about us we Are BD GREY HAT HACKERS we silent but when we start no buddy can stop us already proved check google more about us you n00bs are nothing just a bunch of n00bs this is the final warning to you if you bitches will not stop then all responsibility will be yours Indian cyber devils & some more n00bras teams next time will be no warning by us we will Enter to your cyber space ;)
Proud To be Pakistani & Part of Bangladesh Grey Hat Hackers Team

BoX Owned By Dr@c
BoX Owned By Dr@cul@ From BD GREY HAT HACKERS
Love To: TiGER-M@TE – Rotating Rotor – Ablaze Ever – c0d3-x-1337 – Krad Xin & All The Crews of BD GREY HAT HACKERS | All Pakistani Hackers | All Muslim Hackers & All Those Who are Fighting For Future Freedom
./Stay In Limits n00bs & Lamers
©Underground Hacker 2010 – 2013
#Logout
INCPak, keeping you updated with the latest development regarding Cyber Jihad !
ul@ From BD GREY HAT HACKERS
Love To: TiGER-M@TE – Rotating Rotor – Ablaze Ever – c0d3-x-1337 – Krad Xin & All The Crews of BD GREY HAT HACKERS | All Pakistani Hackers | All Muslim Hackers & All Those Who are Fighting For Future Freedom
./Stay In Limits n00bs & Lamers