Thunderstorms developing in northern and North eastern parts of the capital city Islamabad expanding over the entire city including Rawalpindi on Tuesday.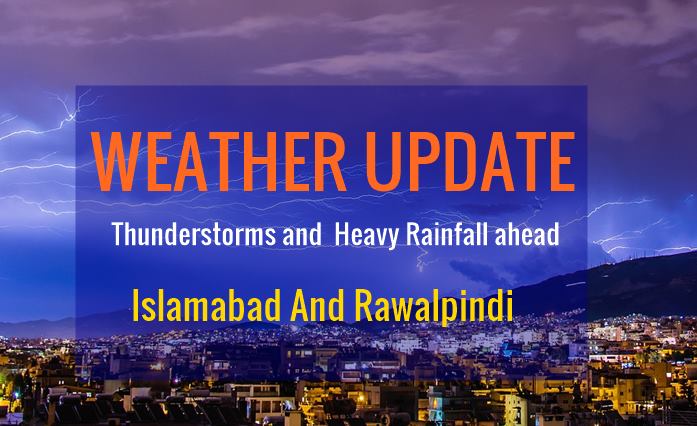 The forecasted Thunderstorms and heavy rainfall in Islamabad and Rawalpindi after a Hot & Humid days with tempreture soaring to 39C to 40C feel like 45C for last week days is now expecting rain.
The Thunderstorm development started over G-6, and F-6 Sectors around 1:30 am on 18 August, Tuesday which is expected to expand further on entire city including Rawalpindi in coming hours ahead.
According to Rawalpindi/Islamabad Weather, A new Strong Monsoon rain SPELL is expected in Upper parts of the country starting Wednesday as moisture penetration from the Arabian sea will increase from Tuesday night.
This, coupled with an incoming strong Western disturbance will cause a surge in the monsoon activity. A low pressure area is also likely to form over north Bay of Bengal around 19th August which will cause an influx of moisture too. As a result of these systems, SCATTERED to WIDESPREAD MODERATE to HEAVYRainfall along with isolated VERY HEAVY Rain is possible between Wednesday and Friday in Northern/Central KP, Upper/Central Punjab, Azad & Jammu Kashmir as well as including the Twin cities of Islamabad/Rawalpindi.
Meanwhile, Isolated to scattered rainfall is expected in Gilgit Baltistan and Lower KPK/Punjab. Mostly LATE-NIGHT/EARLY MORNING thunderstorms are expected in our region. Wind gusts of 45-70 km/h possible during thunderstorms.
Travel Advisory
Heavy rains during this time may cause localized Flash Floods especially in rivers, hill torrents, Nullahs and low lying areas in urban & downtown areas. A FLOOD WATCH is in effect on Thursday/Friday.
Traveling in mountainous areas during this time especially night/early-morning is not advised as heavy rainfall could create travel hazards such as landslides, waterlogged roads, road blockages, lower visibility & risk of mudslides. Vulnerable populations are advised not to venture near Nullahs/Rivers/Embankments, and stay away from electric wires during periods of heavy rainfall.
Weather Update by Rawalpindi/Islamabad Weather Official Page.
Read More: Thirteen drown as boat overturns at Thatta's Keenjhar Lake