People start demanding justice for Saima Parveen with #JusticeforSaima, a girl raped at gunpoint in Islamabad earlier this month and a First Information Report (FIR) was registered against the heart-wrenching incident on September 7th.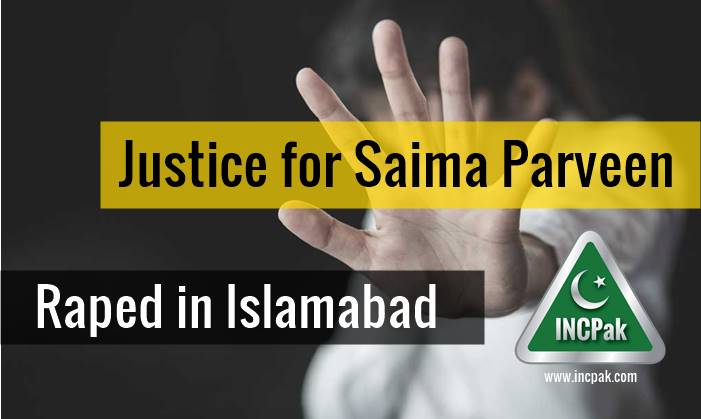 According to sources, Saima Parveen [victim] was looking for a job when she met a girl name Hina Kanwal who claimed to work for an NGO and assured the victim of finding her a job.
The two soon became friends and Hina Kanwal would occasionally visit Saima Parveen to keep in touch as the victim did not possess a mobile phone due to poor financial situation. Later, Saima was also provided a mobile phone along with a working sim card by Hina.
Read more: Wife gang raped in front of husband in Ferozewala, Sheikhupura.
According to the victim's statement, she was told by Hina Kanwal that a man named Nasir Abbas was helping with the job search and something would come up soon.
On September 3rd, Saima Parveen received a call from Hina Kanwal asking to meet at Karachi Company (G-9 Markaz) in Islamabad where Nasir Abbas reportedly arrived in a black vehicle along with Hina and took Saima to an unknown location.
They claimed that the location was a office and according to the victim somebody was already present there and when they got inside, she was raped at gunpoint.
Saima Parveen was later locked in a room and tortured for 2 hours and set free after which she came home and told about the incident to her uncle who takes care of her after the death of her parents.
The family contacted police to file a First Information Report (FIR) against the accused on September 7th. However, the police was reportedly tried to force the victim into withdrawing the FIR and even supporting the accused offering them to turn the case around in exchange for money.
People have been demanding justice for Saima Parveen with hashtag #JusticeForSaima on Twitter.
Read more: 17-year-old girl raped by stepfather in Gujranwala.