Prime Minister Imran Khan on Monday launched the Kamyab Pakistan Program (KPP) 2021 worth Rs. 1,400 billion with the aim to provide opportunities to the deserving and uplift the 3.7 million households across the country.
In his address at the launch ceremony in Islamabad, Prime Minister Imran Khan said there were lack of opportunities available to the middle and poor classes in the country and the government was making efforts to change the mindset and priorities in Pakistan, "the systems in Pakistan have been made for the elite." he added.
PM Imran Khan termed the Kamyab Pakistan Program 2021 as a landmark initiative that would improve the living standard of lower segments of the society. He added that such a project should have been started 74 years ago to make Pakistan a welfare state in line with 'Riyasat-e-Madina'.
The premier added that a lot of time has been spent in overcoming obstacles in preparation of the Kamyab Pakistan Program. He said that his government had learn from the previous housing programme that banks did not have the infrastructure or training to give loans to the people from middle and lower classes of society.
"We realized that by the time banks learn to give loans to poorer people, our five years will be over," he said, adding that his was the primary reason the government decided to onboard the microfinance banks as part of the Kamyab Pakistan Programme 2021.
Prime Minister added that humanity and justice were the foundations of a society and no country could progress without having both these qualities. According to the Prime Minister, the system caters only to the elite, including education, justice and banking systems. He added that our society cannot progress without equal opportunities for all.
The premier said that Pakistan had never implemented a proper welfare system which the founding fathers wanted and instead developed an elitist system. He talked about the country's education system and termed it as a "huge misfortune" since a small segment of the country was enrolled in high-class English-medium schools so they could get jobs while the rest were studying in the public schools, which could not keep up or progress.
He added that the present government was trying to change its priorities to uplift the poor people and the government has introduced the Single National Curriculum, which will provide the same level of education to all segments of society. He also criticized people who opposed the uniform syllabus.
Kamyab Pakistan Program 2021
Prime Minister Imran Khan said the Kamyab Pakistan Program 2021 was being launched under the umbrella of the Ehsaas Program to provide targeted subsidies on essential commodities, such as flour, edible oil and sugar. He spoke about the increase in the price of commodities, adding that the price has been increased in the international markets as well.
"There has been a 100 per cent increase in the prices of petroleum products over the last few months, but the government increased petroleum prices by 21 per cent only," he added. The premier said that wheat prices increased by 33 per cent in the global market whereas sugar price rose by 40 per cent; however, the government increased the prices by 12 and 21 per cent, respectively. He termed this as "imported inflation" and said that government will bring prices down once there is a smooth supply of commodities in the global market.
#Live: Prime Minister @ImranKhanPTI addressing inaugural ceremony of Kamyab Pakistan Program in Islamabad https://t.co/KjweuRTkJF

— Radio Pakistan (@RadioPakistan) October 4, 2021
Kamyab Pakistan Program 2021 Loan Information
Under the Kamyab Pakistan Program, Rs. 1.4 trillion in soft loans will be provided to 3.7 million families across the country in order to uplift the lower segments of society. The programme will have five components namely:
Kamyab Karobar Program
Kamyab Kissan Program
Naya Pakistan Low-Cost Housing Scheme
Kamyab Hunarmand Program
Sahatmand Pakistan
Under the first three components, micro-loans shall be distributed among persons registered with National Socio-Economic Registry QTISER) who have PMT score up to 49. These three components will be treated as new initiatives independent of Prime Minister's Kamyab Jawan-youth Entrepreneurship Scheme (PMKJYES) and Government Markup Subsidy Scheme (GMSS).
The last two components are integration of KPP with existing programs. KPP is aimed to integrate with government's ongoing Skill Development Program for educational and vocational training. Accordingly, it is being envisioned that these trained citizens shall also have access to finance and this collaboration shall be rebranded as Kamyab Hunarmand". Under "Sahatmand Pakistan", it will be mandatory for anybody availing loan under Kamyab Pakistan Program (KPP) to obtain "Sahat Insaaf Card", if the same facility is available in his/her area.
One loan under each Kamyab Pakistan Program loan category, i.e. Kamyab Karobar, Kamyab Kissan, and Housing, shall be permissible concurrently with the maximum exposure capped at PKR 2.85 million [put together] per family.
Under Kamyab Pakistan Program (KPP) Portal called "Kamyab Pakistan Information System (KPIS),', there will be a toll-free number which will be integrating KPIS through Telecos via National Telecommunication Corporation (NTC). The portal will be integrated with Ehsaas Data (NSER), credit bureaus and National Database and Regulatory Authority (NADRA) for verification of beneficiaries' eligibility to facilitate the Executing Agencies. Pakistan poverty Alleviation Fund (PPAF) has been engaged for monitoring and evaluation of the program on regular basis.
Federal Cabinet has approved exemption of rule 3(2) of Cash Management and Treasury Single Account Rules 2020 for allowing direct debit authority to SBP beyond inevitable circumstances for payments under KPP.
Features of Kamyab Kissan and Kamyab Karobar
Particulars
Kamyab Karobaar
Kamyab Kissan
Loan Type
Entrepreneur Loan under
Tier-0
Small Agri Loans under Tier-O
for farmers with landholding up to
12.5 Acres
Loan Size
Up to PKR 500,000
-Up to PKR 150,000 for Crop
Inputs AND/OR
-Up to PKR 200,000 Farm
Machinery & Equipment
Loan Tenor
Up to 3 years
-Two Crop Cycles in a year for 6
months each (max. 1 year)
-Machinery/ Equipment
financing up to 1 year
Repayment
Equal Monthly
Installments
Lump sum on or before maturity,
tied-up with the crop cycle
Max Age – No limit
Security Requirements – Clean (secured only by Personal Guarantee of the borrower). In addition rules & regulations of SECP/SBP shall be complied with by MFPs.
Sectors and Products – All sectors & products including Agriculture(livestock, poultry, fishery, dairy, etc could be part of Kamyab Karobar).
Customer Rate – 0%
Features of Naya Pakistan Low Cost Housing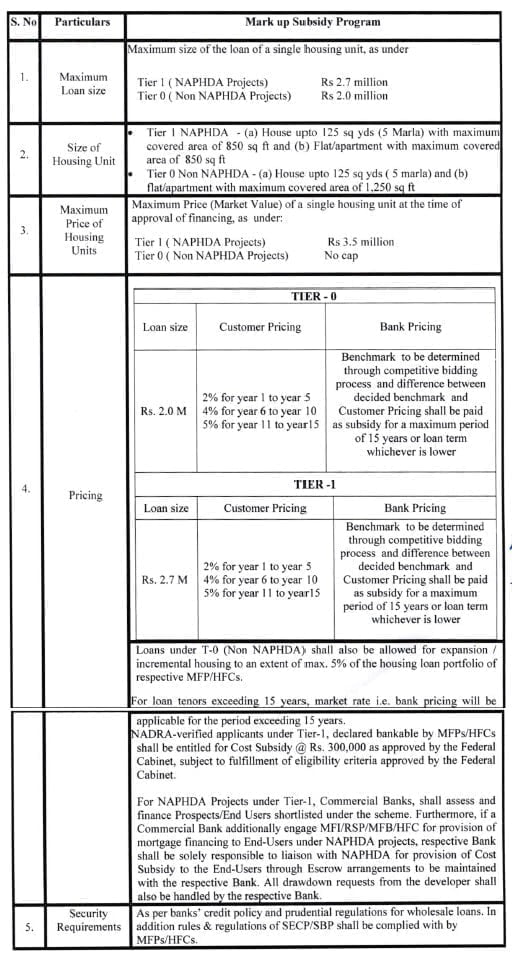 Read more: Find information about all Ehsaas Program initiatives.
Follow INCPAK on Facebook | Twitter | Instagram for updates.