PM Imran Khan has launched Sehat Sahulat Program for the entire KP population, the announcement was made on Thursday.
Under this Sehat Sahulat Program, the Khyber Pakhtunkhwa government will be entitled to extend health insurance worth 1 million rupees per family per year to the entire KP population.
The KP population of 60 Lakh families will be able to avail this opportunity through their CNICs in phase wise till January 2021.
The Information Ministry has also confirmed through their tweeter message.
READ MORE: Doctor & influencer Maha Shah allegedly commits suicide
The Prime Minister of Pakistan Imran Khan highly praised the initiative during the launching ceremony. he also said the Sehat Sahulat Program of KP will also put pressure on other provinces as well.
He also added that he will push Punjab government, the province where PTI is in power and the Baluchistan government will also be advised to launch similar program in their province.
The PM also sounded that ones the people of three provinces start benefiting from free healthcare, the people of Sindh will also demand the provincial government for similar programmes.
READ MORE: Ehsaas Emergency Cash Program – Update [20 August 2020]
Sehat Sahulat Program important features
Under Sehat Sahulat Program each family will receive health coverage of 1 million rupees annually.
All designated public and private hospitals will provide free treatment to the residents of the province.
State Life Insurance Corporation, which has been selected after a competitive bidding process, will be paid Rs. 2,849 per family annually.
More than 200 hospitals are on the panel of Sehat Sahulat Program and more will be added.
The private sector will be encouraged to build more hospitals that will create more jobs for the health staff.
Sehat Sahulat Program offers following medical facilities
General Medicine
General Surgery
Orthopedics
Gynae and Obstetrics
Pediatrics
Accident and Emergency (all the medical/surgical emergency care which can't be provided in secondary care hospitals)
Cardiovascular problems
Complications of Diabetes
Management of all type of Cancers
Management of Genito-urinary diseases including Dialysis and Transplant.
Management of Neurosurgical diseases.
Addressing at the launching ceremony the Pm Imran Khan said despite budgetary constraints the PTI provincial government has implemented the program. He also said that this Program will also encourage and motivate the public-sector hospitals to provide better healthcare facilities to the people as the private-sector hospitals will be providing free treatment.
The PM also said:
Duty charges will be removed on imported medical equipment as an incentive for private hospitals.
Auqaf and evacuee trust department will offer land on lower rates to whoever wants to build a hospital.
Hospitals will also be built-in remote areas to provide healthcare to all citizens.
health insurance will be available to all holding a CNIC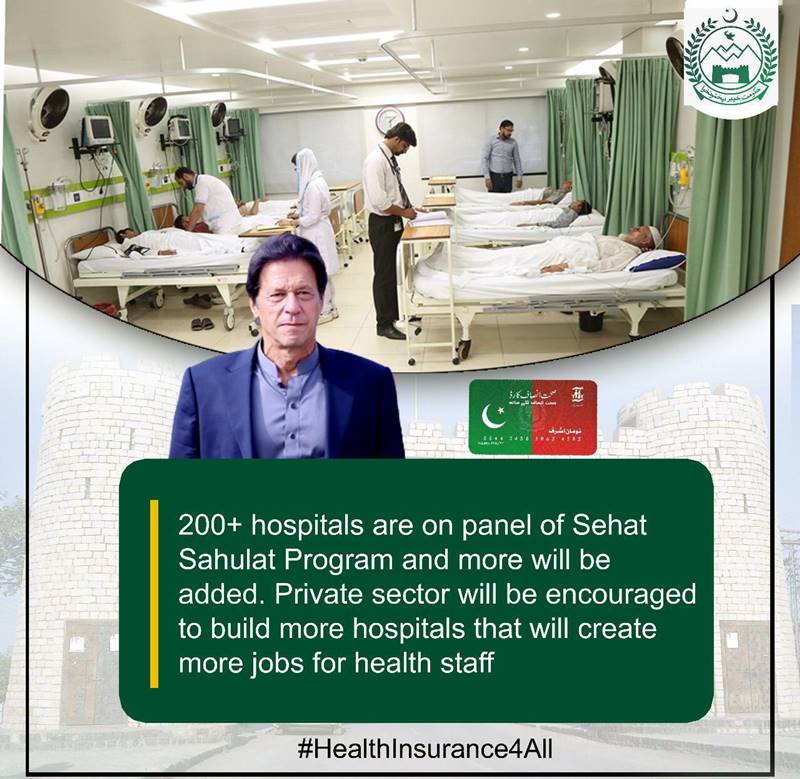 KP Sehat Sahulat Program
All residents of Swat, Buner, Dir Upper, Dir Lower, Shangla, Malakand, Chitral Lower, Chitral Upper, and Bajaur districts of Malakand division, regardless of their financial status will start receiving free healthcare from October.
Hazara division in November.
Mardan and Peshawar in December.
Kohat, Bannu and Dera Ismail Khan in January
The first phase of the program was launched in 2015 and covered 3% of the population.
The second phase started in 2016 and covered 51% of the population.
The third phase started in 2017 and covered 64% of the population.
So far, more than Rs10 billion has been spent on free treatment of 250,000 people.