Lahore motorway rape suspect has been identified after DNA match came back positive with the samples taken from the victim according to Special Assistant to Prime Minister on Political Communication Dr Shahbaz Gill.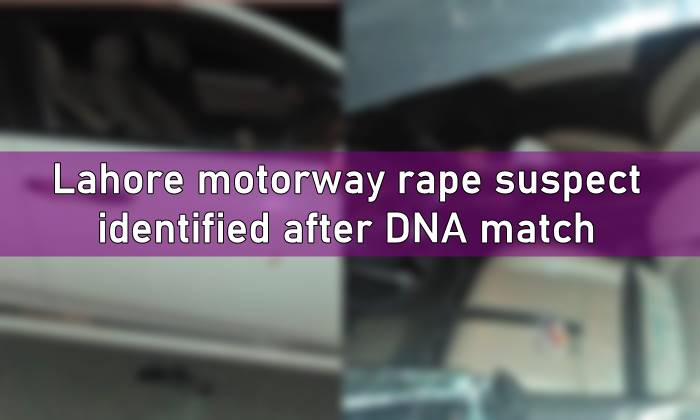 The SAPM took to Twitter informing about the updated related to the Lahore motorway rape incident mentioning that DNA of a suspect matched with the victim and there will be an arrest soon.
Furthermore, Dr Shahbaz Gill stated that Chief Minister Punjab Usman Buzdar has been personally monitoring the entire case alongside IG Punjab and CCPO Lahore.
According to sources, the suspect's DNA sample was already present in the Forensic Science Agency's DNA bank and the culprit has an extensive criminal record.
The suspect has been identified as Abid Ali and he is a resident of Fort Abbas District Bahawalnagar. His DNA matched the sample taken from the victim. According to reports, the culprit was convicted of another rape in 2013.
However, it is pertinent to mention that no arrests have been made so far despite many news sources stating otherwise. This has been confirmed by Special Assistant Dr Shahbaz Gill.
Fake news of Lahore motorway rape suspects caught using victim's ATM
There was fake news circulating yesterday saying that the culprits involved in the mototway rape incident had been caught using the victim's ATM and taken into custody.
However, the Inspector General (IG) Punjab Inam Ghani himself confirmed about the false news stating that a fake Twitter account in his name was spreading misinformation regarding the incident.
Lahore motorway rape incident
A woman was gang raped on Lahore motorway in front of her children on Wednesday after her car broke down stranding her on the road.
According to sources, the woman called motorway police for help but was denied assistance due to jurisdiction issues after which she was spotted by the assailants who attacked her car.
The culprits forced the woman along with her children out of the car and took them to a nearby field where they gang raped the woman and then robbed her of all valuables immediately fleeing the scene.
Here are all follow-ups to the story:
Woman gang raped at Lahore Motorway near Gujjarpura
Motorway gang rape incident: 12 people arrested
People criticize CCPO Lahore for blaming motorway rape victim
PM Imran takes notice of rape cases after motorway incident
Police find valuables of motorway gang rape victim
FAKE NEWS: Lahore motorway rape suspects caught using victim's ATM