LAHORE: The Government of Punjab has released a list of Lahore areas that are going to be placed under lockdown starting midnight between 16 and 17 June 2020 till 30 June 2020 due to the rise in coronavirus cases from these localities.
According to a notification released by the Punjab Home Department, these Lahore areas are going to placed under strict lockdown with controlled entry and exit in the areas included in the hostspot list.
Furthermore, all markets, shopping malls, restaurants, offices shall remain closed in these areas with complete ban of movement of people into and from these areas. However, limited movement will be permitted with one person per vehicle in case of travel to and from an exempted facility as mentioned in the attached notification.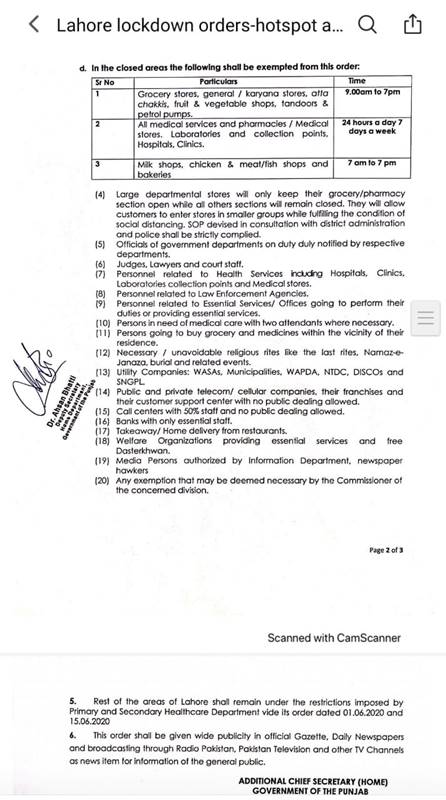 List of Lahore Areas to be placed under lockdown:
Chaman Bagh Rajgarh, Street 4 and 55
Streets 10, 13 and 23, Ram Nagar
Chaudhry building, Ram Nagar
Islam street, Ram Nagar
Front, Ram Nagar
Bilal Park
Iqra school Street, Ram Naga
Qilla Gujjar Singh, Abdul Kareem Road
Usmania Colony
Royal Park
Blocks 2, 3 and 4, Karim Park
Street 1, Ameen Park
House#14, Street 4, Mian Tajpura
House#26, Street 2, Mohalla Goal Bagh, Shadbagh
Street 4, Begum Kot Shama Colony
Bara Dari Road, Street 2 Masoom Shah Road
Ravi Clifton Shahdra near Fauji Street
Street 9, Hanif Park, Badami Bagh
Street 4, Malik Park, Badami Bagh
Block B, Johar Town
Block F2, Johar Town
Block J2, Johar Town
Block G3, Johar Town
Block B, Canal View Society
Block F2, Wapda Town
Block G, Wapda Town
Block B, Phase II, PCSIR
Block A3, Gulberg (from Bandu Khan Sweets and Bakers to Talha Mosque and from Nadeem Tikka to Tariq Kabaria)
Block B2, Gulberg
Block B3, Gulberg
Block B1, Gulberg
Sirajpura, Daroghawala
Bilal Colony, Daroghawala
Jallo Mor, Dhobi Mohalla, Batapur
Block A, Bismillah Housing Scheme, GT Road
Block B, Bismillah Housing Scheme
Hussain pura, Kothi stop, opposite Bismillah Housing Scheme
Mosque neat Lasani Pharmacy, Manawan
DHA Phase 1 (All Sectors)
Askari 10
DHA Phase 5
Cavalry Ground, Shiraz Villas
Street 9,11,13,15,8,5,26,27, Gulistan Colony
Street 2, Shah Alam Colony
Street 3, Ali Mohammad Park
Street 3, Gujja Pir Road, Taj pura
Block E, Street 1, Nizamabad, Taj pura
Area behind General Hospital Chungi Amer Sidhu
Kacha Jail Road, Quaid e Millat Colony
Ghausia Colony
Al Hamd Colony
Block F, 400-440
Tariq Colony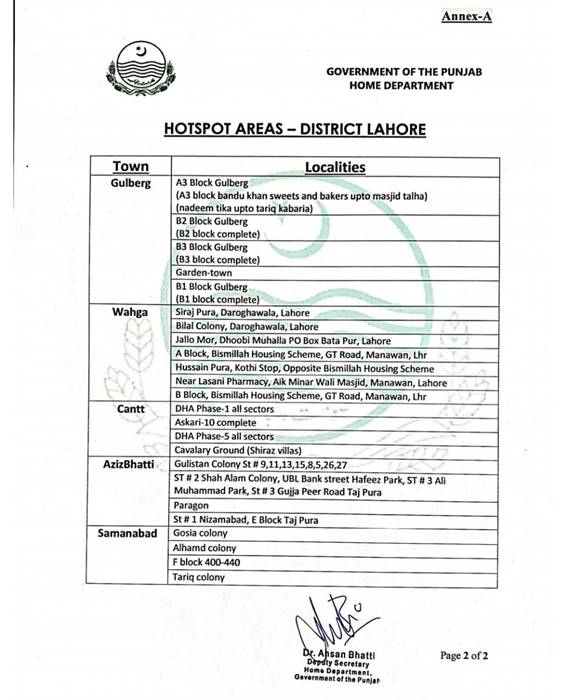 Read more: Islamabad seals I-8 & I-10 Markaz due to Coronavirus.