The eighth season of the Pakistan Super League (PSL 8 2023) has started and the Multan Traffic Police has provided a Traffic Plan for all the PSL 8 matches in the city in order to avoid inconvenience to commuters.
Multan Traffic Plan For PSL 8 Matches
According to the Multan Traffic Plan, the roads connecting SP Chowk to Kayanpur Chowk, Kayanpur Chowk to Bahawalpur Bypass, and Bahawalpur Bypass to Stadium Chowk will be temporarily closed during match times.
Meanwhile, the Roads SP Chowk and Kayanpur Chowk to Sher Shah Interchange as well as from Shah Rukn-e-Alam Interchange to Wehari Road, Babar Chowk to Stadium Chowk will remain closed for traffic.
Furthermore, the route from Wehari Road to Stadium Morr on Badhla Road will be closed for commuters for security along with Nawan Shehr Chowk, which has been closed to traffic from all sides during the tournament.
Moreover, the routes between Tariq Morr to SP Chowk and Abdali Masjid to Dera Ada Chowk will remain open for traffic. Similarly, the route between Kalma Chowk and Tariq Morr and the road from Ghanta Ghar to Kacheri will remain open for all types of traffic.
However, it must be noted that chingchi, auto rickshaws, and unregistered vehicles will now be allowed to enter the parking area. As for people traveling near the National Cricket Arena in Karachi, they must carry their CNIC and tickets to avoid any kind of inconvenience.
Multan Traffic Plan for PSL 2023 (Urdu)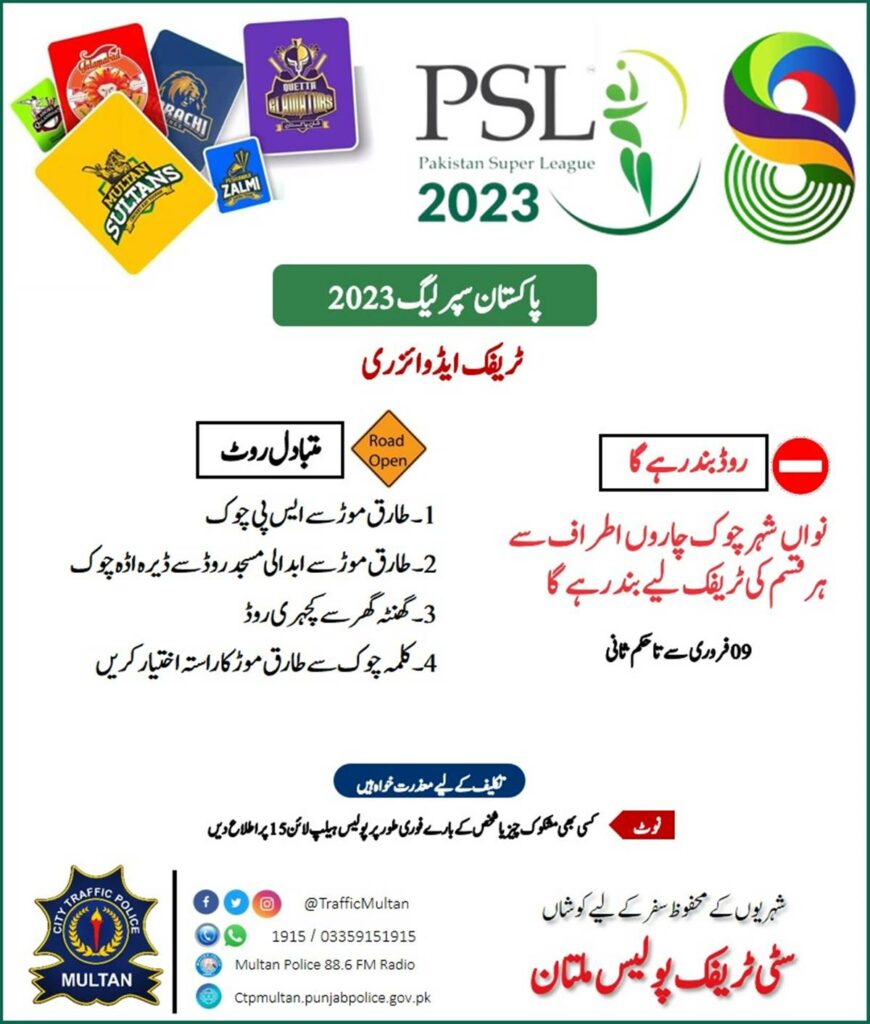 Read more: PCB Announces Official 2023 HBL PSL 8 Schedule.
Follow INCPAK on Facebook / Twitter / Instagram for updates.