Nawaz Sharif, Maryam Nawaz and Captain Safdar have been granted 3-day parole to attend the funeral of Kulsoom Nawaz.
The Sharif family residence at Jati Umra is declared sub-jail by the government as the parole extended by three days after the demise of Kulsoom Nawas in London.
Demise of Begum Kulsoom Nawaz
Kulsoom Nawaz 68, passed away on Tuesday at London's Harley Street Clinic. Diagnosed with lymphoma last year, was placed on life support last night where she lost her battle against cancer. She was under treatment since last June 2017.
Funeral of Former First Lady
Funeral prayers will be offered on Thursday at the Regent's Park Mosque of central London. While in Pakistan her funeral will be attended on Friday. Her dead body will be brought back to Pakistan after issuance of death certificate. Begum Kulsoom Nawaz body will be laid to rest in Jati Umra. Shehbaz Sharif, on early Wednesday left for United Kindom to bring back the body of his sister-in-law.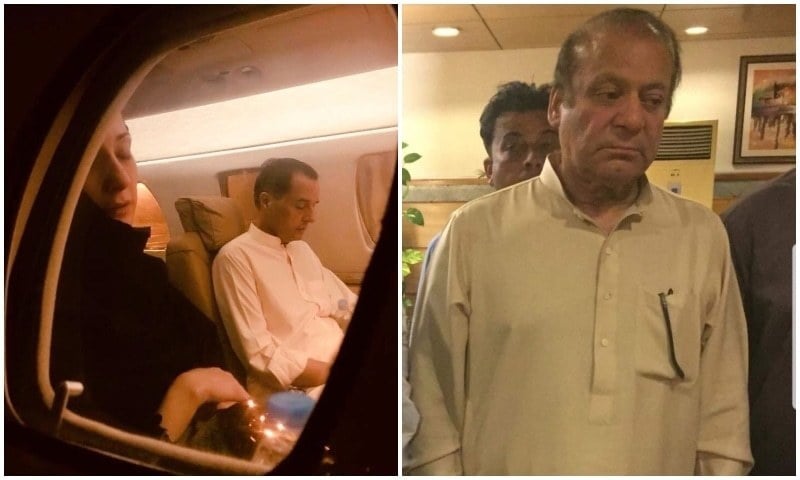 Nawaz Refused to be released on parole
After being informed of his wife's death Nawaz Sharif had refused to be released of parole, and had also refused to sign their temporary release documents. It is reported that the decision of not signing the documents was also backed by Maryam. Nawaz Sharif is said to have refused as he didn't want any favours from the government.
Shehbaz Sharif himself has signed their temporary release documents and pleaded his brother to get the last glimpse of his wife.
Nawaz, Maryam and Safdar released for 3-day parole
Initially they have been paroled for 12 hours, which was later extended for three days till the funeral prayers for Friday.
Shehbaz Sharif filed the application for their release for five days. According to the spokesperson of Punjab Home Department, it has been decided that the parole will be extended by three days. It will expire on Saturday night. They parole will be extended in case of delay in Begum Kulsoom's funeral.
Security Around Jati Umra
Heavy police and law enforcers have been deployed around
People Arriving for Condolence at Sharif Residence
Sympathizers, party workers, party leaders are gathering for condolences at Jati Umra on the sad demise of Begum Kulsoom Nawaz