ISLAMABAD: Federal Minister for Information and Broadcasting Fawad Chaudhry along with Interior Minister Shaikh Rasheed held a press conference on Wednesday regarding the evidence of the threat received to New Zealand Cricket Team, which made them cancel their tour of Pakistan at the last minute.
According to the Information Minister Fawad Chaudhry, the device used to send a threat to the New Zealand Cricket Team belonged to India. Here is the complete brief and timeline of threats received to New Zealand team before and after they arrived in Pakistan as per the Minister of Information and Broadcasting Fawad Chaudhry.
Pakistan unveils systematic plan to sabotage #blackcaps tour – #fake FB post of ex TTP threatens not to go for #NZvPAK

Indian paper warns abt #terrorist attack

2nd threat email sent from Indian mobile phone on SIM issued by Reliance JIO @fawadchaudhry @ShkhRasheed #APPNews pic.twitter.com/eGSJbCK4xR

— APP 🇵🇰 (@appcsocialmedia) September 22, 2021
It is pertinent to mention that it was New Zealand team's first visit to Pakistan in 18 years. The team was scheduled to play three ODIs and five T20s in Pakistan.
19 August 2021
A fake Facebook post was circulated from a fabricated account made in name of Ehsan Ullah Ehsan (ex TTP/ JuA) on social media asking New Zealand Cricket Board / Government not to send their team to Pakistan, as ISKP has planned to target the NZ team. However, the post disappeared from Facebook and was never found.
21 August 2021
Abhinandan Mishra, Bureau Chief of 'Sunday Guardian' (Indian Newspaper) published an article "New Zealand Cricket Team may face terrorist attack in Pakistan" based on Ehsan Ullah Ehsan's fake post. Mishra was also found in contact with Amrullah Saleh, ex Afghan Vice President, prior to publication of said article.
Comment: Projection of threat by publication of an article by the Bureau Chief of a reputed Indian newspaper based on a fake social media post suggests an orchestrated campaign to scuttle the tour.
24 August 2021
Martin Guptill's wife received threat email from ID [email protected], threatening to kill Martin Guptill while on tour. Exploitation revealed following:
Subject email ID is not associated with any SMN.
Email account generated at 01:05 am on 24 Aug 21 and email sent at 11:59 am on 24 Aug 21 (same day).
Purposefully created to generate threat email only; as no other activity is found.
Proton mail is a secure service; we have requested Interpol to assist for further probe.
Despite all this, the NZ Cricket team's tour was not canceled 11 & 12 Sep 21.
Team Arrived in Pakistan on 11 September 2021
New Zealand Cricket Team arrived in Pakistan at 2 PM in a chartered flight; remaining T20 team members reached on 12 Sep 2021.
Practice Sessions: A detailed program was issued and followed by both teams till the cancellation of tour. Both (Pak & NZ) teams carried out practice sessions on 13 & 14 September (4:30 pm to 7:30 pm) at Rawalpindi Cricket Stadium; no threat alert reported. Both teams again carried out practice (4:30 PM to 7:30 PM) on 16th September 2021.
17 September 2021
NZ team/ government expressed concern over reported credible threat and cancelled the tour unilaterally without sharing the details of the said threat.8.
18 September 2021
Interpol Wellington intimated Interpol Islamabad about receipt of a threat email to NZ Police from [email protected] at 06:25 am (NZ time), requesting further probe. Exploitation revealed following:
New Zealand police received threat email at 06:25 am on 18 Sep 21, according to PST 23:25 (11:25 pm on 17 Sep 2021).
Email [email protected] was generated at 18:10, 17 Sep 21 (UTC);2310 hrs/ 11:10 PM (PST).
Email sent 15 minutes after ID was created; generated for a specific purpose.
The email was sent from an associated device in

India

using VPN showing IP address/location of Singapore.
The device RMX 1971 (Realme 5 Pro) used 13 x email IDs; except Hamza Afridi, all other 12 x email IDs have Indian/ Hindi names. Apparently, Hamza Afridi is purposefully used to malign Pakistan; hints involvement of Indian agencies.
Subject mobile phone was launched in August 2019 in India; Reliance Jio mobile SIM was registered on this mobile phone on 25 September 2019 indicating a single user.
Social media co-relation/ exploitation revealed that possible use of this email ID is an Indian Omprakash Mishra from Mumbai, Maharashtra.
Furthermore, the brief stated:
Timing and text of the threat email suggest that this threat was not the reason for the cancellation of the New Zealand tour of Pakistan but was issued just after the cancellation to malign Pakistan and substantiate the security concerns of NZ / other touring countries.
Abhinandan Mishra wrote another column on 18 Sep 2021 titled "Threat of Kabul Airport-like attack led NZ to cancel Pak tour".
Involvement of Indian media/ journalist and Intelligence Agencies in a systematic campaign to malign Pakistan based on concocted/ orchestrated social media campaign indicate mala fide intent.
Follow-up Actions: FIA to contact Interpol/ Proton mail for provision of detail about [email protected] (as we are sure that same agencies are behind this email ID which have sent the threat mail form Hamza Afridi account):
We are in contact with Interpol to provide further details of email IDs.
We also request other cricket teams to share security related concerns, if any.
Indian Disinformation campaign based on false threat alert led to unilateral cancelation of tour by New Zealand. This is a very serious trend and ICC must take notice of these nefarious/ malicious acts of Indian nationals; otherwise it will adversely impact the "Gentleman's Game" for many years to come.
Note: We have come to know that a similar threat has been sent to the West Indies cricket board from another concocted email ID [email protected]. We are in the process of investigating, however, it is interesting to note that nobody in the knowledge of Urdu can spell "ehsan" as "ehshan". This spelling mistake in the ID reflect concocted involvement of HIAs.
The following is the copy of the brief regarding the threat received to New Zealand Cricket Team: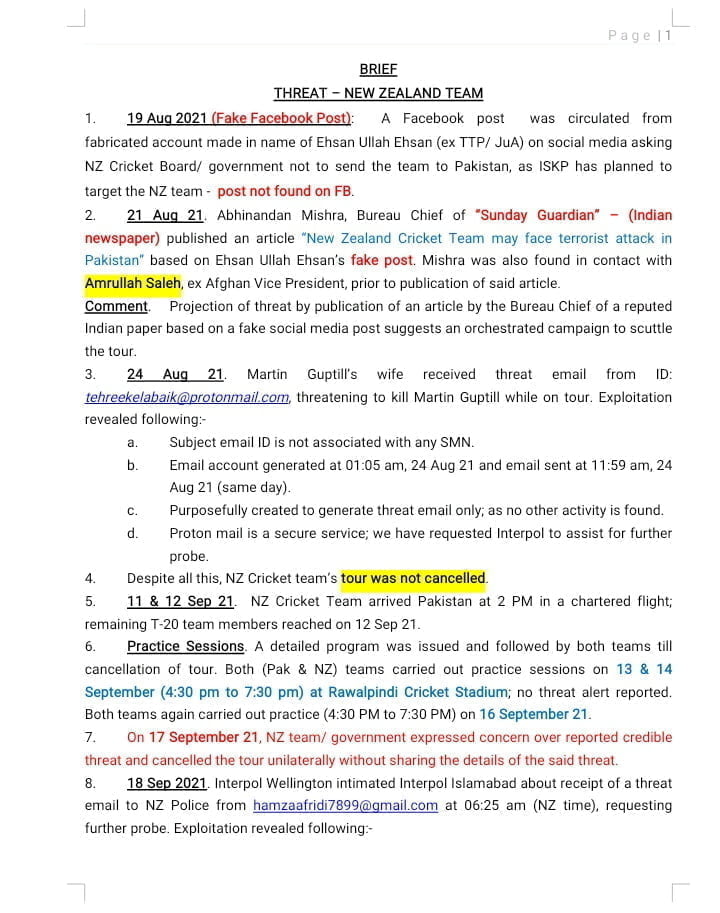 Read more: New Zealand Calls Off Pakistan Tour.
Follow INCPAK on Facebook / Twitter / Instagram for updates.