KARACHI: Operation Swift Retort Gallery is set up at PAF museum Karachi. This new gallery was inaugurated by Air Chief Marshal Mujahid Anwar Khan on November 6.
This new gallery is called "Operation Swift Retort Gallery."
This gallery has the mannequin of Indian pilot, Wing Commander Indian Air Force, Abhinandan.
Other souvenirs from the February 27 include:
The wreckage of his MiG21 fighter jet
Parts of his uniform
Maps recovered from his possession
Watch
The cup in which he was offered tea by Pakistan.
READ MORE: Operation Swift Retort Memorial at PAF Base Sargodha
The gallery also has images re-enacting the full journey of Abhinandan. The images reflect the moment his plane was shot down and when he was handed back to India at the Wagah border.
The Operation Swift Retort Gallery is also trending in social media as Abhinandan Gallery and it is open to all visiting the PAF museum Karachi.
Operation Swift Retort Gallery
One interesting fact about this gallery is that a tweet by Jeremy McLellan is also framed and placed in the gallery. His tweet reads:
Indian Air Force just invaded Pakistani air space, dropping 1,000kg of tomatoes onto a forest. More updates soon.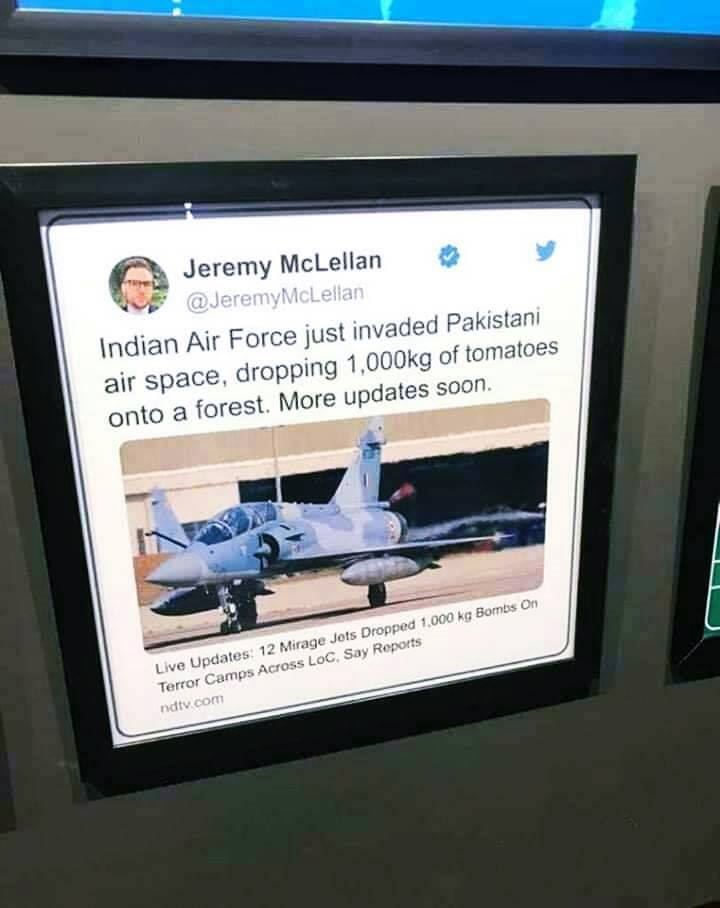 READ MORE: Operation Swift Retort Memorial at PAF Base Sargodha
Operation Swift Retort
On February 27, Pakistan Air Force conducted airstrikes at different locations in Jammu and Kashmir. These strikes were in retaliation of Indian Air Force airstrikes in Balakot on February 26.
PAF shot down IAF's SU-30 MKI and Mig-21 Bison aircraft. Wg. Cdr. Abhinandan Varthaman, flying the ill-fated Mig-21 Bison, was taken as POW.
As a peace gesture, PM Imran Khan announced the release of Abhinandan. Later he was handed over to Indian authorities at Wahga Border crossing.
Follow INCPAK on Facebook / Twitter / Instagram for updates.