As customary 23rd March tradition, President Dr. Arif Alvi on 23th March 2021 gave out the high-status civil and military Pakistan Day awards to multiple noteworthy personalities, to honor their services in particular fields. Among the prestigious individuals who were acclaimed yesterday, were critically admired religious scholar Moulana Tariq Jameel, veteran singer Abida Parveer, singer Ali Zafar, television artists like Bushra Ansari, Humayun Saeed and many others.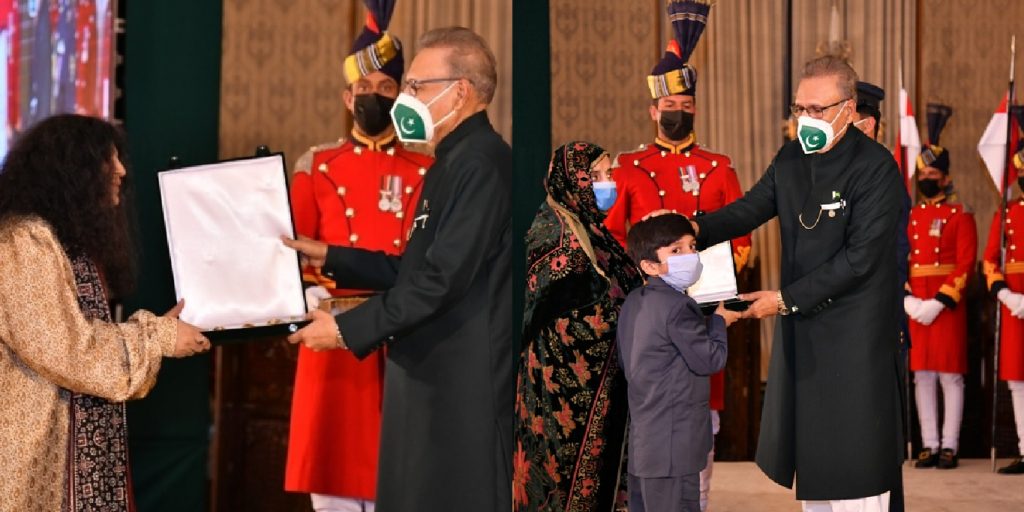 The high-esteem Pakistan Day Awards were held at Aiwan-i-Sadr on 23rd March 2021. The awards included six Nishan-i-Imtiaz, three Hilal-i-Imtiaz, twenty four Sitara-i-Shuja'at, eight Sitara-i-Imtiaz, fourteen President's Award for Pride of Performance, one Sitara-i-Quaid-i-Azam, one Sitara-i-Khidmat, one Tamgha-i-Pakistan, twenty two Tamgha-i-Shuja'at and eight Tamgha-i-Imtiaz.
Moreover, the recipients of aforementioned titles were called from contrasting fields and professions, who contributed in Pakistan's prosperity and recognition on International platform. Amongst the inheritors of Pakistan Day Awards 2021, were doctors and frontline health workers, social workers, military officials, artists, poets, teachers etc. Besides, numerous producers, actors, directors and singers were also venerated for their services in entertainment industry.
Additionally, globally treasured religious scholar Moulana Tariq Jameel was also awarded with President's Pride of Performance Award, for his religious contribution and promotion of Islamic values.
Read More: Aamir Liaquat upsets netizens with a 'joke' on sexual harassment
Pakistan Day Awards 2021 recipients
1. Nishan-i-Imtiaz
Sadeqain Naqvi (Arts, Painting, Sculpture),
Prof Shakir Ali (Arts, Painting),
Zahoorul Haq (Arts, Painting/Sculpture),
Abida Parveen Arts (Singing),
Dr Jameel Jalibi (Literature)
Ahmad Faraz (Literature)
2. Pakistan Day Awards – Hilal-e-Imtiaz
Prof Dr Anwarul Hassan Gillani (Science Pharmaceutical)
Dr Asif Mahmood Jah
Syed Javed Anwar
3. Sitara-e-Shujaat
Jawad Qamar,
Safia Shaheed,
Malik Hayatullah,
Malik Sardar Khan Shaheed,
Mumtaz Khan Shaheed,
Hayatullah Khan Dawar Shaheed,
Malik Muhammad Niaz Khan Shaheed,
Sepoy Akhtar Khan Shaheed,
Muhammad Naveed Sadiq,
Mahar Muhammad Yasir Manzoor Shaheed,
Shafqat Ullah Malik,
Dr Mustafa Kamal Pasha Shaheed,
Prof. Hafiz Maqsood Ahmad Shaheed,
Dr Bashir Ahmed Shaheed,
Dr Khalid Masood Qaisrani Shaheed,
Dr. Muhammad Asif Shaheed,
Dr. Shafqatullah Shaheed,
Dr. Younas Channa Shaheed,
Dr Wilayat Ali Gopang Shaheed,
Prof Dr Muhammad Javed Shaheed,
Munir Khan Shaheed,
Dr Usama Riaz,
Malik Ashdar Shaheed
Dr Muhammad Akhlaq Shaheed.
4. Pakistan Day Awards – Sitara-e-Imtiaz
Prof Dr Farhan Saif (Education),
Bushra Ansari (Arts),
Muhammad Imran Qureshi (Arts),
Sultana Siddiqui (Television Production),
Syed Farooq Qaiser (Arts, Puppeteer/Writer),
Rana Irfan Shakeel Ramay,
Col. Farooq Shahbaz (Public Service),
Pir Syed Lakht-e- Hasnain (Philanthropy).
5. President's Pride of Performance Award
Ruth Wenny Lekardal (Services),
Prof Dr Khalid Masood Gondal (Education),
Naimat Sarhadi (Film),
Muhammad Ali Shyhaki (Music),
Saima Shah (Resham) (Film),
Humayun Saeed (Film),
Ali Zafar (Singing),
Hina Nasrullah (Sufi Singing),
Sarmad Sehbai (Literature),
Indu Mariam Mitha (Dancing),
Farhan Mehboob (Sports Squash),
Moulana Tariq Jameel (Religious Scholar),
Abdul Majeed Qureshi (Philanthropy)
Muhammad Faheem (Arts, Wood Lacquer).
6. Sitara-e-Quaid-i-Azam
7. Sitara-e-Khidmat
Richard Geary Horwitz (USA)
8. Pakistan Day Awards – Tamgha-e-Pakistan
9. Tamgha-e-Shujaat
Fida Hussain (Gilgit-Baltistan),
Ali Aftab Tarar (Punjab),
Syed Shahzad Hassan (Punjab),
Haroon Rashid Khan Khyber-Pakhtunkhwa (K-P),
Fakharud Din (Punjab),
Mian Khan (Punjab),
Muhammad Faheem Raza Khan (Sindh),
Malik Wasid Khan (KPK),
Molvi Gul Dad Khan (K-P),
Malik Aslam Noor Khan (K-P),
Muhammad Rafi Shaheed (K-P),
Daud Khan (Shaheed) (K-P),
Alam Zeb Shaheed (K-P),
Allah Rakha (Azad Jammu and Kashmir),
Shakeela Naz Shaheed (K-P),
Ghuncha Sartaj Shaheed (K-P),
Aetzaz Ahmed Goraya (Balochistan),
Sajid Khan Mohmand (K-P),
Shahid Ali Shaheed,
Muhammad Iftikhar Shaheed,
Khuda Yar Shaheed
Hassan Ali Shaheed
10. Tamgha-e-Imtiaz
Muhammad Tahir Javed,
Zeba Shehnaz,
Hameedullah Shah Hashmi,
Faisal Edhi,
Syed Aamir Mehmood,
Capt (retd) Muhammad Ilyas,
Farid Ahmed Khan
Omar Saeed.
Read More: Hareem Shah registers FIR of assassination attempt against friend