ISLAMABAD: Pakistan Electronic Media Regulatory Authority (PEMRA) has issued a notification to all the Pakistan media channels to no longer air any 'Intimate Moments' or 'Bad Scenes' in Dramas.
The country's media regulator has announced, complaining of too much feminist content and warning that such "bold themes" offend viewers.
"The prevalent rampant trend of airing quite bold themes in Pakistani drama industry has resulted in massive public complaints," PEMRA said in an English-language statement.
"Indecent scenes/dialogues/extramarital relations, violence, inappropriate dressing, rape scenes, caressing, bed scenes, use of drugs and alcohol, intimate moments between couples are being glamourized in utter disregard to Pakistani culture and values,"
Read More: PEMRA Sends Reminder To Curtail Sensationalism in News Reporting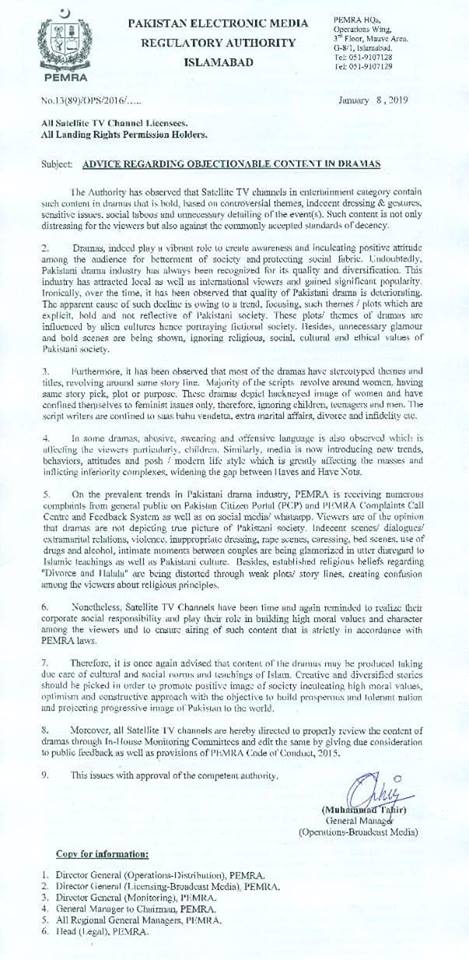 Ever since the inception of Private Media Channels in Pakistan the race of Rating, Producers and channels are airing vulgar content, irony is that Pakistani channels are not suitable for the family viewership.
The Dramas are based on rivalry of Indian Content and portrayed more like Indian movie. Finally PEMRA has took the action and warned all the channels not to show 'Bad scenes' or 'Intimate Moments'.
ADVISE: Note that Pakistani channels have no educational shows, No airtime for youth, current affairs are based on solely baseless talks and no documentaries are being aired to show the positive image of Pakistan around the world and the worst part is the dramas 'Simply Avoid Pakistani Channels'
Also Read: PEMRA takes notice of Pakistani Dramas