Prime Minister declined the summary earlier shared by OGRA and decided that government will absorb 50% of the impact in Petrol Price in Pakistan in the month of May 2018.
Petrol Price in Pakistan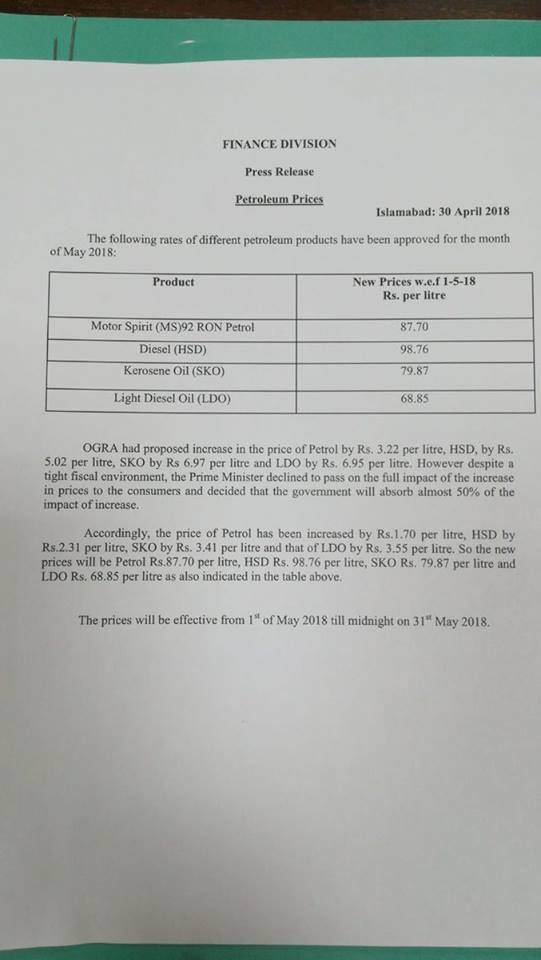 OGRA had proposed increase in the prices of Petrol by Rs. 3.22 per litre, HSD, by Rs 4.02 per litre, SKO by Rs. 6.97 per litre and LDO by Rs. 6.95 per litre. However despite a tight fiscal environment, the Prime Minister declined to pass on the full impact of the increase in the prices to the consumers and decided that the government will absorb almost 50% of the impact of increase.
Accordingly the price of petrol has been increased by Rs.1.70 per litre, HSD by Rs.2.31 per litre, SKO by Rs.4.41 per litre and that of LDO by Rs.3.55 per litre, so the new prices will be Petrol Rs.87.70, HSD Rs. 98.76 per litre, SKO Rs 79.87 per litre and LDO Rs 68.85 per litre.
The Prices will be effective from 1st May 2018 till midnight on 31st May 2018.