The Prime Minister of Pakistan Imran approves upgradation of Karachi Quetta Expressway including Chaman Road says CPEC Chairman Asim Bajwa on Wednesday.
The 790 kilometers long Karachi to Quetta highway is the most neglected road connecting two provinces Sindh and Balochistan. The dualization of the Karachi Quetta Expressway will be on Built Operate and Transfer (BOT) basis.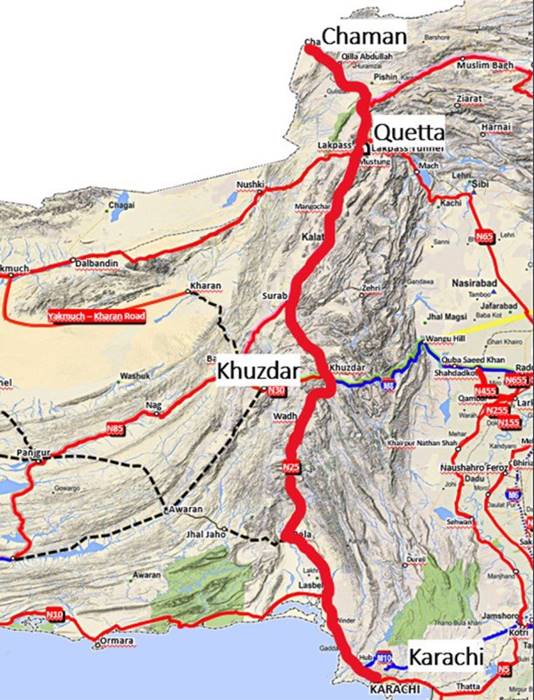 The Karachi Quetta Express way not only will benefit the trade and commerce between two provinces but will also pave a way for safer journey for commuters.
The Backbone of China Pakistan Economic Corridor (CPEC) Balochistan lacks Motorways and Industrial zones.
Read More: Sukkur Multan Motorway (M5) [Travel Advisory]
According to CPEC Chairman Asim Saleem Bajwa said on twitter "Earlier neglected areas: PM approved in principle, upgrading Kci-Qta-Chaman Road to Expressway: Here is Ad for hiring consultant for feasibility study (BOT).Balochistan's (790km) most frequented road,highest accidents due to condition, peoples' pressing need
Karachi Quetta Expressway
FEASIBILITY (TECHNICAL + COMMERCIAL) STUDY AND DETAILED DESIGN FOR DUALIZATION AND REHABILITATION OF KARACHI – QUETTA – CHAMAN ROAD 790KM ON BUILT – OPERATE – TRANSFER (BOT) BASIS UNDER PUBLIC PRIVATE PARTNERSHIP (PPP) MODALITY.
The National Highway Authority (NHA) intends to hire/engage a consultant (Engineering Organization/Firm) for consultancy Services for Feasibility (Technical + Commericial) Study and Detailed Design for Dualization and Rehabilitation of Karachi – Quetta – Chaman (790km) on Built – Operate – Transfer (BOT) basis under Public Private Partnership (PPP) modality.
Proposals are invited from reputable consultants (Engineering Organizations/Firms) (i) having PEC registration in relevant field with relevant experience as mentioned in the RFP and (ii) registered with Income Tax and Sales Tax Department and who are on Active Tax Payers list of Federal Board of Revenue.
Tender documents can be downloaded from NHA's website https://www.nha.gov.pk free of cost or the same can be purchased from the office of General Manager (P&CA), NHA-HQ, Islamabad during working hours and working days on written request of firm's letter head accompained with pay order demand draft amounting to Rs 1,000 (non refundable) in favor of National Highway Authority.
Pre Proposal Conference will be held on 28th September, 2020 at 1100 hours in the NHA Auditorium in Head Quarters Islamabad, Due to COVID-19, only one authorized representative will attend the pre-proposal meeting as well as proposal opening event.
Read More: HEC Overseas Scholarships 2021 for P.hD/MS/M.Phil [Apply Now]
Follow INCPak on Facebook / Twitter / Instagram for updates.