ISLAMABAD: Prime Minister Imran Khan approves the One Window Ehsaas Policy that aims to deliver services through a single window, a one-stop shop in all the 154 districts of Pakistan. Although PM Khan inaugurated Ehsaas One Window Center in Islamabad on 9th June 2021.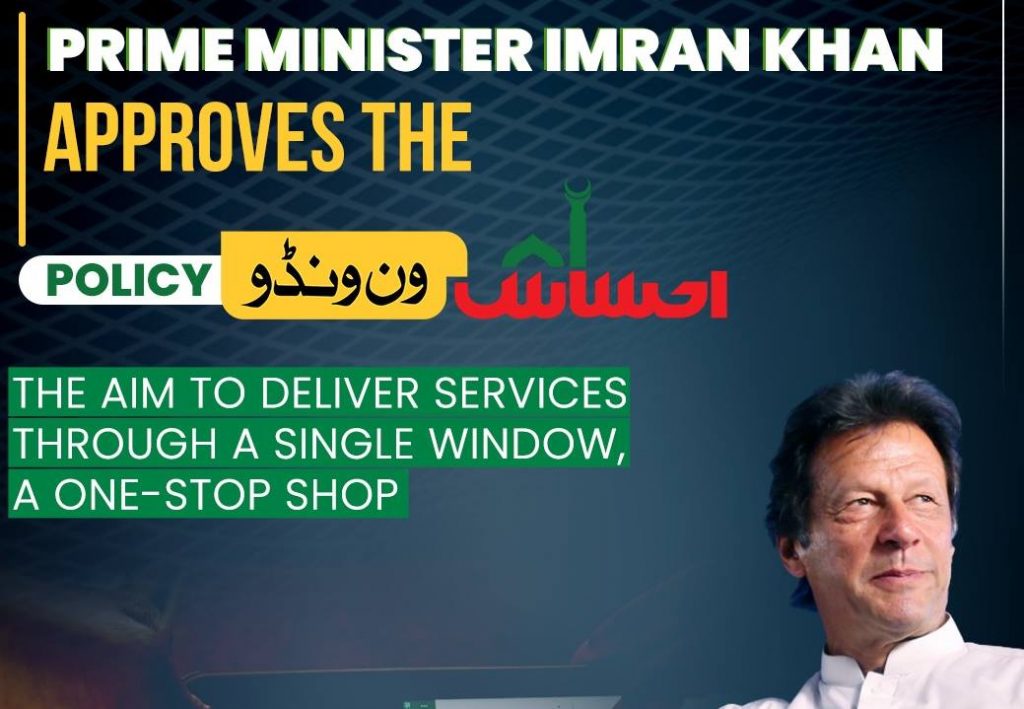 The Aim to deliver services through One Window One-Stop-Shop to facilitate Ehsaas Programme beneficiaries countrywide in all 154 districts. The Ehsaas One Window initiative is comprised of six pillars/components, which include:
A One Stop Shop, the Physical Ehsaas One Window Center
A public facing digital information and services platform
A Mobile App
Back officer consolidated digital interface
Cognitive API architecture, or the integrated national socioeconomic database
Ehsaas One Window Beneficiary Selection and Targeting Policy
E-portal and app will be introduced to facilitate One Window Ehsaas Policy beneficiaries, Ehsaas One Window Policy will facilitate beneficiaries of the Ehsaas Programme which includes Ehsaas Kafaalat too. For queries, call our toll free number 𝟬𝟴𝟬𝟬-𝟮𝟲𝟰𝟳𝟳.
Prime Minister Imran Khan approves the One Window Ehsaas Policy that aims to deliver services through a single window, a one-stop shop.#EhsaasOneWindow pic.twitter.com/x1uoK6gJ6E

— Government of Pakistan (@GovtofPakistan) July 31, 2021
Ehsaas Kafaalat Program
Ehsaas Kafaalat beneficiaries can take out cash at the center. Furthermore, the partner banks and NADRA have opened their branches at the center so beneficiaries can avail all services at one place. Under this program, eligible beneficiaries get Rs. 2000 financial aid per month. However, payments are being made on a quarterly basis.
Read more: Ehsaas Kafalat Program 2021 SMS CNIC to 8171 – [Complete Guide].
Ehsaas Waseela-e-Taleem Program
Ehsaas stipends can be accessed and enrollment of children can be done at the center as well. Under this initiative, school going girls get a stipend of Rs. 2000 while boys get Rs. 1500 per quarter on fulfilment of school attendance.
Read more: Govt Launches Ehsaas Waseela e Taleem Digital Program.
Ehsaas Panagah (Mazdoor Ka Ehsaas)
Somebody wanting to spend a night in Panagah can book a bed and get free One Star bed and breakfast facility at the center. This program was introduced so that laborers and those without a home can have a meal and a place to sleep at night.
Ehsaas Undergraduate Scholarship Program
Students can get information about Ehsaas Undergraduate Scholarship Program and they can even fill out their application free of cost at the Ehsaas One Window Center. If you want more information regarding the program, please refer to our post shared below.
Read more: Ehsaas Undergraduate Scholarship Programme – Complete Guide.
Ehsaas Nashonuma Program
Children at risk of stunting and pregnant mothers can get specialized nutritional food and cash stipends from the ATM at the center.
According to sources, Pakistan ranks second in the region for most cases of stunting in children which makes up 40 percent of young children in the country.
Under the Ehsaas Nashonuma Program, beneficiaries will not only be provided with nutritious food and supplements but also a quarterly stipend of Rs. 2,000 for girls and Rs. 1,500 for boys since their birth for a period of two years.
Read more: PM launches first anti-stunting Ehsaas Nashonuma Program.
Dar-ul-Ehsaas Program
An orphan child can be admitted to an orphanage and a street child can be admitted to a free school at the center.
Ehsaas Kafaalat for Differently Abled Persons
A different abled person can have multiple avenues of redress at the center.
Ehsaas Registration Desks
Ehsaas Registration Desks have been set up at the Ehsaas One Window Center, where people can get surveyed to ascertain if they are eligible for the benefits being provided under these initiatives. Ehsaas Registration Centers have also been set up across the country.
Read more: Ehsaas Registration Centers List [Updated]
Ehsaas Tahafuz Program
Under this initiative, a person in need of financial assistance for health can find out about Sehat Sahulat and can be channeled to Ehsaas Tahafuz or PBM's health related assistance systems.